I wrote last month about my affinity for big leaves. I love the really massive ones, like the butterburr above. Those that create instant focal points, that raise the bar for potentially dramtic foliage groupings and that add the tropical pizzaz I'm after to transform my gardens into the landscape of my imagination. Last time out, I mentioned a few of my foliage favorites, but they were all annuals, tropicals, or tender perennials. That was not to suggest there are no worthy hardy plants. There are. Here's a handful: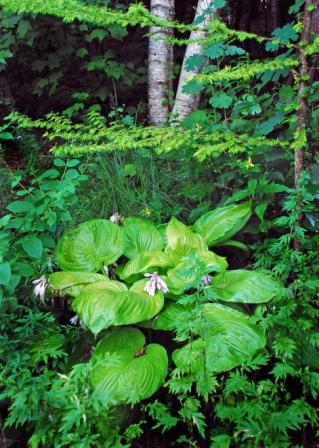 I'll start with the ubiquitous hosta. These amazingly varied garden faves come in all shapes and sizes, from those with dinky leaves smaller than my thumb to big, bodacious brutes with names like Big Mama. While the teeny ones have their uses-slug salad anyone?–I go for the honking monsters. Especially 'Sum and Substance', which has big, big leaves–a mature clump can be more than 6 feet across with two-foot leaves. Even hostaphile Tony Avent calls it one of the best hostas ever. Of course, Tony says that about all the hostas, but I'm going with him on this one. In addition to its Brobdingnagian beauty, 'Sum and Substance' is a glorious chartreuse, just the thing to brighten a slightly shaded spot. I like contrasting the bold swaths of its leaves with finer details, like the needles of this larch.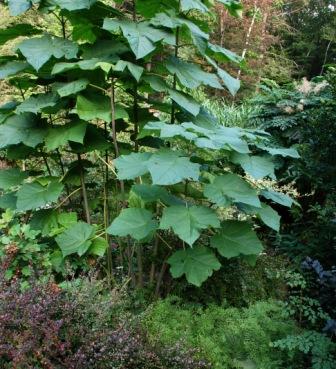 It's hard to top the eye-catching glory of the princess tree (Paulownia tomentosa), so named because in parts of the Orient it was once tradtional to plant one upon the birth of a daughter; by the time she reached marriageable age, the tree could be harvested for lumber to make her a dresser as a wedding present. Its soft, lightweight wood has been used more recenty to make surfboards and guitars. Mine is never going to get big enough to make any of those things–I cut it to the ground every spring. Shortly thereafter, buds covered with purplish fuzz erupt around the stump, then produce shoots that vault skywards. By this time of year they are arrow-straight and nearing 20 feet in height. That explosive growth also yields huge pentagonal leaves, the fewer buds you allow to grow, the bigger the leaves get. In any case, two feet across would be on the small side for these foliar fatcats. Of course, cutting the tree to the ground means I'll never get wood old enough to produce the cool foxglovelike flowers the tree produces, but its flower buds are marginally hardy here in cold Zone 6; most years I wouldn't get flowers anyway, and the leaves would be ever so much less dramatic. But there's an upside to my cultural technique for the princess tree, aka empress tree or dragon tree-it's listed in some parts of the country as invasive, and by preventing it from flowering, I also prevent it from setting seed and thus spreading.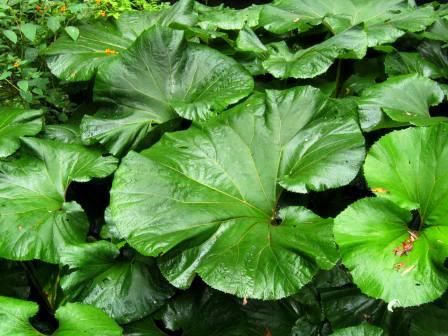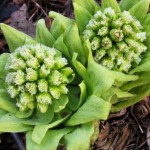 I'm also a fan of butterburr (Petasites japonica), in spite of its imperialistic tendencies. Hmm. Come to think of it, a lot of my big foliage faves tend to be fast-spreading brawlers, but if you've got the place for such thugs, why not? Anyways…Petasites wakens in eary early Spring-late March or earliest April- with weird flowers that look like some alien spawn. Sooner than seems possible, big–2 to 3 feet or more across-kidney shaped leaves rise. Each is perched like a parasol atop a long rhubarb like stem. The Japanese eat those stalks, I've yet to try one. Unfortunately I've discovered some critters have a taste for them too. Plants love shade and mositure and will reward a good position by growing like topsy. It's great alongside ponds or streams.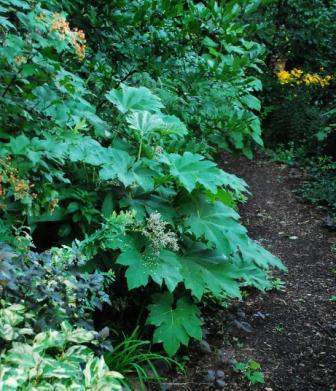 Rice paper plant (Tetrapanax papyrifera) is usually rated hardy to zone 7, but thanks to planting it in a warm microclimate and pampering it with a thick leafy mulch each fall, I've had it growing for a number of years. It's worth the effort. The leaves have a beauteous gray green hue, look kind of velvety, and are about the size of a really big dinner plate. Each leaf edge is toothed with chompers big as an old-time crosscut saw. It combines well with just about anything. My plants reach about 4 feet in height, and spread quicjly thoguh its far (too far ) form being obnoxious. I understand that may not be the case in warmer climes, where plants grow much taller and, I presume, spread more rapidly.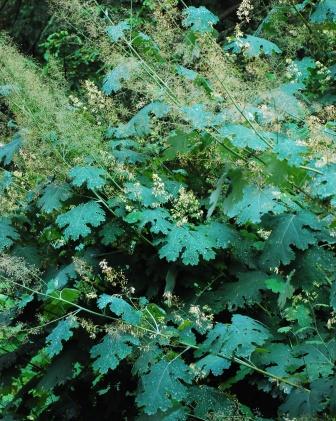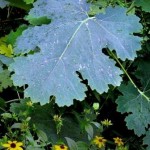 I'm also enamored of plume poppy (Macleaya cordata). OK, I know I may be in the minority–I just saw a Garden Web thread entitled "The Curse of the Plume Poppy." Gimme a break!  Yes the plants are thuggish interlopers, but you plan accordingly. They excel at making backdrops or screens in the more rough-and-tumble parts of my garden. I think they're good on slopes too. Anyway, I keep their spread down to a dull roar by letting them fill in their intended spot, then yank any unwanted shoots along the clump's perimeter. It's easy to weed. And it's worth the effort: I love plume poppy's odd, crenellated leaf and ghostly blue-gray color. And I think the creamy pink summer plumes are just glorious.