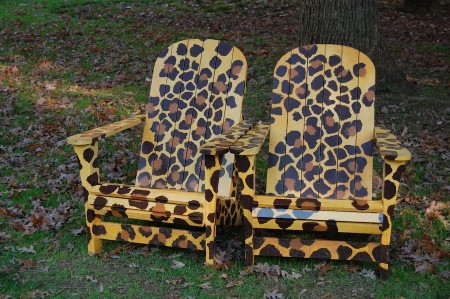 This pic sums up Chanticleer: a great place to sit, nicely customized. A touch of whackiness, but completely sound.
This is an amazing garden, not just for being a garden, but for the staff and the way it is run. Working at Chanticleer is not a job, but a mission and a passion.
Fran has written about the garden before on GWG, but it has so much to offer, I make no apologies for writing about it too. At this time of year though (I was there in mid Oct) there is not so much plantlife to write about – its all for its winter hibernation soon. There is plenty else to enthuse about though.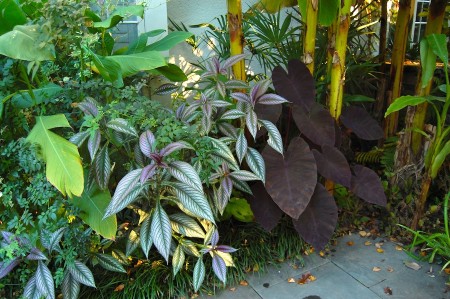 This is what Chanticleer seems best known for – its exuberant array of tropicals, planted out to make the most of  a brief sub-tropical summer. Foliage combinations are strking and the plant arrangement is masterful, there seem to be no gaps or clashes. The widespread and confident use of banana species makes it look really tropical, not just like someone has brought a few things out of the greenhouse. One of the staff here, Jonathan Wright, showed me the state of the art two-storey greenhouse they use to protect them all in the winter. Funding here is clearly good, which always helps, but more important is technical skill, expertise and commitment – overwintering large number of plants inside at high density creates its own problems, which no amount of money can solve.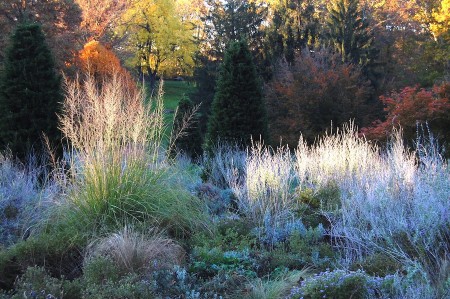 Most of Chanticleer is tree/shrub/perennial planting – so much of it looked like this: flashes of autumn colour (or as they so quaintly call it over there – fall colour) with sunlight illuminating grasses and seedheads.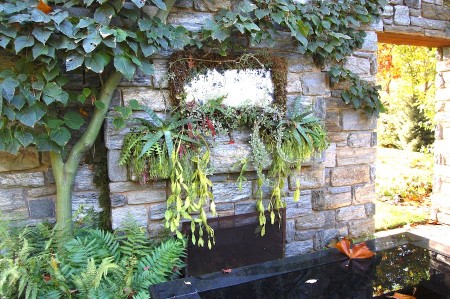 The ruin is one of the previous director, Chris Woods', masterstrokes, turning one of the houses on the property into a plant draped fantasy. Chris is a Brit, but the sort of person who can only function in the USA's open and innovator -friendly socieity. I went out for supper with him one night and the current director, Bill Thomas. Chris's stories had me laughing so much I cried into my sushi: he has been working in southern California for some years until recently and met his fair share of new age lunacy. The pic above is of a mock fireplace draped in succulents and epiphytes.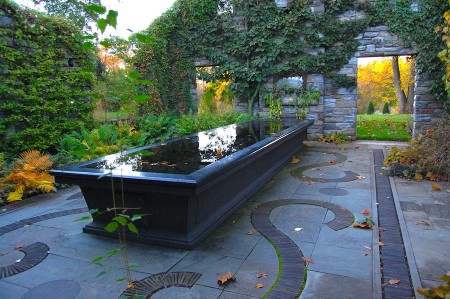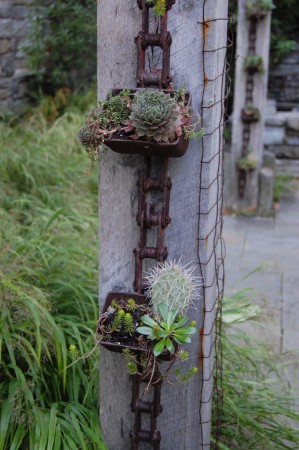 Chanticleer seems to have borrowed a Paris 1968 slogan (the imagination to power). Interesting and entertaining use of architectural salvage, sculpture and fittings made by the staff all add to the atmosphere – with the ruin garden having the most flights of fancy. It is one of those places where the more often you go the more you see – not just arty sculptural stuff but some very nice plants too, often quite dramatic ones, or plants used which mesh with the architecture. There is even a tree trained to grow through  a window.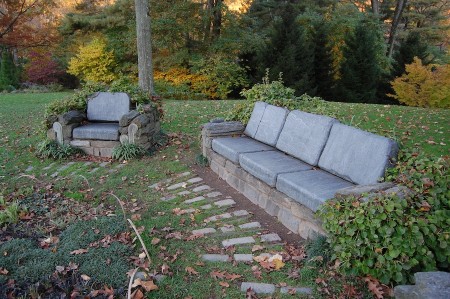 These stone seats are amazingly comfortable, and a good vantage point from which to view the Gravel Garden dropping away to the valley below. The different parts of the garden are quite discretely separate, but because of the contours it is always easy to get a sense of where you are, and be beckoned on by as-yet-unexplored areas.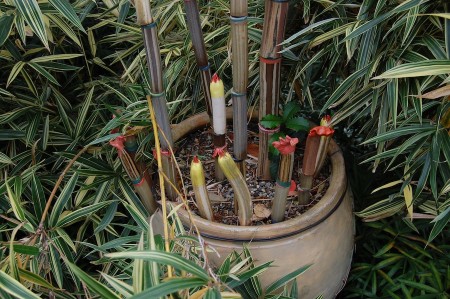 Some of the artwork at Chanticleer is bought in. This is one of Marcia Donahue's ceramic bamboos – notice the little coxcombs- an allusion the 'Chanticleer' being the name of the cockerel in French medieval literature (and Chaucer too I think).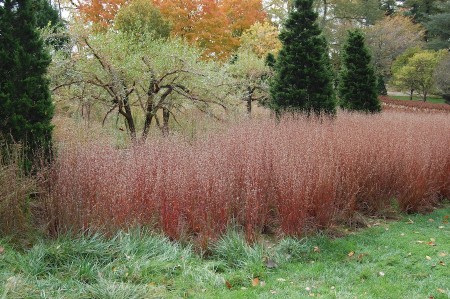 The garden includes several highly-imaginative 'allusions' or should i say 'illusions'. This is of an Italian hillside – thujas instead of (not hardy, and in any case snow wrecks them) Italian cypresses, pruned willows to look like olives and little bluestem grass.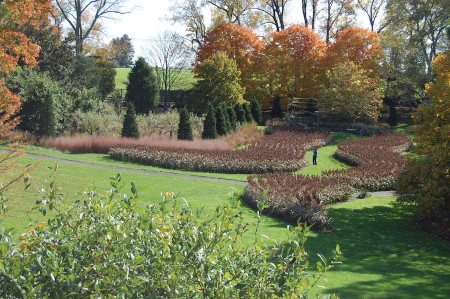 Now this I liked, sorghum to evoke the patterns of arable landscapes. Intensive arable 'monoculture' production gets a bad press from people who seem to be unaware of the world's burgeoning population and our unsustainable  eating habits, so it is good to see productive modern agriculture celebrated with this very graphic 'field'. In the past they have done maize/corn, cotton and tobacco. Hopefully they'll do a GM crop one day. A clever bit is the path which goes through the edge of it. Cool!
Another garden I visited on my worldwind tour of the Mid-Atlantic was 'Federal Twist'. Read about it on my own blog.
 I have recently uploaded recent pictures of Chanticleer, NY High Line and my trip last July to the fabulous wildflowers of Kyrgyrzstan.