I feel like I've been living on Noah's Ark for the past few weeks. Non stop thrashing pellets of rain. And sand storms.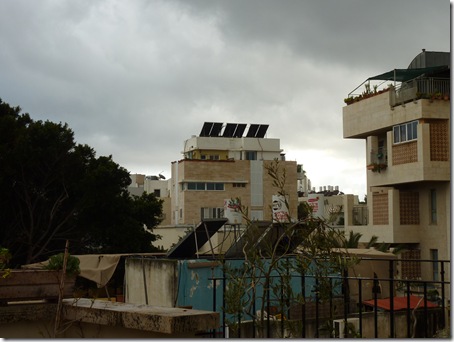 This has been one of the rainiest records on history for Israel. For a country that gets only 8" of rain a year, this is good news. Up to a certain point.
Because last year was so warm, I decided to get some sunflower and amaranth seeds sown early. A few dozen amaranths bloomed until a cold snap hit. The sunflowers germinated and in spite of the weather continued to add some girth and height.
I felt like I was seeing a sunflower for the first time when one bloomed. A glorious work of art that would make Michelangelo proud.  Bold, welcoming, and optimistic.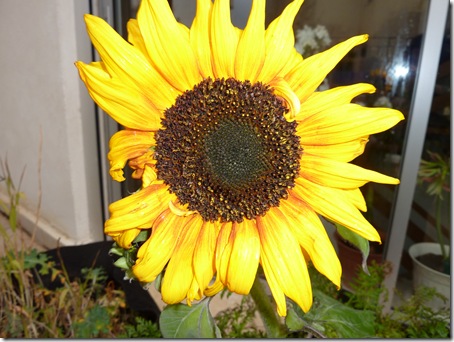 For a few days it got a lot of attention. From the birds, visitors, and me. I hovered over it like a mother cub protecting her newborn.
Meanwhile what had been my highly anticipated early spring work in the garden was postponed.
I finally found someone with expertise in building green roofs (after 2 years) and was itching to get the construction going. I had visions of having everything planted up by mid-March (I live in a Mediterranean climate)  so I could start working on my cut flower/veggie garden.
Not to be.
I think it was after the 10th day of rain when I began to lose hope that spring would ever come.
It sounds silly, I know. But have you ever had that feeling? You actually wonder if you might not see the first signs of spring until May?
A few days ago I was writing a list of inspirational quotes on faith on my new blog, Awake Create.  As I was editing, the song "You've got to have faith" came to mind (thanks to George Michael).
It quickly became my mantra. Every time I hear myself singing it, a big grin comes across my face.
7 Tips To Help Keep The Faith
1. Sow seeds. A lot of you have already ordered and received your seeds. The rule of thumb is to know how long it takes for the seed to reach maturity and work backward from the last frost date before sowing.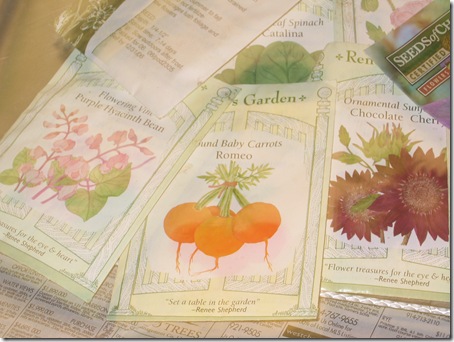 Good advice. But your 'gardening soul' needs some nutrition now.
So find some easy to germinate seeds.  A few sunflowers, tomatoes, or cucumbers.
Buy several 2" containers, sow the seeds, and place near a sunny window. Don't have a sunny window? Get a grow light.
Watching the seeds germinate, grow, and mature is a simple and profound pleasure. It doesn't matter whether or not they make it into your garden. Enjoy them indoors right now.
2. Buy some annual/semi-hardy plants like coleus, sweet potato vine, and strobilanthes. Take cuttings and root in water. Since I was a kid, I was taught to do it because it saves money.
And that's a good thing.
But what we're looking for right now is to get your juices going for the spring yet to come. Watching those roots form and grow is thrilling .Yet another magical gardening moment.
3. Treat yourself to fresh flowers.  Don't rush and throw them into a vase. Slow down, turn on some good music, get a cup of tea, take pleasure in arranging them.
If you think buying flowers is a splurge, it's worth it. And a lot cheaper than therapy.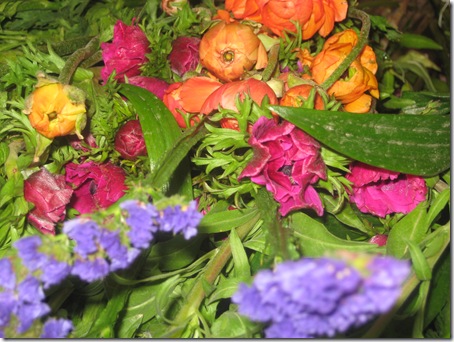 4. Read inspirational gardening magazines. I know…you're heard it before. BUT, it's true. Some of the great magazines are conduits to being creative in your own garden. And right now, they can be your lifeline to the  garden.
I'm a minimalist. But when it comes to the 'best of the best' gardening magazines, they have their own spot on my bookshelves. They're like old friends— I return to them time and again.
5. Watch  movies you love that are garden themed or have gardens or landscapes in them. Jean de Florette, Howard's End, and A Room With View always pull at my 'garden heart strings'. They offer beauty, a sense of hope, and inspiration.
What are some of your favorites?
6. Spec. out gardens and nurseries…it's never too early to shop. Compare prices, quality, inventory. If you want something a store doesn't have in stock, see if they can order it for you.
The emotional high you get being surrounded by plants isn't some folk tale. There's a lot of research on how flowers affect your happiness factor. That has implications for your physical health as well.
7. Visualize your garden as you dream it to be. Sit with your eyes closed for 5 minutes a day and literally see your paradise. How does it smell, look, feel?
Experience your imagined garden as if you were  in it right now. If you practice this on a regular basis, you're more likely to get the results you want in your garden. Plus, the visual meditation itself has some great physical and emotional benefits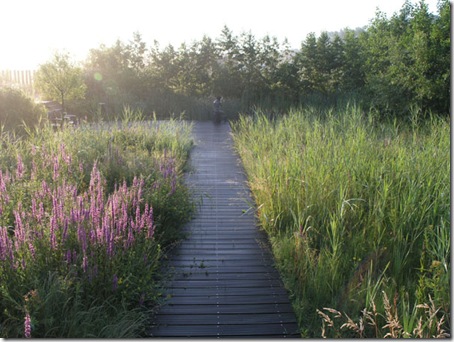 Photo: Courtesy of Locus Flavum
As I wind up this post, I see that there's a break in the rain. Which means it's time to get the dogs out for a quick romp before the next downpour starts. It'll be good to smell the fresh air and damp grass.
I look out the window. My resilient sunflower is stretching itself towards the fleeting sun. All is well.