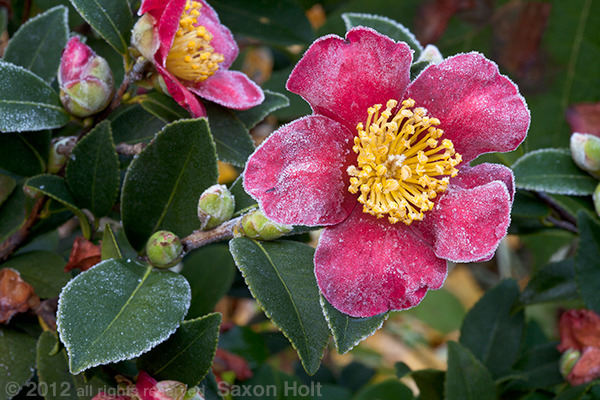 This will be my shortest Gardening Gone Wild post yet.  Not because I have nothing to say, nor because my words are so poetically haiku.  Not because it is the holiday and few are reading gardening blogs, nor because I am trying to stay away from religious sentiment.
I am on a cruise ship in the Caribbean trying to upload from a satellite.
Oh the ribbing I'm gonna get from admitting it.  Oh you poor souls stuck in bad weather, bad traffic, long boring blogs.
I did plan the post before I left.  I organized 9 photos of red Christmas photos.  Red berries, red poinsetties, even a red Protea; all to play off my red sassanqua camellia 'Yuletide' that was covered with frost the day before I left.
It was so wintery perfect for a December 24 posting.  I worked on silhouetting the flower, an idea for a note card.  I was all prepared to segue this post into one of my PhotoBotanic Garden Photography lessons on computer post production tools.
Alas the satellite upload is so slow I am unable to load all the photos.  If all goes well though, I will persevere and get one more up.

Here is a composite of the process.  Did that upload ?
I do love botanic illustrations and I love doing it direct from the garden rather than bringing the flowers into the studio.  The camera always lies but I can prove this frosty blossom was not some studio creation.  It is not too good to be true.
But this vacation is too good to be true.  My family has some cold drinks waiting . . . and as much fun as I do have posting to Gardening Gone Wild, it feels like work at this moment.
Happy Holidays all !  See ya in 2013 !