My friend, Janet, has a wonderfully complex garden full of interesting plants she has acquired from years as a garden writer and plant docent. She recently told me she and her Mom make an annual New Year's Day plant count and have found in a mild winter she has many as 60 plants in bloom.
What a great idea for a bloggers to share !
Janet's 60 flowering plants on New Year's Day is a lot, even for zone 9a. But when I got to thinking, maybe I have a lot too. It has not been mild this winter here but we had early rains, the subject of my Ocober 21 blog when the first paperwhite daffodil and early sasanqua camellias bloomed. Since then winter has progressed rather normally and my first wildflower, the delicate Dentaria californica – Milkmaid have begun.
OK, let's do a survey beginning with a little photo lesson.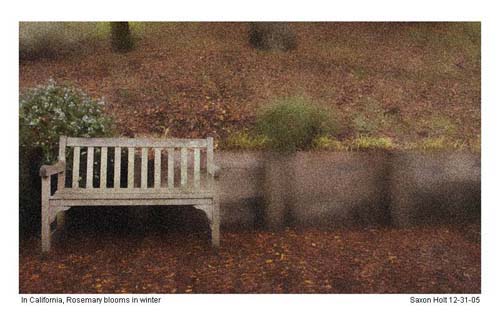 I can always count on Rosemary to be in bloom now, typical of many Mediterranean plants that begin their annual rejuvenation with rain. Looking at the winter bench photo, taken one New Year's Eve a couple years ago on my back deck, one would think it is a spare scene in my garden. Ah, but that is the point of that photo, and we know the camera always lies.
A close up might make one think it is a lush plant: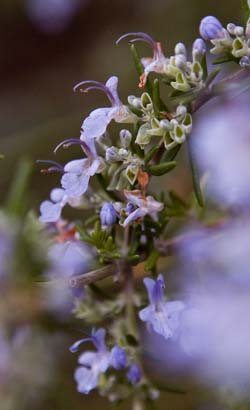 A reminder to have a purpose when taking a photo – above is the same plant as in the bench photo but with another intention.
A different dilemma faces the photographer trying to tell the story of Hydrangea quircifolia 'Alice' which will not stop blooming until I cut her back.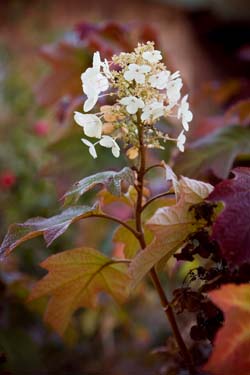 Is the story about blooming on New Year's Day or the gorgeous rich maroon fall color of the foliage?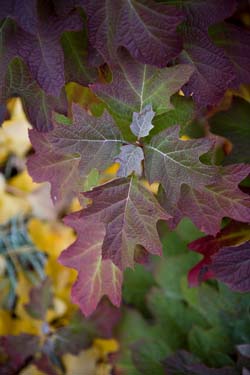 When we photograph our gardens there is always a story to tell by what we include or exclude in each photo. As a professional photographer I try to imagine multiple stories when I photograph so that I can get my camera to give me multiple "lies". Only later, when an editor needs a photo do I decide which story to tell. With Hydragrea 'Alice' I get a photogenic chameleon of a subject, which is also why it is such a wonderful garden companion.
I don't intend this to be a photo story but a list of plants in flower today. I invite anyone who reads this to make their own list. I know I am blessed with zone 9 California winter and little may be blooming in cold zones – but I would love to know and hear from readers. Maybe we at Gardening Gone Wild will keep an annual log of New Year's Day plant counts.
Here is mine, 25 plants in bloom New Years Day 2008;
Arctostaphylos 'Monica'
Arctostaphylos 'Howard Mcminn'
Salvia involucrata
Potato Vine – Solanum jasminoides
Viburnum bodnantense "Dawn'
Hydrangea quircifolia 'Alice'
Sugar snap peas
Rasberry
Camellia sassanqua (4): 'Yuletide', Cleopatra', Apple Blossom', 'Kanjiro'
Camellia japonica 'Sensation' (inherited name of uncertain authenticity)
Narcissus (2) 'Ziva', 'Rijnveld's Early Sensation'
Miniature rose 'Rainbow's End'
Primulus vulgaris
Cyclamen persicum
Milkmaids Dentaria californica
Bellis perennis
Rosemary
Reinwardtia indica
Abutillon hybrid (Salmon)
Fuschia thymifolia
Impatiens (barely hanging on but must be counted)
What is your list ? Don't be shy; this is not a a competition but a survey. I will never have as many as Janet. What is happening in your garden? Be sure to include zone number.
Saxon Holt