It is almost July and I am only now editing my April shoot from the Skagit Valley Tulip Festival. Editing in the digital world is, hands down, the hardest thing about my work these days. I often shoot hundreds of photos on a shoot and spend at least two days editing for every one shooting. I have been shooting a lot so it is no wonder I am behind on my editing – and behind on my blogging.
There are so many photo opps from the Tulip Festival I thought I might share my thought process on what I shoot. My first day was a weekend and the fields were crowded with people. As a garden photographer I wanted beautiful flower scenes but as a journalist I was inspired by what I saw.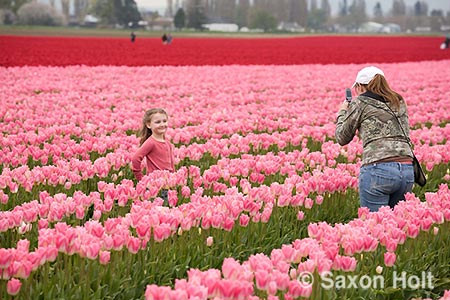 Everyone was being photographed ! That is a story in itself and makes for a much more human interest than boring views of rows of tulips. Though the "boring views" are wonderful to behold. I loved the little girl in the pink blouse in the pink tulips mugging for her mom. I took about 6 photos of this scene to get this keeper. I imagine the photo that mom got will be a lifetime keeper too.
I hope she composed her photo tightly so that there are no distracting elements as I did in the photo below. I wanted to envelop my subjects in a sea of red tulips: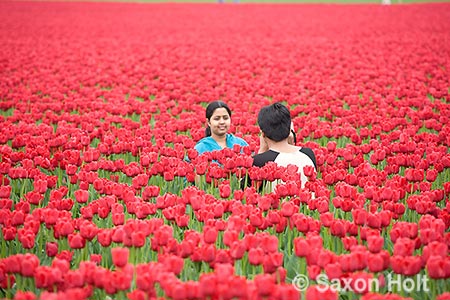 I imagine the final portrait of the woman should be wonderful, her blue shirt being a fine complement to the red tulips. I guess this is as good a place as any to remind my readers "the camera always lies" and it is up to the photographer to create the "lie" we want. Careful composition is the first rule.
Note the camera angle of the photographer and the subject in the next two photos:
The blond photographer will get a photo of her family with the horizon and mountains, and the brunette will get her kids in long rows of tulips. Simple composition tricks go a long way in deciding what message we put in our photos.
Two more photographers carefully composing their photos: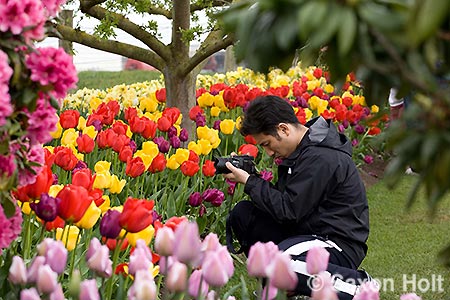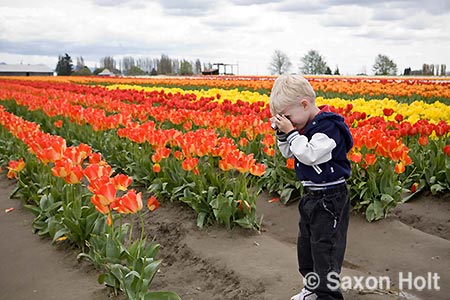 I just loved this little guy so intently studying his scene with childlike simplicity. One day he will learn to get a little lower down, stack up rows and rows of contrasting tulips, use a little selective focus, and see what I see from this very same spot (over his shoulder):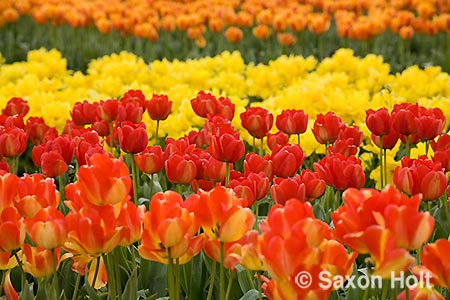 What fun to take these photos, what a great tool the camera is. The computer and the editing process ? !@#*! Back to work. The sooner I get things edited the sooner I can sell the photos. Now that is incentive!