In thinking about Nan's design workshop this month, I was ready to discuss the way I went about configuring my own flagstone terrace. But as I was perusing some photos that I took last month while visiting Israel, I came upon a few pictures that I had taken of a funky garden smack in the center of the old section of Tel Aviv.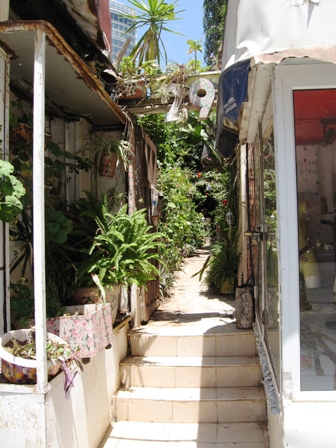 It was a Friday afternoon. My father, daughter and I had just left an arts and crafts open market. We were working our way out of the intensity of the crowds when my father (who happens not to be a gardener) pointed across the street and exclaimed 'Would you look at that?' And lo and behold, there it was! An exuberant mass of green enclosed behind a wrought iron gate.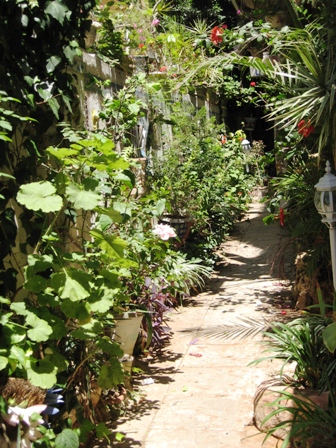 I, along with my daughter, ran across the street, hoping to get a better glimpse of this urban jewel. As luck would have it, we were peering in beyond the locked gate when an elderly gentleman, saddled down with bags of groceries in both hands, came up behind us and said 'Excuse me'. Well, I understood enough Hebrew to know that he was inviting my daughter, Erika, and me in to visit his garden.
As I walked through the gates, I felt as if I had stumbled into the world of Alice in Wonderland. Within a few seconds, this well seasoned gardener had begun a non-stop conversation with my daughter, explaining that he had lived in this apartment (in a very old, somewhat derelict building) for several years. He said that over the years, several photographers had come to take photos of his much beloved garden, letting us know that he was quite proud of his creation.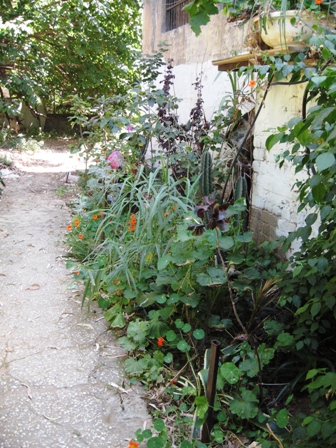 Now you need to understand why this garden so enchanted me. When I tell you that the width of the garden was narrow, much like a pass through on a side of a house, it was! There are multiple alleyways like this in Tel Aviv, especially in the more run down, gritty sections of town. But to see what in most cases would be a cracked concrete walkway transformed into a paradise overflowing with plants of all types, encased by walls, grottos and funky pots was a glorious experience.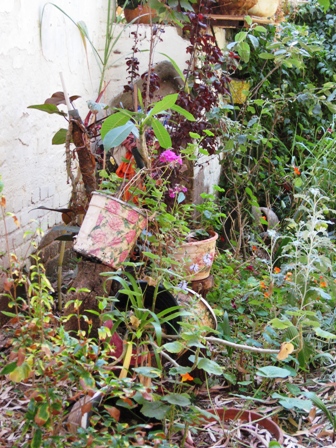 My new gardening friend took me inch by inch through his garden, explaining each plant to me:  its origins and when he planted it. My daughter had to translate the entire conversation because I didn't understand one word of what he was saying. And of course, I kept on interrupting her so that I could transmit my own set of questions through her back to him.  I was grabbed by the wonderful mosaic/grottoed wall on the left hand side: it had a bit of a Moorish influence. I never found out if he was responsible for the design and construction of it. The hibiscus and palms were soaking up the sunlight filtering through the top of the building. I think what most amazed me though was the fact that almost the entire garden was done up in pots: all types, sizes and shapes. Yet, with all of the limitations surrounding him, this man had created a paradise.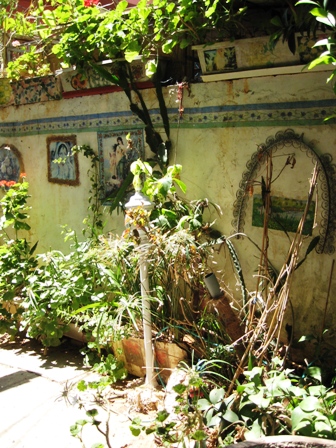 So, imagine my surprise when we walked down towards the back of the garden to have a look at his fruit bushes growing (some with already ripened figs), we came upon a small patio. To say it was spectacular would be misleading. It wasn't. But what so grabbed my heart was the fact that there was an outdoor seating area: so that whoever was sitting there would be able to take in the beauty of the garden that this aging gardener had spent years working on. They could gaze at the plants in bloom, the Moorish facade of the walls and breathe in the intoxicating scent of the flowers.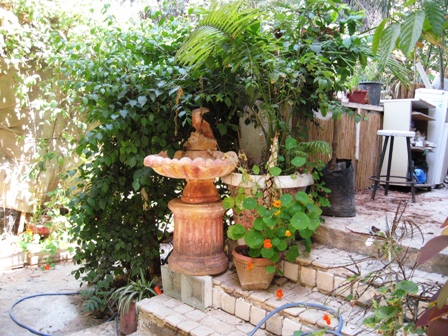 It is because of the miraculous nature of this garden with its tiny patio that I felt compelled to write about it. Do you remember the famous book A Tree Grows In Brooklyn? Well, how about An Oasis Flourishes In Tel Aviv as a way of applauding this seasoned, Israeli gardener? This garden can serve as a reminder to all of us that limitations can actually propel us into being more creative. And in the context of Nan's Design Workshop this month,  we can also be midnful that if we have the desire and a bit of vision, we can create a patio practically anywhere!