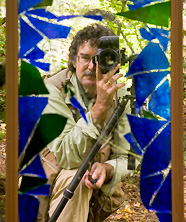 Saxon is a landscape photographer who resides in Northern California and maintains the PhotoBotanic garden photography library and on-line garden photography workshop in a unique member area  called the Learning Center.
A professional photographer since his days as the photo editor of The Cavalier Daily newspaper at the University of Virginia, he spent 8 years as a commercial photographer in San Francisco.  He began photographing gardens in 1984 when he realized his love of gardening might provide a more rewarding outlet for his photography than ad layouts for wines and computers.
He has been the sole photographer for 21 garden books.  His most recent book, The American Meadow Garden received the  Gold Award from The Garden Writers Association, and his previous two books, Hardy Succulents with Gwen Kelaidis and Plants and Landscapes for Summer-Dry Climates  won double awards from both The American Horticulture Society and Garden Writers of America.
He also was the photographer of Grasses , with Gardening Gone Wild co-founder Nancy Ondra, and is currently working on the Summer-Dry Project an educational photo database for gardeners in summer-dry or mediterranean climates, while conducting photography workshops and publishing eBooks and iBooks at PhotoBotanic.
His garden is a sustained mess,  and the occasional photo vignette.
Check out his portfolio at www.saxonholt.com.
Connect at Great Garden Speakers  Twitter  LinkedIn and Facebook Fan Page