What a frustration it is to be a professional garden photographer that must make the vain attempt to find gardens at their "peak". I am working on a meadow book and visited Nan's garden this summer.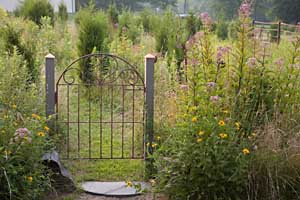 (Ondra meadow July 28, 2007)
Surely her meadow garden is as lovely now as then. A strong argument can be made, looking at her own photos ('In The Field' post below), that the garden is showier now than then. In the spirit on Nan's comment "why bother" about spending so much time and energy in planning and maintaining a garden when the wild meadow astounds her, "why bother" being a garden photographer when you can not possible do any but one's own garden proper justice ?
Garden publishers may glory in peak moments but gardeners know there is no one best time. Garden photographers, at least those who are gardeners themselves, are caught in a dilemma as what to illustrate. When we travel, we too often fall into the trap of the peak moment knowing we perpetuate a mythical time. When DO gardens look their best???
I will be joining this crew at gardening gone wild and hope to offer a bit of insight on gardens through garden photography. Twenty seven years ago when I apprenticed myself to a master commercial photographer I learned the very first day: "The camera always lies – that truth is how photographer's make a living"
There is no truth in talking about gardening, only truth in gardening itself. So, knowing that I will allow this blog as a forum to explore and explode garden truths. My new meadow book is co-authored by John Greenlee, "The Grass Man". John knows more about grasses than anyone I know (even Nan), is a brilliant and creative designer. Want to know the truth about John's own garden ? Let's begin here …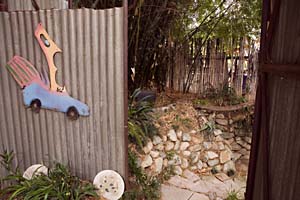 Greenlee garden Feb. 1, 2007