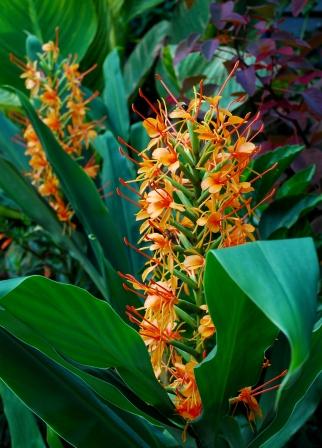 Of all the colors, orange is the most maligned. Maybe because it's a cross between lurid red and zippy yellow, fiery orange exhibits a kind of hyper hybrid vigor—it's more than the sum of its parts, way more. Perhaps because it is aggressively in your face, orange is a color that almost forces people to take sides. No one is indifferent to orange. You either love it or hate it.
I love it. I happened upon the charms of orange while tinkering with whites and yellows. I was looking for colors that could hold their own at twilight, colors that did not disappear when the sun set. I soon gave up white, and went to yellow, what with yellow having more pigment and all. Plus, I just felt drawn to warmer colors. Then I stretched yellow out, exploring its cool chartreusey side, and its hotter, orangey red aspect. Again, the warm side drew me in, like the cozy coals of a crackling campfire.I slipped through orange, tangerine and went all the way on to salmon. Something about those sunset shades called to me, the way they lingered in the dusk. Along the way, I discovered the moderating power of dark foliage, whose moody grandeur had the power to soothe and soften orange's fire. Then there was no looking back.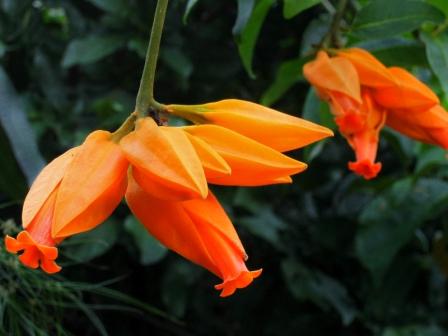 The idea was to dress up our patio with colors that carried their hues into the evening, so when we ate outside at night, we'd still feel as if we were in a garden. How could I resist the charms of Hedychium coccineum 'Tara' (top), which not only has handsome foliage and those fetching orange bottlebrush flowers—it's one of the only Hedychiums to bloom in summer here in Connecticut. Why shy away from the utterly gemlike hues of Goldfinger (Juanulloa aurantiaca) (above), whose digit-size blooms last and last?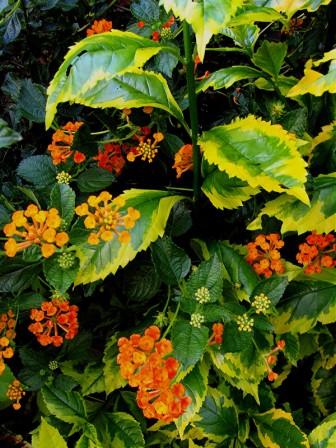 Likewise, Lantana 'Tangerine Dream' contributes its cheery polka dots almost all summer long. I have it paired with Duranta repens 'Golden Edge' (above).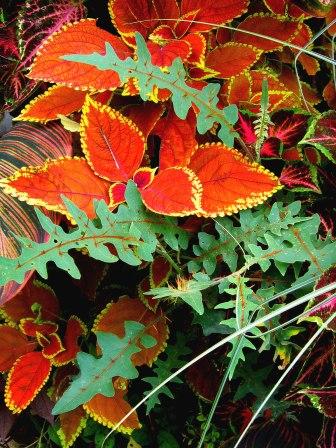 And how about the scorching hot orange veins and stickers on this wacky Solanum pyracanthus (above). I wonder what they're saying to the orangey, terra-cotta tinged seedling coleus behind them. And for floral firepower, it's hard to beat this Zinnia 'Profusion Orange' (below). Luckily that blue bowl helped quench the fire these hot colors kindled.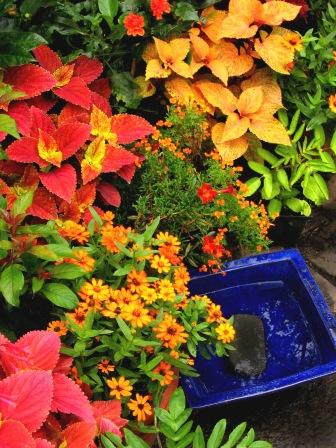 More orange inspiration came from Peter Wooster's phenomenal garden in Roxbury, Ct. Peter always parks his orange Chevy pickup strategically, especially when his garden is open to visitors. That truck has been on the cover of the esteemed British garden magazine "Gardens Illustrated."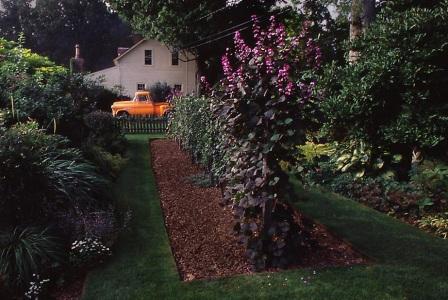 I decided I like orange so much, I had to get out the spray can and do some of my furniture. Just this morning I was listening to Felder Rushing's Gestalt Gardener podcast. He was talking about his purple-painted old-tire potato planter and said "You and a can of spray paint trump anybody with a bad attitude." I couldn't agree more. Especially if it's orange paint.