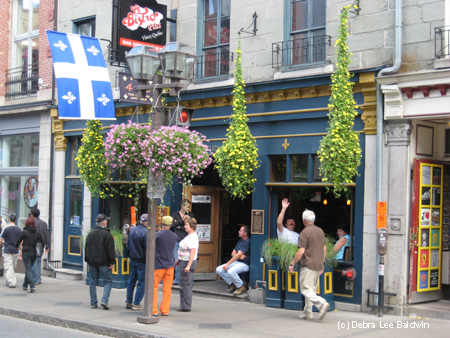 I can't help it. I turn vacations into garden-touring marathons. So when my husband Jeff suggested we visit Quebec for our 20th anniversary, I figured he was safe.  I assumed that French Canada was, if not tundra, probably solid forest.  But it turns out Quebec City is one big garden, or so it seemed to me, coming from brown and dry SoCA. Everywhere I looked, I saw hanging baskets abundant with flowering vines.  Back home, such things would desiccate in a day.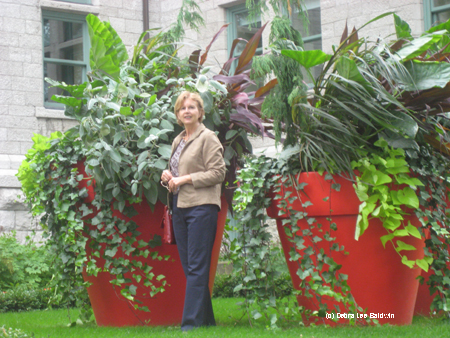 "Here," I said, thrusting the camera into Jeff's hand. "Take my picture." I didn't tell him I already was planning a GGW post about Quebec City, and needed a person in the photo to show the scale of those giant red flowerpots.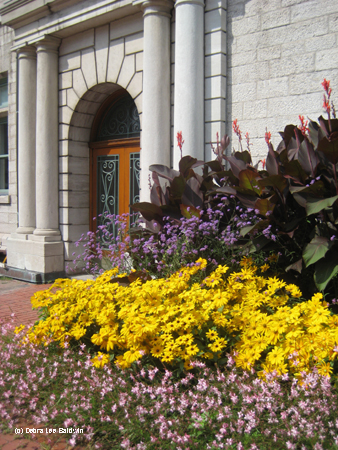 What surprised me (perhaps it shouldn't have) were exuberant beds full of plants way too tender for a climate even locals describe as severe. Obviously what's a perennial in SoCA (given ample water and rich soil) can be grown as an annual even in the far northeast.  Shown here, forming the backdrop to a composition consisting of pink gaura, yellow daisies and purple Verbena bonariensis are burgundy-leaved cannas—a small-flowered variety that was a mainstay of many of the flowerbeds I saw. I wonder if it's a kind with corms that can overwinter here in the ground. 
 The gardens surrounding Quebec's parliament are impressive, colorful and extensive.  When you consider that a 20-foot flowerbed is more than enough for most of us, imagine the labor involved in maintaining hundreds of yards of floral borders.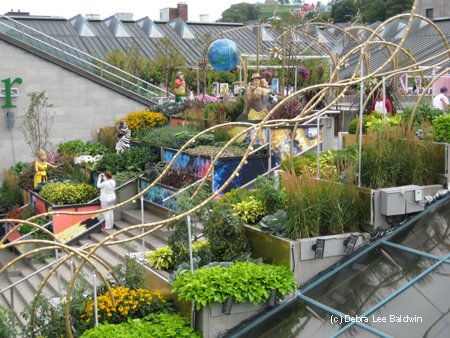 I was beat after walking all over Quebec City's historic district and touring the Museum of Civilization. Then I saw the museum's rooftop gardens. Another hour flew by, effortlessly (at least for me).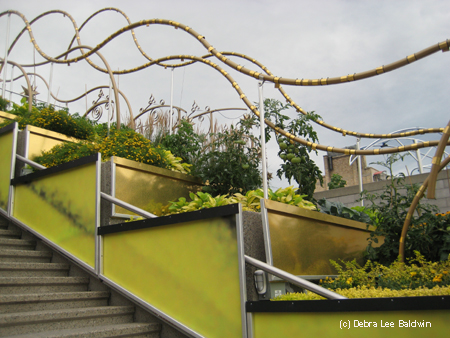 Terraces in the museum's garden were planted with vegetables. Metal tubes above them suggested vine tendrils, and lent the garden a wonderful sense of vitality and whimsy.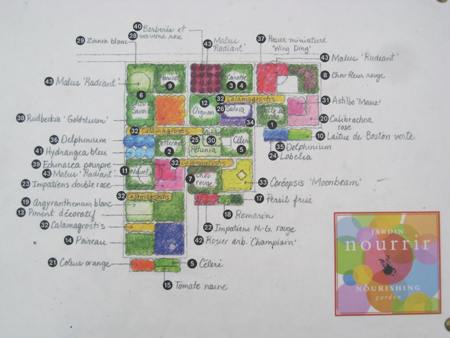 The museum garden is called the Jardin Nourrir, or Nourishing Garden, and—as exemplified by this landscape sketch of one of the areas—is instructional as well as entertaining.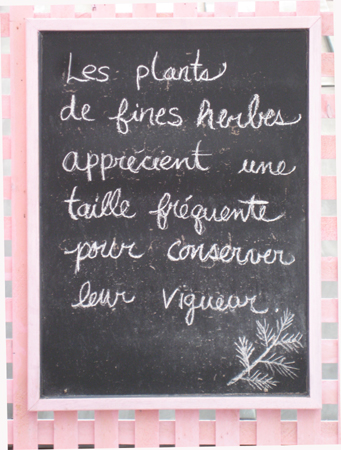 What a great idea: Install a blackboard in the garden, on which to write memos and sayings.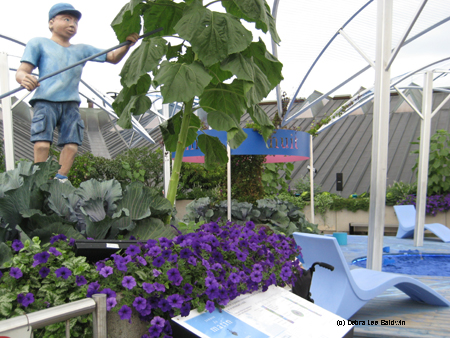 Statuary throughout the rooftop garden engages adults and children alike.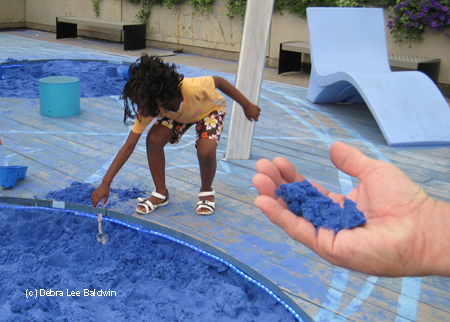 I wonder how difficult it is to dye playground sand blue.  "Here, put some in your hand while I take a photo," I instructed my husband. "That way, people can see its texture."
"You should blog about this," Jeff said.
He knew what I had been up to, all along.
(Next time, Garden Adventures in Quebec, Part Two: Montreal's world-class botanical garden.)