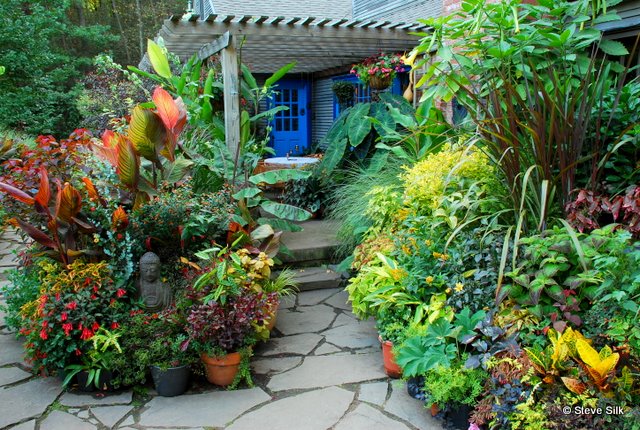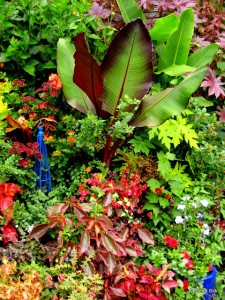 As a dedicated container gardener, my approach to gardening in pots is always evolving.  I wrote about my thriller, filler and spiller recipe last season, and while I'm sticking with that basic approach, I find myself more inclined to create those kinds of combinations by using a grouping comprised of individual plants in their own pots. Groupings provide a lot of flexibility in design, plenty of eye candy, and a richly rewarding splash of structure in the garden.
The same basic horticultural rules rules apply: plants for groupings should be selected based on having like needs for light exposure, say full sun , [part shade whatever but, beyond that, the individual pot ideas frees up a lot possibilities – some pots may contain a soil mix for desert or dryland plants while others can hold rich and moisture retentive soil to accommodate tropical specimens. Individual pots can be watered as much-or as little–as needed. It's not like having a whole lot of plants stuffed into a single container so that every one must share the same needs for hydration. You could even, in the same grouping, use sun and shade plants by positioning shade lovers under the canopy provided by larger sun seekers. So, as you might imagine, you can suddenly be working with an oversized plant palette limited only by your ability to dream up new combinations. The terrific cluster above comes from Tower Hill Botanic Garden in Boylston, MA.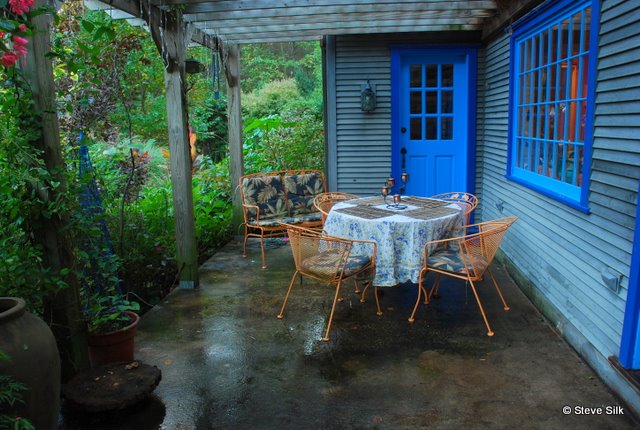 Groupings provide a simple solution for problem areas. Got some hardscape–patio, deck or porch–that needs softening up? Look how a collection of varied groupings has transformed my pergola area off the back of the house.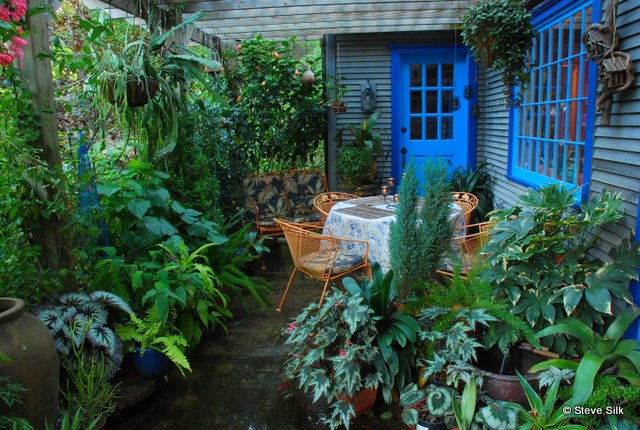 It didn't take a whole lot of work to turn our outdoor dining area from drab to delightful. For another example of the transformative power of a collection of plants in their own pots, look at this fine solution at Wave Hill in NY.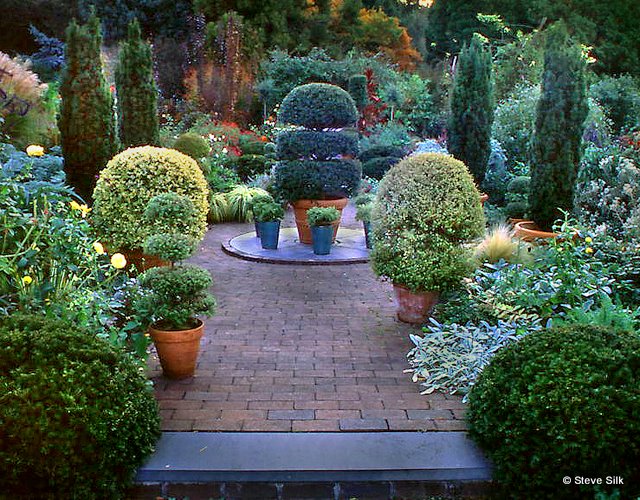 The sculptural shapes of those shrubs and trees transform this space into a geomteric fantasyland. This idea works wonders in problem areas where the soil is too rocky, where tree roots make digging problematic or whatever.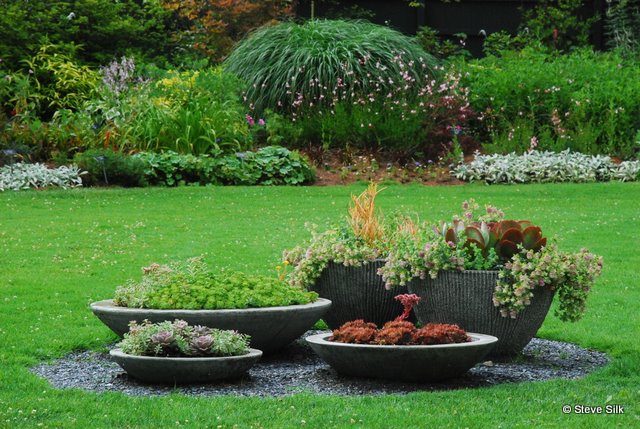 Container clusters can be used to make an entirely new garden feature like this island bed at the Berkshire Botanical Gardens designed by Margaret Roach and Bob Hyland (Bob is one of the owners of Loomis Creek Nursery, in Hudson, NY. You can see more of Bob's, and more of Bob and Margaret's pots over at Clatter Valley).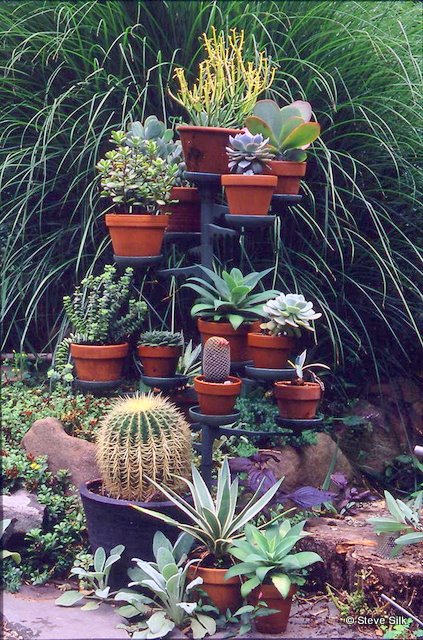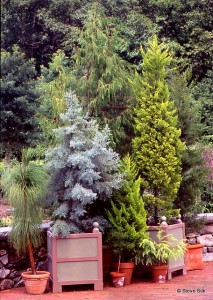 Collections shine in container groupings too. I have several islands of succulents out in garden areas farther from the house. The indiviudal pots make it easy to show off each little sculptural pearl as if in its own setting, and since they are xeric as all get out, I never need to water them. But pickier plants can be grouped together too, as readily shown by this tasty collection of conifers displayed at Tower Hill Botanic Garden in Boylston, MA.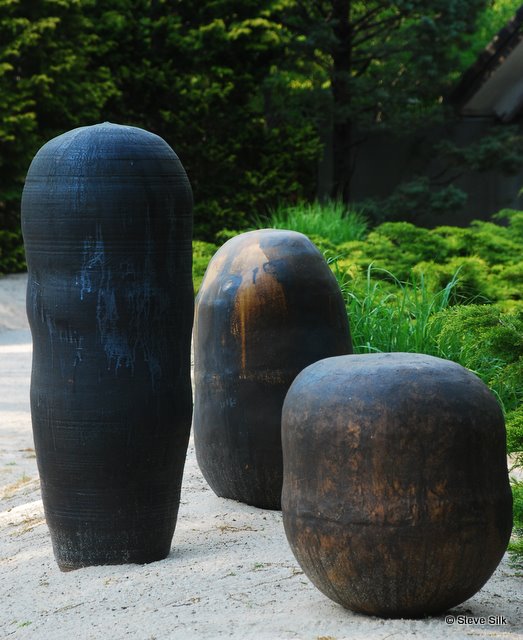 When I'm creating displays I usually design around one exceptionally nice pot or pot/plant pairing. It helps if all the pots are of a similar material–all terra-cotta, say–but some mix-and-match is okay. I often use cheapo black plastic nursery pots if I can hide them behind other more presentable pots, and it's surprising how often I can find a way to do that. Heck, you don't even need to put plants in the pots, as shown by this collection of earthy, organic-looking ceramic forms at LongHouse Reserve in East Hampton, NY.