That's what they called our neck of Farmington, Connecticut back in the day, when stagecoaches rumbled through a notch near our ridgetop home on their way down to the Farmington Valley. The old coaches must have made a lot of noise, but today the main sound we hear is the 3 pm call of a Barred Owl, who's as reliable as an alarm clock.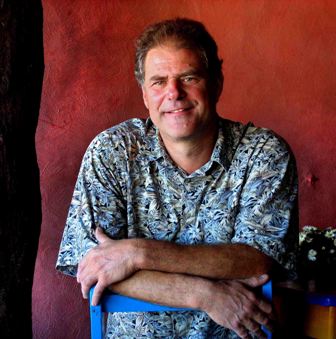 We're located near about the middle of Connecticut, in Farmington. I like to think I garden in a warm Zone 6, but that sometimes reflects my optimism more than the actual climatologic data. My wife Kate, son David and I live on 12 acres, much of it protected by a conservation easement to the local land trust. The rest – four stony acres, basically, a hole in the woods – is my garden playground, where I tinker with plants, pots and structures. The overarching idea is to be a responsible steward to our little patch of earth and to leave it a richer, more diverse environment than it was when we first walked its rolling knolls and swales looking for a place to build our house. And, of course, to have fun doing it.
I arrived at my current garden geekdom via a roundabout that included newspaper photography – everything from forest fires in Big Sur to Mick Jagger and the Rolling Stones – and travel writing from Boston to Bali. Seeing countless plants all over the world in their myriad adaptations to deserts, jungles, cloud forests and alpine meadows ultimately led me back to my own yard, where I'm now trying, essentially, to create an imaginary country, a distinctive world of plants, colors and structural elements that might lead one to believe they'd need a passport to get in.
Here I play with every kind of plant I can find, whether it's native to the tropics or the tundra.  My major gardening interests are container gardening, early and late blooming woodies and perennials, plant propagation, colorful and bold foliage, color in general, unusual annuals, bird-friendly plants, and overwintering tender perennials and tropicals without a greenhouse. I'm also enthralled by magnolias, Japanese maples, hydrangeas and viburnums.
I take a rather irreverent approach to gardening and have learned that lots of what people consider to be gospel garden truths are simply misconceptions that have been handed down from one garden writer to another over the years. I like to have fun out there, and do what I want, when I want. As someone once said, gardening is the slowest of the performing arts. But it's also the most forgiving, and you can bury your mistakes. So, I'm not afraid to experiment – the worst that could happen is that some plan or other may not work out, and then I have to fix it – which gives me an excuse to do a little more gardening. If there's a plant in my yard that hasn't been moved, it must be the one I'm planning to move tomorrow.  I take lots of inspiration from my tropical travels – we still visit Latin America at least once a year – especially the plantlife of the cloud forests and the fearlessly whimsical use of color so common throughout Mexico.
So much for the vitae, now for the curriculum: After 15 years as an award-winning photographer and travel writer at the Hartford Courant, I moved in 1996 to Fine Gardening magazine, where I was Managing Editor.  Though I'm still a Contributing Editor for that magazine, I have left the fulltime cube farm to freelance as a garden coach and designer, photographer, writer, editor and speaker. Last summer I wrote an entire special issue for Fine Gardening which covered the plants and techniques that constitute my foolproof Thrillers, Fillers and Spillers recipe for planting mixed containers. My photography has garnered two Garden Writers of America awards for best portfolio. And I've collaborated with Sydney Eddison on "Gardens to Go" (published by Bulfinch), a book about container gardens. We also worked together on "The Gardener's Palette: Creating with Color in the Garden," (published by Contemporary Press). I've appeared several times on HGTV's "Gardening by the Yard" and am a past President of the Connecticut Hardy Plant Society.