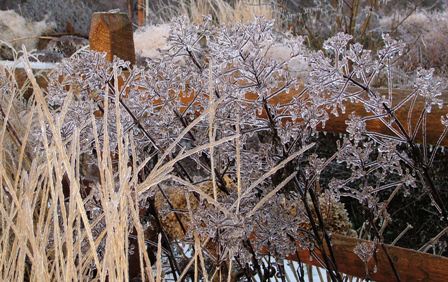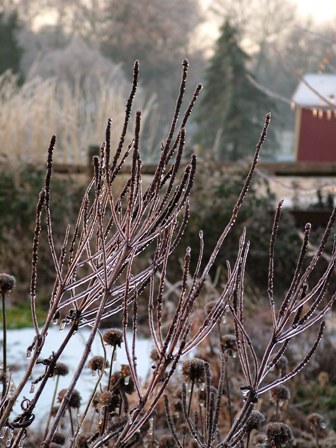 Inspired by Benjamin's fantastic photos of ice-fog in Frog or Icog? at The Deep Middle, I decided to see what I could find of interest in my ice-coated garden this morning. Our first sunrise in over a week is quickly starting the melting process, just in time to clear away the traces of yesterday's sleet and freezing rain in preparation for tomorrow's snow. Well, who's complaining, with beauty like this? Above are the seedheads of Calamagrostis x acutiflora 'Karl Foerster' and Eupatorium purpureum. At right, Culver's root (Veronicastrum virginicum). And below, Allium 'Mt. Everest'.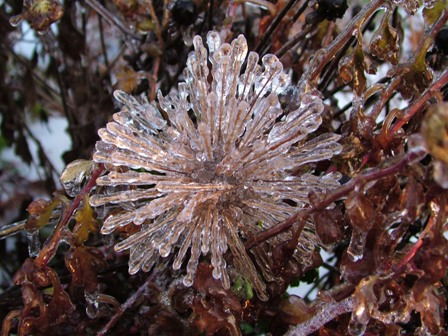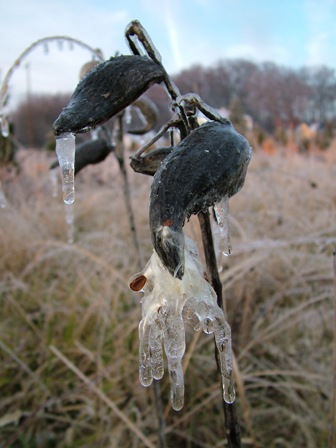 Above, the seedpods of common milkweed (Asclepias syriacus) in the meadow. Below left, beautyberry (Callicarpa 'Issai'); below right, 'Winter Red' winterberry (Ilex).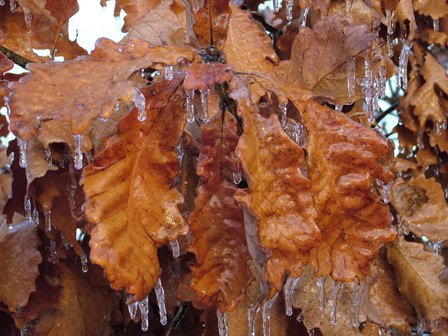 Above, emperor or Daimyo oak (Quercus dentata). Below left, Joe-Pye weed (Eupatorium maculatum); below right, 'Dallas Blues' switchgrass (Panicum virgatum).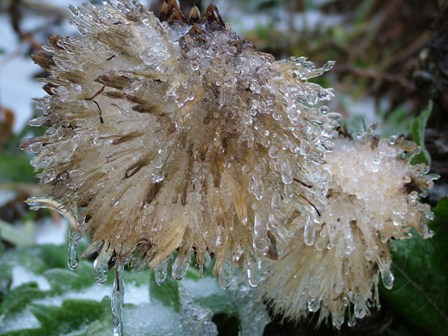 Above, the seedheads of cardoon (Cynara cardunculus). Below left, round-headed bushclover (Lespedeza capitata); below right, Persicaria polymorpha.
And finally, below, little bluestem (Schizachyrium scoparium) in the meadow. Well, now I don't have to feel so bad about not having anything to share for tomorrow's Garden Bloggers' Bloom Day!