It is cold and dreary here in the Midwest. Snow is blanketing the ground. I am inspired by recent correspondence with an artist friend of mine to share his colorful work with you. Photos courtesy of James Brandess Studios & Gallery, Inc.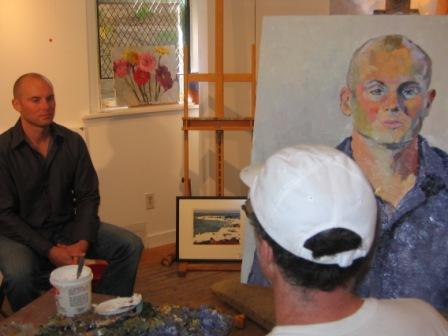 On pleasant summer days, it's common to find a crowd of people peering through the front window of Saugatuck, Michigan's former Post Office. The historic building is now home to the James Brandess Studios & Gallery. Jim frequently paints portraits and still-lifes in the front window.  
Jim trained at the world-renowned Art Instititute of Chicago (AIC). Before opening his own studio and gallery 15 years ago, he had the benefit to work at Ox-Bow School of Art in Saugatuck. Ox-Bow was founded in 1910 by a group of artists affiliated with the AIC. According to M. Travis DiNicola, "Ox-Bow is a strange mix of a haven, a school, a summer camp for adults, and a resort. It is a place where artists – both teachers and students – go to be renewed by being a part of a community dedicated to art and learning."
It's easy to see why Jim stayed in Saugatuck. The charming resort community is nestled on the shores of Lake Michigan and at the mouth of the Kalamazoo River just a 2-hour drive from Chicago. Saugatuck is surrounded by rolling dunes and pristine natural forests. It is the perfect place for an inspired artist!
I was introduced to Saugatuck and Jim Brandess 10 + years ago when I attended an opening at his gallery. At the opening, I fell in love with his Impressionistic style. It was only years later that I was in a position to acquire a piece. In fact, I commissioned him to paint my portrait (shown above, in progress). It was a painstaking process. I sat over several days totaling at least 15 hours. I couldn't be happier with the end result!
Jim shared images of a canvas he painted this summer while standing in his own garden. The daisy and coneflower piece below measures over 6′ long and recently found a home. I am struck by the realism of this piece and Jim's ability to capture movement. 

Do you have a favorite artist who is particularly adept at capturing the essence of flowers and gardens?  If so, please comment.
I am anxious to add another James Brandess original to my art collection. I hope you appreciate Jim's work as much as I do. Please check out his web site for many more photos.
If you are looking for a delightful summer vacation destination I highly recommend Saugatuck, Michigan.