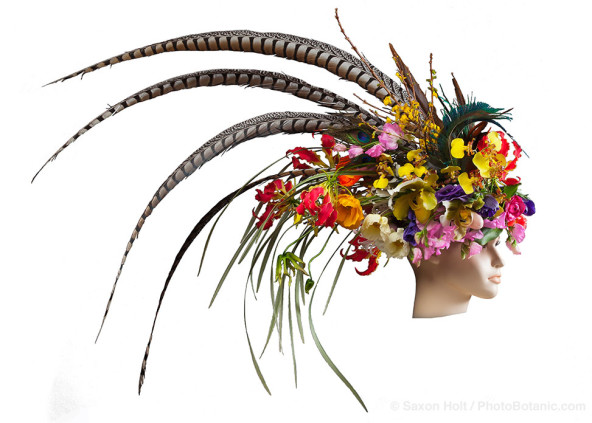 The San Francisco Flower & Garden Show is March 19-23, and what a surprise, the advertising theme is flowers.  But the fun thing is an injection of new energy targeting a younger audience and special events.
As anyone who has attended the Show in recent years knows, the Show is not in San Francisco, but in San Mateo Convention Center 20 miles south.  While this is convenient for a large audience that lives in these suburbs, it lacks the energy of a City atmosphere and is tough for public transportation.
New owners of the Show are looking for ways to move it back to San Francisco but in the meantime they are looking for new ideas to make it a success and an event with buzz.
To create the signature floral arrangement, Natasha Lisitsa or Waterlily Pond brought her exuberant skills to Maggie the Mannequin, now appearing on buses and billboards all over town.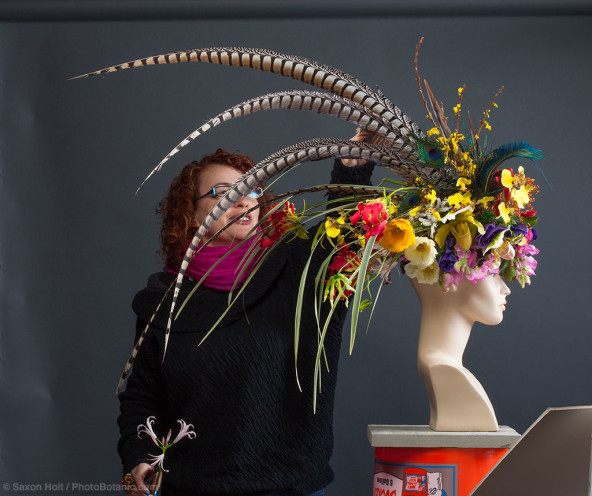 Here we are creating Maggie in the makeshift studio in Rock and Rose Landscapers garage.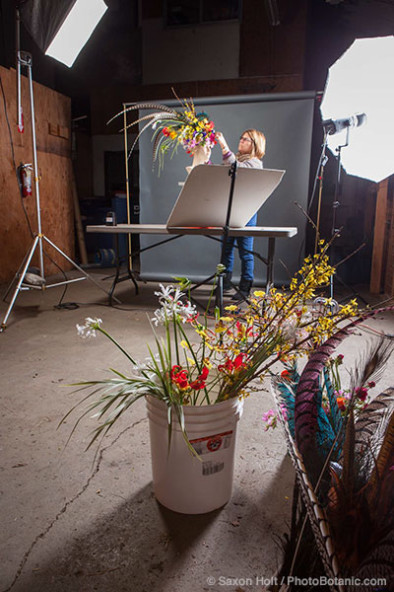 A true exuberance of flowers: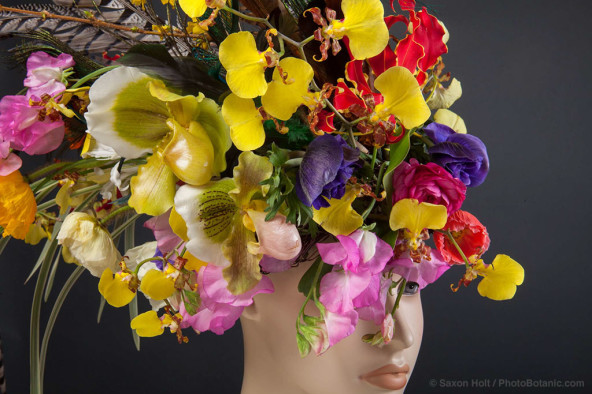 Some of the real excitement of the Show is creating new events as part of the excuse to attend. There are the usual extraordinarily diverse seminars, free to attendees all day every day, such as Gardening Gone Wild's own Debra Lee Baldwin, but this year there are special features and workshops.
These premium ticket (extra charge) events are ways to bring added value and special opportunities only at the Show. Perhaps the most audacious is LGBT night, a special premium Friday night fundraiser and dance party with floral leis for all with the special ticket.
But for photographers the Show is a special opportunity to have a hands-on workshop with PhotoBotanic photographers – that being me and a special guest David Perry.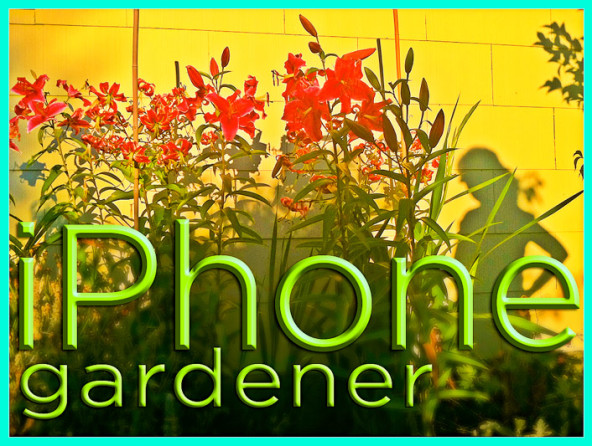 Yes, David brings his wonderful, amazing iPhone workshop to the Show.   We both give public seminars followed by a special workshop limited to a small class with the premium ticket on the floor of the Show among the gardens.  Mr. – Perry Friday the 21st.  Me – Wednesday the 19th.
My workshop will be Finding the Photo – how to walk into a garden where you may be on sensory overload and use  your camera to find a photo that tells the story of what you are seeing.
While the photo workshops are certainly the highlight of all the special events ;-), and LGBT night appeals to certain new audiences, there are other special events adding new depth to the Show.  Nan Sterman from the television show A Growing Passion, brings the popular Sprout ! workshop where participants plant there own summer vegetable garden.
Always wanted to ask a pro to help design your garden but a bit short of a consolation fee ?   For $30 make an appointment and ask an APLD designer at the Show of a quick consultation Ask  a Designer.
Intrigued by all this ?  Want to see how John Greenlee organized floor plan for the gardens ?  Did you know Chris Woods is behind the scenes ? Get your tickets now at local nurseries or online.  This happens next week, March 19-24.