Even in California, frost causes problems.  And when it comes in early December it causes big problems.
Almost every gardener I know here in the Northern part of the state pushes the limits of their garden.  It's California ! – it is our birthright to grow tropicals and tender succulents, plants that are barely hardy in a good year.
This had been an extraordinarily cold December, and it's only the 10th.  Four days in a row now where the temperature in my garden has been between 22 and 25 at dawn.  The water bottle in my car stays frozen all day.
I suppose those of you in colder climates take no pity on us.  You who enjoy ice fishing and snow probably don't expect to grow Fuchsias and Ginger outdoors and think a tough succulent is a prickly pear, when we want to show off our Aloes.  Well don't take pity on us but please say a prayer for our plants, they are dying back everywhere.  We may be in zonal denial but it is our plants that are taking the beating.
However; there are photo opportunities to be had in cold still mornings.  There is a cold beauty in frost, and the air is clear and very still.  My Camellia sasanqua shrubs are at peak bloom and while the frost turned the older flowers to mush, the fresh ones look like sugar dusted confections, frozen and preserved until the thaw.
I decided to experiment with a depth of field focus stack on a Camellia flower.  This is a way to achieve remarkable death of field in macro photography by taking multiple frames of the same subject, camera on tripod, while slowly changing the focal point, probing into the depths of the flower.
I have been experimenting with this focus stack technique in the studio where there is no wind and controlled light. But it was so still the other morning I wanted to try the technique in situ, in the garden, en plein air.  There is a special thrill and special challenge of doing my photobotanic illustrations in the garden, as opposed to the studio where most botanic illustrations come to life.
See the shallow depth of field in this shot of my frosty Camellia sasanqua 'Yuletide' ?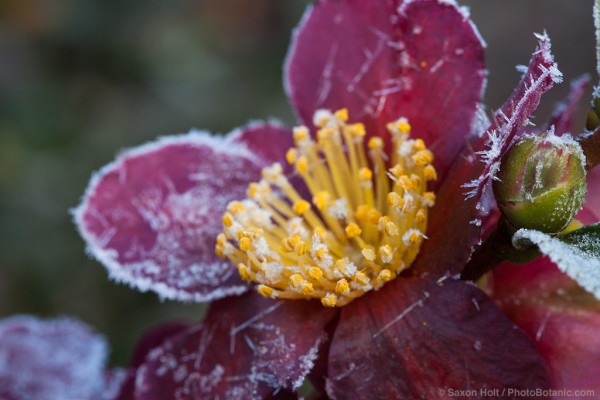 And then this one with great depth?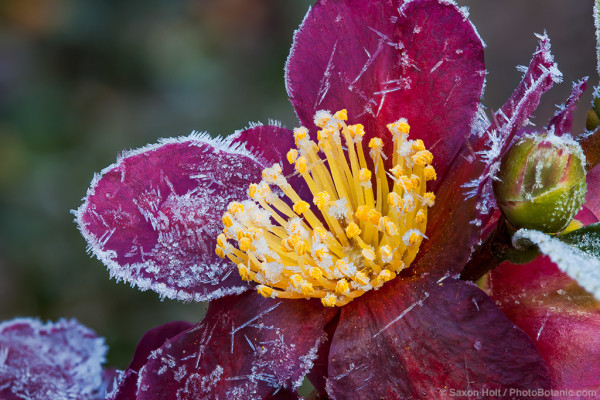 It is a result of 17 frames that the computer put together.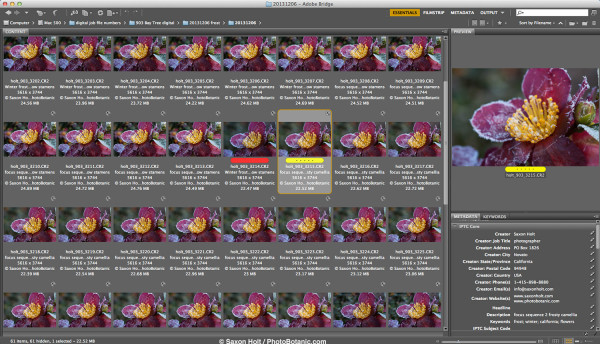 Working in the garden may be cold but it's the only way to get the photo, it could not have been done in a warm studio.  The frost makes it special.
The real triumph of the day though, was the illustration of a branch.  Making a photobotanic illustration, as an extraction from an actual garden scene, gives a sense of authenticity and realism that gives me great pride.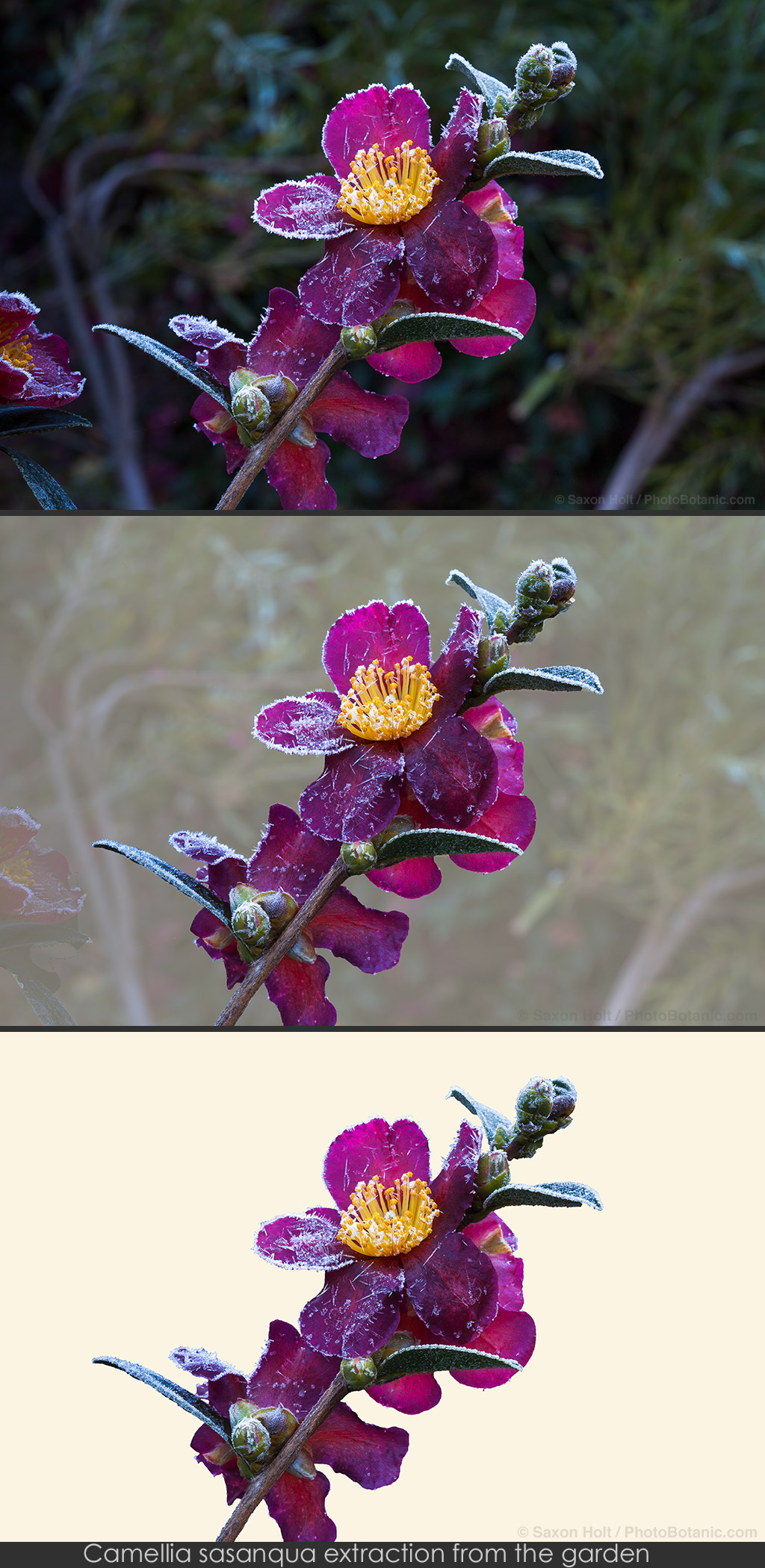 It is tedious and I am still struggling with the masking tools in Photoshop that make the cutout silhouettes possible, but they become works of art. I will explain in more detail to those who are interested in the e-book, but with a little care in creating the background and paper color, these illustrations are worthy of hanging on a wall.
This is my first one I offer for sale, here at Fine Art America.  If anyone orders a print and frame, please let me know how the order process worked.  You guys are the guinea pigs….