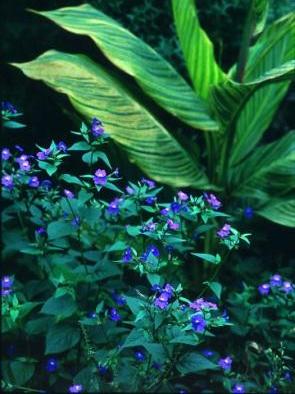 It's tough for me to pick a plant of the month in October. Fall's fiery finale is in full swing, and the garden's ablaze with tropicals, annuals and a slew of late season perennials, all blooming like crazy, getting in their last licks before Jack Frost mows them down with his icy scythe. But I'm going to have put my money on one of the lesser lights of the garden, an annual that doesn't flaunt the brightest color, or parade the biggest blooms. It's not one of the stars of the show. In truth, it's a bit player. But what a role! Bush violet (Browallia americana) is the glue that binds the whole scene together. It compliments any companion, grows darn near anywhere–sun or shade, wet or dry, and is tough as nails-mine have never been bugged by pests or disease.  This superlative weaving plant knits its way through the border, and at 30-36 inches in height and about half as wide, it's big enough to make a good impression. More is always merrier with bush violets, and when there are enough to to wave their cheery, inch-wide blue blooms in scattered spots from one end of the border to the other, they produce a pretty picture indeed. By this time of year, even the self-sown plants of this slow-to-flower annual are making a fine contribution.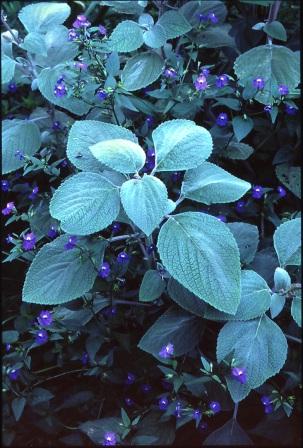 Don't mistake this South American native for the named browallias you can pick up at the local garden center. Browallia americana is the straight species, a subtler forebear of the overbred versions that are widely available. As with Nicotianas, plant breeders have had a field day with Browallia, but I'm not at all certain they've actually improved the plant. This smaller-flowered, more delicately textured, airier original is a far more refined garden player than the mutant cultivars breeders have coaxed from its genes. It's also a better partner for perennials, thanks to its talent for cuddling up to any neighbors. It looks good up front or mid-range in any bed or border. And the flowers' white-eyed, purple-kissed blue is a hue that always comes in handy.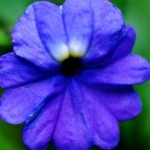 Plants are usually hard to find commercially, and even locating seeds can be tough. But if I've been lax about harvesting and saving my own seeds, I can usually locate some from Select Seeds, Chilterns or J.L. Hudson. I sow the tiny seeds indoors under lights in February, put the seedlings out after danger of frost has past and sit back to enjoy the show, which kicks off by mid July or so. Plants usually sail through the first couple frosts (in early or mid October here), and I've enjoyed them well into November in years past. Plants will self-sow, but volunteers don't make much of a contribution until September. I always start loads of seedlings each spring, and use most of my space for new plants, or at least plants that are new to me. But I always make room for a few flats of browallias.