In Southern California, Rogers Gardens is famous,  the largest independent nursery on the West Coast. But this post is about a different Roger's garden, one cultivated by Roger Martin for 40 years. When I visited him and wife Gerry, Roger pressed plants on me—anything I admired or asked about was added to a box of cuttings and potted plants Gerry thoughtfully packed up for me.
Roger, you see, can't bring himself to throw away a cutting when he's pruning back his succulents. So he pots them up. He sells them, too, for the cost of the pots and soil plus a little extra for his time. If you live in the San Diego area, do look him up (gmartin@san.rr.com).  He has some treasures, not to mention a garden only a mountain goat could love.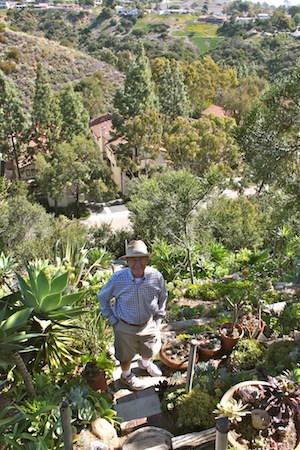 Roger "down" in his garden. I'll say.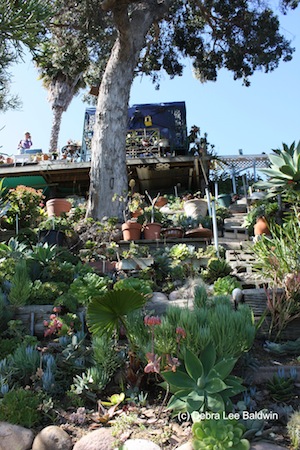 Gerry on her cell, as seen from the garden.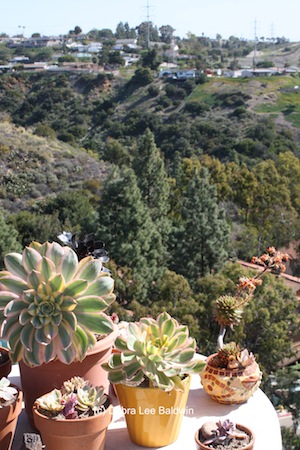 View from the Martins' back patio, where Gerry was standing. Aeonium 'Sunburst' in pots.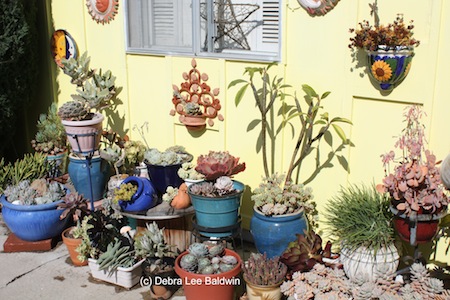 A pot grouping along one side of the house.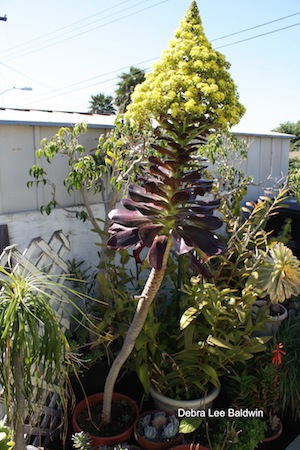 Aeonium 'Cyclops' in bloom.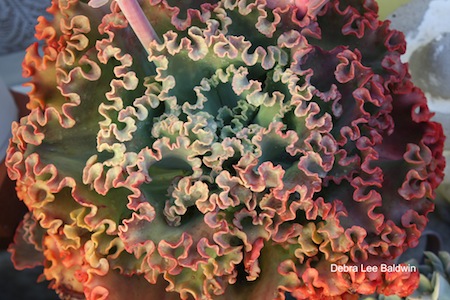 A ruffled echeveria in Roger's collection.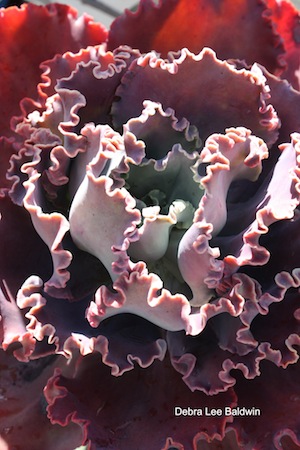 And another.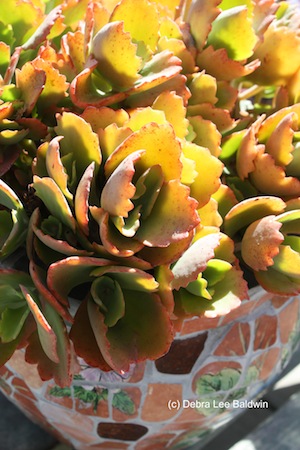 A kalanchoe repeats the colors of a mosaic pot. "I'm in charge of aesthetics," Gerry says.
Roger, enjoying the sunshine and plants on his patio.
My goal is to share the beauty of waterwise, easy-care succulents in gardens, containers and landscapes via blog posts, newsletters, public speaking and workshops, photos, videos, merchandise, and social media (Facebook and Pinterest). My books: Designing with Succulents, Succulent Container Gardens, and Succulents Simplified.  www.debraleebaldwin.com