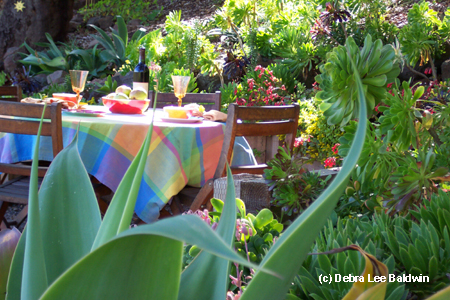 My garden, near San Diego, has been in Better Homes & Gardens, Sunset and the San Diego Union-Tribune, among others. Sunset was the first. I interested them by sending the editor this shot of my succulent sitting area.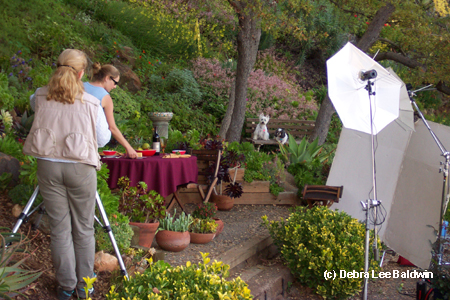 Sunset sent garden photographer Claire Curran who arrived with an assistant and a van full of equipment. We decided not to use the plaid tablecloth and substituted a solid-colored one. Claire agreed that Lily (my West Highland white terrier) and Mickey (my shih-tsu) would be cute in the background, on a bench beyond the table.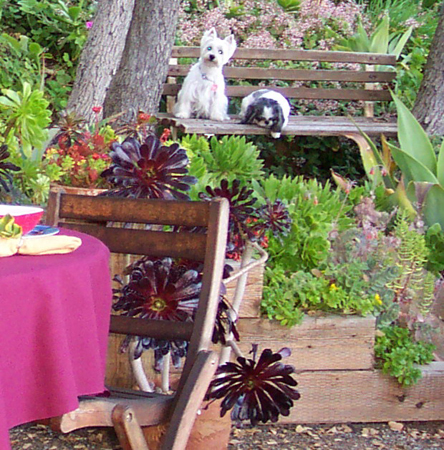 As the afternoon wore on, Claire was still not satisfied—she had her assistant move pots and tableware an inch at a time to compose the perfect shot. Mickey fell asleep. Lily, however, sat alertly on the bench for nearly an hour.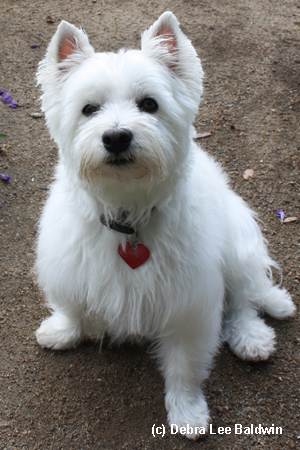 Lily knows when she's working, and intently awaits instructions from her Pack Leader. I stood behind Claire so Lily would appear to be looking into the camera. One reason I have a white dog is that her nose and eyes show up in photos. I also like a terrier's pert triangular ears. My shih-tsu is a sweetie, but is all rounded lines.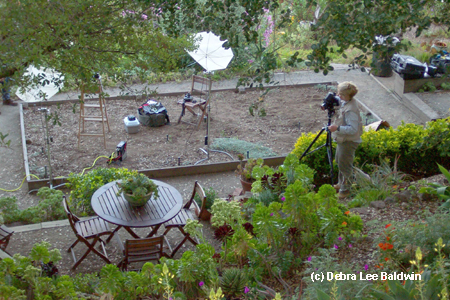 Despite our efforts, Sunset didn't like the photos. They decided they didn't want the table set for outdoor dining. The dogs were adorable but too far away to show up if the photo ran small. So Claire came back to reshoot the garden, at dawn, in the sweet light of early morning. The empty rectangle beyond her was once a rose garden, and shortly after Claire's visit it became a succulent tapestry.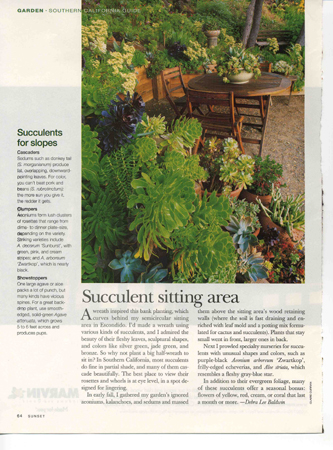 The story appeared in Sunset magazine in 2003. I wrote the accompanying text in the first person, explaining how the sitting area had been dug into a steep slope, and around the retaining wall were aeoniums, graptopetalums and other succulents that would cascade. The effect is that of sitting in a succulent half-wreath.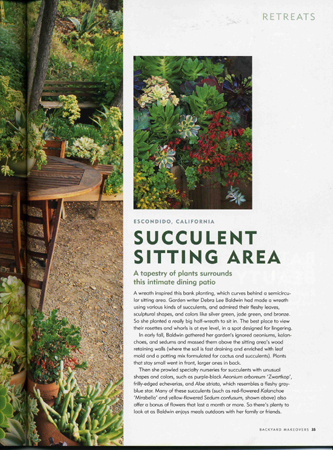 The same story, revised by Sunset's editors, later appeared in Sunset's Garden Makeovers (2004).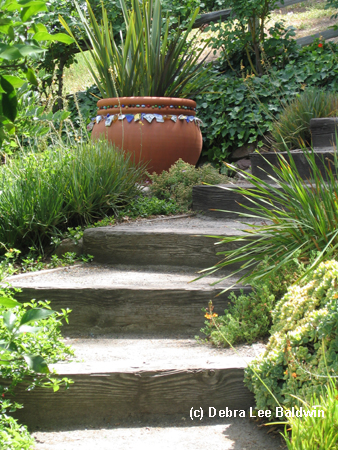 By the time Andrea Caughey, regional scout for Meredith publications (Better Homes & Gardens), visited the garden in 2005, the succulent tapestry had filled in and looked great. She sent her editors scouting shots of it, as well as of the succulent sitting area and of a large pot I had encircled with a necklace of broken china.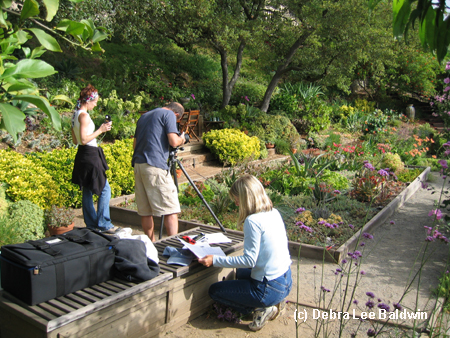 On the day of the shoot, Andrea and photographer Dominique Vorillon and his assistant got here before dawn.  Here, Andrea consults her notes as Vorillon shoots the tapestry.  His assistant is holding a light meter.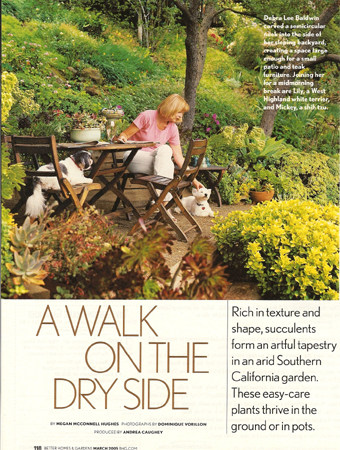 Writer Megan McConnell Hughes, working from Vorillon's photos, interviewed me over the phone from Iowa (BH&G doesn't do first-person stories).  After the story ran in BH&G it was reprinted in one of Meredith's Special Interest Publications.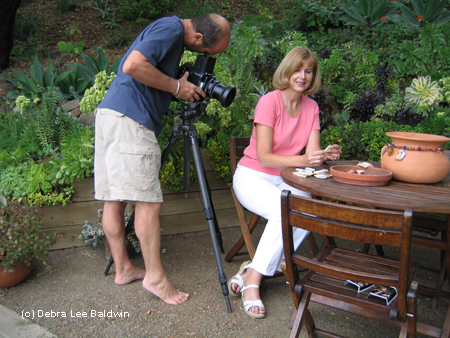 The article included a sidebar that shows how I make necklaces for pots. Oddly enough, Vorillon preferred to work barefoot.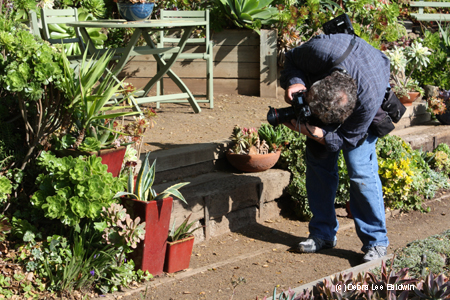 Recently, Howard Lipin of the San Diego Union-Tribune shot a story about my garden and succulents. Karen Dardick wrote the main article, and I provided a first-person sidebar with tips for growing the plants in the San Diego area.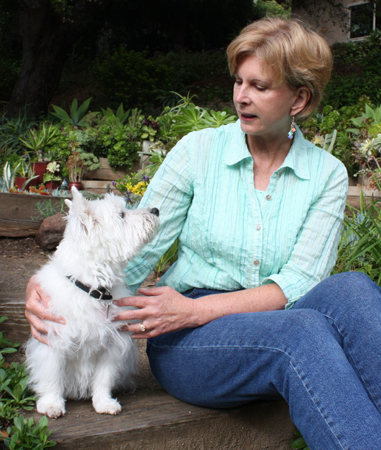 After Howard photographed me with Lily, I handed him my camera.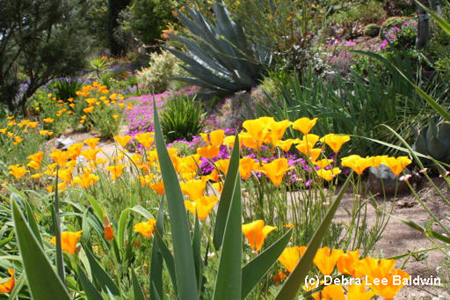 My own photos of my garden have appeared in San Diego Home/Garden magazine, Flower Gardens (ironic, I know), and other publications.  The "Debra's Garden" page of my website has this photo, among others.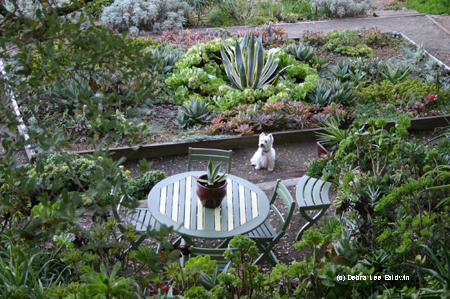 The garden also is in my two books, Designing with Succulents (2007) and Succulent Container Gardens (2010).  In 2008 I painted the table to repeat the coloration and lines of the variegated agave in the center of the tapestry.
So now you know my secret, though it's easier said than done: In order to get editors interested in your garden, or for that matter, readers interested in your book or blog, offer great ideas—preferably that no one else has done—that photograph well.
My goal is to share the beauty of waterwise, easy-care succulents in gardens, containers and landscapes via blog posts, newsletters, public speaking and workshops, photos, videos, merchandise, and social media (Facebook and Pinterest). My books: Designing with Succulents, Succulent Container Gardens, and Succulents Simplified.  www.debraleebaldwin.com