In my October 22 entry, in my haste to show off the first "spring" narcissus in my garden I included the first Camellia flower of the season too. I said it was C. sasanqua 'Cleopatra' and one reader commented it did not look like what she expected. It was mis-labeled.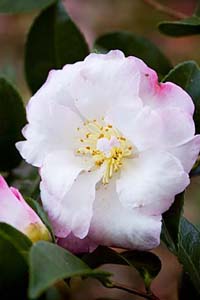 Camellia sasanqua 'Apple Blossom'
Here is the actual 'Cleopatra' now blooming in my garden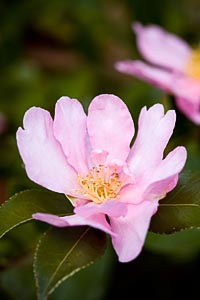 I don't want to use the excuse: "it was only a blog entry" to apologize for my mistake but will say (to preserve my credibility among my publishers) I would never have sent the photo to a publisher with such haste. Promise to myself and Gardening Gone Wild readers: be more careful.
This is an opportunity, though, to warn gardeners about having too much faith in captions seen in publications. Before I explain a little, behind the scenes, dirty little secret of publishing, I alert my trusting readers that mis-labeling is a rare occurence. In my last entry on Stuffed Photos, about garden photos that were entirely created just for the camera, too many of you assumed too many photos are staged. From those comments it seems you will never again believe a garden photo is real. While the camera always lies for the photographer's purpose, it does not mean the gardens are a lie to start with. OK, OK, move on….
Most all of you know garden photos are sometimes mis-labeled. How does this happen ? Doesn't anyone check these things ? In truth, the better publishers check very hard; many ask for critical review, employ special editors, and reject many photos for insufficent captioning. If you want to be a professional garden photographer you best get acquainted with botanic latin and be able to back up your sources when an editor calls to say "are you sure ?".
Photo captioning and cross referencing is the most tedious part of my work but it must be done or my photos are worthless in the market I most need. While many garden photographers are gardeners themselves we are usually working in someone else's garden. We may love gardening but are not horticulturists. If a homewoner/gardener gives us the wrong plant name or cultivar, we may occassionally question the ID for the sake of conversation, but will not write down what we think it is as opposed to what the gardener tells us.
Garden photographers will also depend on labels we see in gardens, nurseries, and arboretums. One day I will rant about cultivar labels that some nurseries create just to have their own name on a patented plant, but suffice it to say nursery labels are not always accurate either. My own worst and in retrospect, laughable mistakes have come from believing botanic garden labels.
In my early years of photographing in botanic gardens, before I knew the difference between a Pennisetum and a Penstemon, I associated every label with the plant closest to it. I would even seek out the labels with the most unusual names to get photos of rarely photographed plants. More than once, I captioned a fairly ordinary plant with an exotic label.
I remember a truly epiphanic moment realizing that when bulbs go dormant in botanic gardens the label is still there. It is really embarrassing to have an editor say "We really love this early spring bulb garden photo but where are Dahlias we thought you were sending?".
So, if you see a questionable caption for a garden photo, it is probably not the writer's fault, it may not even be the rookie copy editor's fault, it may not even be the photographer's fault, it may just be a mistake with no-one at fault.