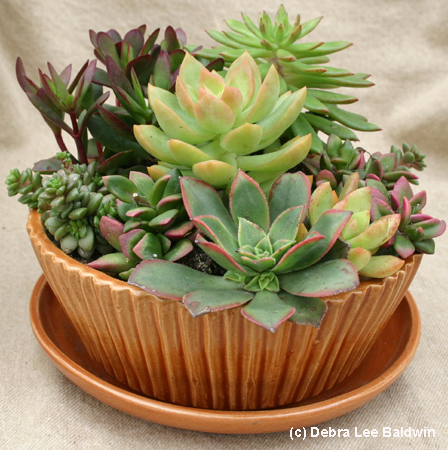 The ideal Thanksgiving centerpiece…
— Is low so guests can see over it.
— Is festive, in keeping with the holiday.
— Has colors that convey autumn.
— Looks good with your decor and china.
— Doesn't take up too much table space.
— Is simple to assemble and can be done days ahead.
— Is in a pretty container.
— Is a conversation piece.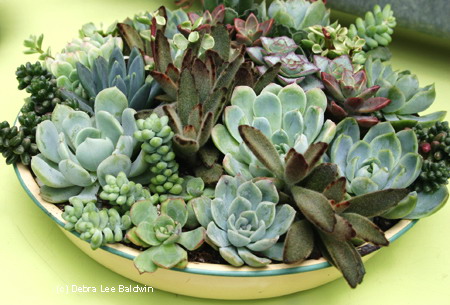 That's a tall order, but it can be done. Rosette succulents make ideal floral material because they have a low profile and don't wilt. Cuttings tucked into a container or vase suggest a bouquet. They don't need to be planted, in fact, will last a week or more without water.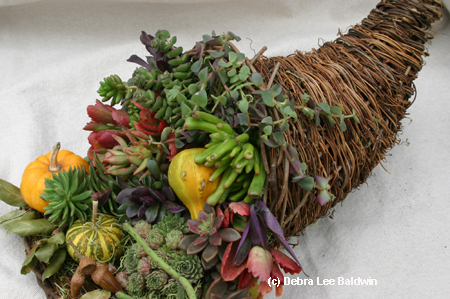 The above arrangements are by Chicweed, a Solana Beach, CA, garden shop owned by florists who use succulents extensively. (I show many of their designs in Succulent Container Gardens.) For a bouquet-like look, they plant succulents (from 2- or 3-inch nursery pots) tightly so no dirt shows.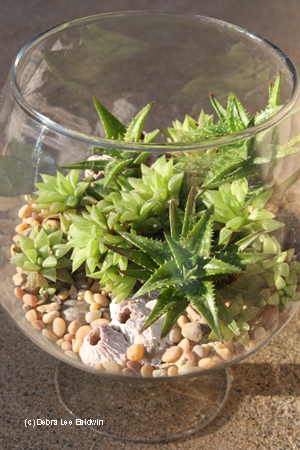 Using a nondraining container isn't a problem if you water infrequently and sparingly. I mounded pebbles on one side of a glass container (from a crafts store) then inserted haworthia and aloe rosettes into the pebbles. I spritz it every now and then to encourage roots to form.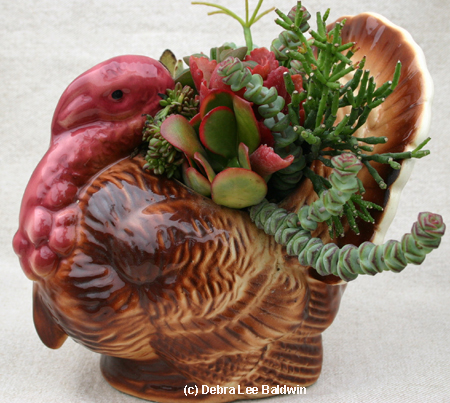 Here's another Chicweed arrangement, in a container provided by one of their clients.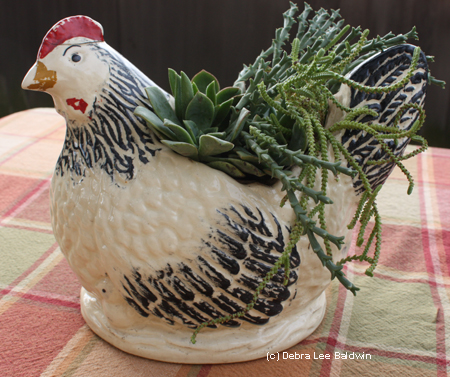 Bonnie Manion of Mon Petit Chou used a watch chain crassula to suggest tail feathers…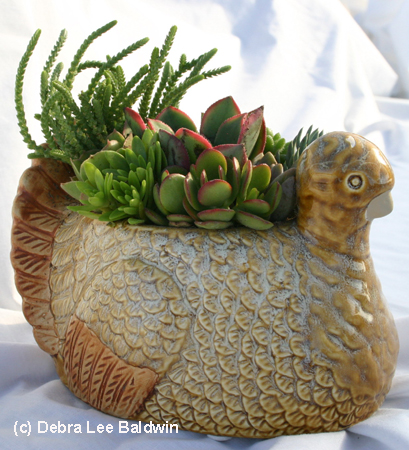 …as did Margee Rader of The Original Living Wreath.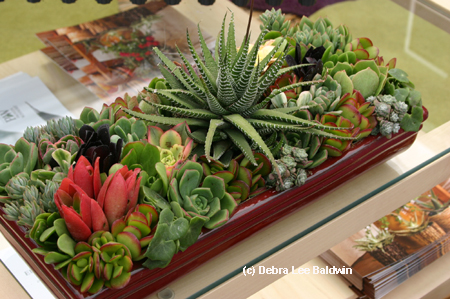 This also is by Margee Rader, for Proven Winners. An assortment of crassulas (jade), aeoniums and sedums surround a zebra plant (Haworthia attenuata).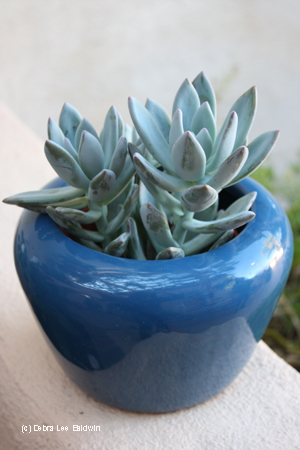 Unlike flowers, succulent rosettes conveniently come in shades of blue…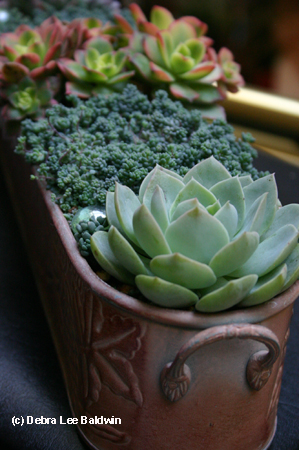 …and blue-green.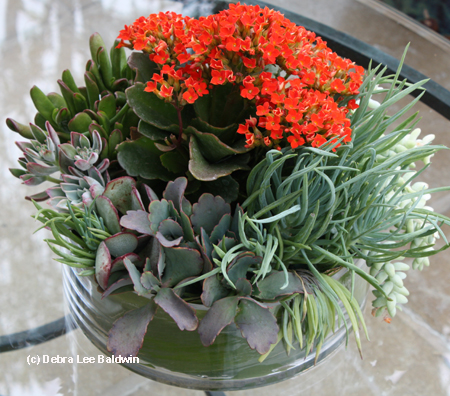 Flowers of supermarket kalanchoes are bright hues of yellow, orange, red, pink, cream and coral. Here, a pot of supermarket kalanchoes adds height and color to a composition in a glass bowl lined with a banana leaf. An assortment of cuttings surround and conceal the pot.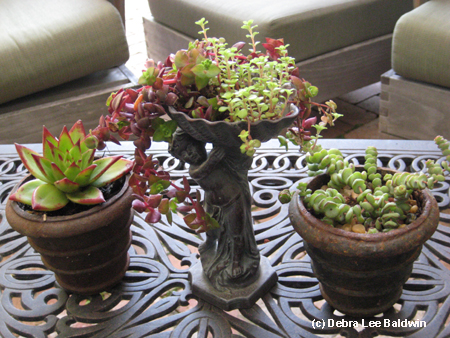 In this three-container combo, Bay Area garden designer and blogger Rebecca Sweet used succulents with red and green leaves: sedum, cascading crassulas and, on the left, an echeveria.

Kathy McCarthy of the Del Mar, CA, Rose Society, enjoys hunting for second-hand treasures in which to plant succulents. Here, she arranged several small Aeonium 'Sunburst' rosettes in a sugar bowl.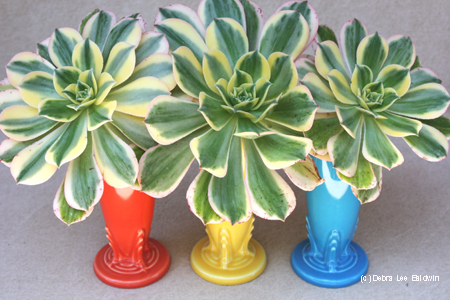 Larger 'Sunburst' rosettes serve as cut "flowers" in my trio of Fiestaware vases. If you have multiples of the same container, fill them with cuttings and line them along the middle of your dining table.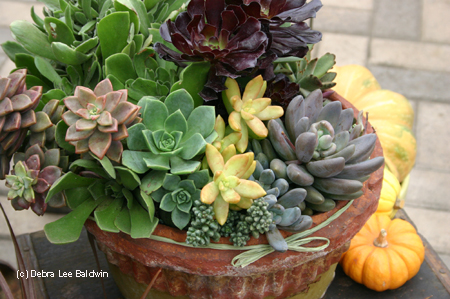 One last idea, from Chicweed: Use orange-yellow Sedum adolphi or Sedum nussbaumerianum in a composition. Echo the color with mini-pumpkins and decorative squash, either tucked amid the succulents or near them on the table.
My goal is to share the beauty of waterwise, easy-care succulents in gardens, containers and landscapes via blog posts, newsletters, public speaking and workshops, photos, videos, merchandise, and social media (Facebook and Pinterest). My books: Designing with Succulents, Succulent Container Gardens, and Succulents Simplified.  www.debraleebaldwin.com