Anyone who knows Debra Lee Baldwin is aware of her extraordinary prowess as an author, writer, photographer, and artist. As a co-contributor at Gardening Gone Wild for 4 plus years, I've had the good fortune to develop a professional relationship and friendship with her. Not only is Debra Lee all of the above, but she is also a kind and generous individual. In this discussion, she talks about her newly published book, Succulents Simplified ~ it is a work of art. Fran Sorin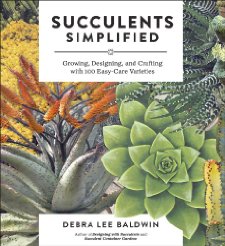 1. Can you share where your passion for succulents began and how it developed over the years?
I grew up with succulents in dry gardens in Southern CA and never thought of the plants as special. They were what people grew if they couldn't afford automatic irrigation. If you neglected to hose-water, the succulents usually survived, at least the big, mature ones did—agaves, jade and prickly pear were bulletproof. Later, I planted cuttings from my parents' garden in my own, and succulents proved to be the least trouble. But I was much more enthralled with cannas and roses. Then several things coalesced: the seemingly endless CA drought; more varieties of succulents than ever before; and a realization on the part of the gardening public that flower or tropical gardens may be unwise in terms of time, water and aesthetics over the long run. Rosette and sculptural succulents were what forward-thinking designers were installing. After seeing my scouting shots of many such gardens, my Sunset editor suggested I write a book. Designing with Succulents, the first in the trilogy, came out in 2007.
2. You've written 2 best-selling books on succulents. You call your newly released book, Succulents Simplified, a "prequel" to your other two books. Can you explain why?
It has to do with Timber Press, the leading publisher of gardening books in the US. As recently as 2005, when I was researching my first book, Timber's market was the scholarly gardener. Timber's Author's Guidelines discouraged the use of common names. I couldn't (could not) use contractions, which flew in the face of the journalistic style I'd tried to perfect. Now, thanks to bloggers and social media, gardeners expect an informal style and common names. To attract such readers, books need to offer cut-to-the chase text in bullet-point lists, sidebars, boxes and brief bites of easily digested information. In other words, a more journalistic style.
3. A large chunk of the book is  'how to' projects that showcase succulents. The projects are a feast for the eyes ~ a few questions-
 ~When did the trend for these 'tapestry – jewel like' succulent creations begin?
I first became aware of them in books by Thomas Hobbs, a florist and nursery owner in Vancouver, BC: The Jewel Box Garden (2004) and Shocking Beauty (1999).
~ For beginners, which ones would you suggest trying?
The difficulty level of each project is given alongside it's title; i.e. easy, advanced and challenging. One to start with might be the low-light indoor container garden.
 4. Do you think gardeners are aware of the benefits of succulents? Can you share them with us?
If attendees at my presentations are any indication, there's no question gardeners are more aware of succulents than ever before.
From my website, succulents are popular because…
…they're a good lawn alternative…they're fire-resistant and fire-retardant…they're simple to cultivate and propagate…they require minimal maintenance…they range in size from ground covers to trees…many have geometric shapes…they add interest to gardens large and small…leaves and stems come in every color including blue…they're intriguing year-round…most produce long-lasting, vivid flowers…new cultivars are being introduced all the time…they're more readily available than ever before…they're highly collectible.
 5. A lot of gardeners who live in colder climates still think of succulents as plants for hot, arid climates. How would you suggest that they begin to incorporate them into their landscape or home? Are there certain cold hardy specimens that you would recommend?
My previous book, Succulent Container Gardens, is intended to make it possible for anyone, anywhere to grow succulents because containers are portable and can be overwintered indoors. (Designing with Succulents is primarily about in-ground gardens, and is mainly applicable to Southern and coastal CA from the Bay Area south).
Entire books have been written about cold-hardy succulents, and there's a list in Succulents Simplified. In a nutshell, they're mainly sedums (stonecrops) and sempervivums (hens-and-chicks).
 6. The third part of your book is a list of 100 Easy Care Succulents. Each listing is accompanied by up close photos, the plants origins, growth habits and description.
 How did you whittle the list down to 100? What were the criteria for choosing them?
Availability is important, although I included a couple of little-known up-and-comers with potential: the groundcover Othonna capensis and the red-leaved tropical succulent Peperomia graveolens. The rest are plants I've grown in my own garden and have found to be beautiful, resilient, and problem-free.
7. If you had to choose 5 succulents from that list to have in your home and/or garden, what would they be?
Not fair! It's like asking a mother to choose among her children. I will say, though, that I'm giving a presentation on my Top Ten at the Succulent Celebration at Waterwise Botanicals nursery on Friday, June 7. They'll be specific to Southern CA gardens. I've yet to decide which plants I'll select.
 8. Can you share with us design tips on succulents? What is the best way to develop confidence in designing with succulents? 
Scale and proportion is where a lot of people go wrong, or not using a topdressing (like pea gravel) to cover bare soil. The difference between designers and the rest of us is that designers understand and employ the principles of repetition and contrast in terms of colors, shapes, textures and forms. All three of my books attempt to demystify that, and to reassure even rank newbies that they, too, can achieve wonderful results despite minimal know-how and experience. Hey, if I can do it, so can you.
 9. Tell us about your garden and how it evolved into what it is today.
There's a lot about my own garden in all three of my books (mainly in the introductions, but also throughout the newest one).
I used to garden for fun and exercise. Now I'm motivated primarily to make sure it looks good in case a publication or blogger wants to photograph it, or a horticulturist drops by for a tour.
When you write gardening books, people expect your own garden to look amazing all the time. They hold you to a higher standard. My foxtail agaves look dreadful after a frost just like everyone else's. But unlike everyone else, I should know better than to entertain the hope they'll be fine in an unprotected location. Even authors are constantly learning, refining and redefining.
For example, I no longer tell people not to grow Agave americana in pots; now I tell them to grow it only in pots (sturdy ones, lest the roots expand and try to break the pot). It's a thug in the garden, pupping as though its extinction were imminent. No danger of that, although infuriated homeowners have been known to take an ax to it.
My garden is on a steep half acre in the foothills northeast of San Diego at an elevation of 1,500 feet. I get frost in winter and near-desert heat in summer. I've lived here 21 years, and 21 years ago, the landscaping had no succulents; it was mainly evergreen shrubs and bare dirt. Over time, as I was writing about gardening for the San Diego Union-Tribune and other publications, I'd have a fling with a particular type of plant. At one time I had over 70 rosebushes.
So my garden is a bit of a hodge-podge: native oaks which were always there, a dozen crotchety roses, bulbs with pretty flowers but messy foliage, a twisted wisteria worthy of Kyoto, way too many Mexican evening primroses (don't plant it; I wish I hadn't) and three succulent areas: a tapestry that once was a formal rose garden; a sitting area surrounded by a retaining wall that forms a half-wreath for rosette succulents planted atop it; and a garden of succulents I'm experimenting with to see how they perform.
"Yes," I'll say to a visiting hortillectual, "that IS a new aloe cultivar. How very smart of you to have noticed."