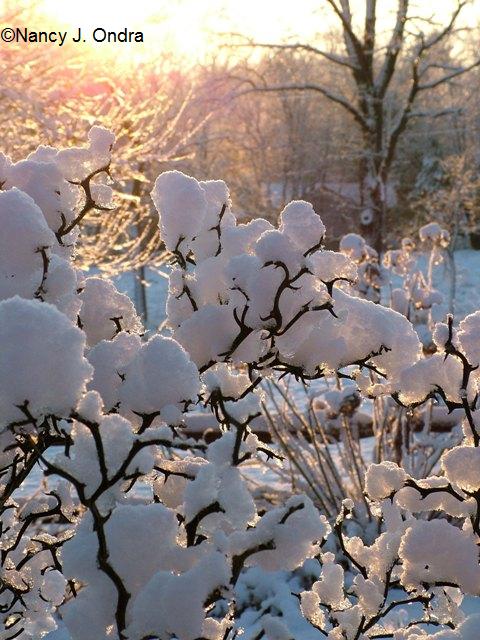 For those of us in the northern parts of the U.S., the idea of "winter interest" can be vastly overrated. Birds and deer devour colorful berries before the end of December, and drying winds scorch and tatter evergreen foliage. Multi-day stretches of sub-freezing temperatures zap almost all of the perennials and bulbs touted as being winter bloomers, delaying flowers for weeks or months, and heavy snow can cover the ground layer anyway.
Some years, intriguing stems are about all we have to admire during the dead of winter. Woodies such as bright-barked shrubby dogwoods and willows are welcome for color, but the deer like them too, so it can be unwise to depend on them alone. Sometimes, shrubs with curiously contorted stems are about the best we have for truly unique winter features.
One of twisted shrubs that I'm becoming increasingly fond of is contorted quince (Chaenomeles speciosa 'Contorta'). I've tried a few other flowering quinces, but they bloom for such a short time and look so twiggy and uninteresting the rest of the year that I've removed all but this one.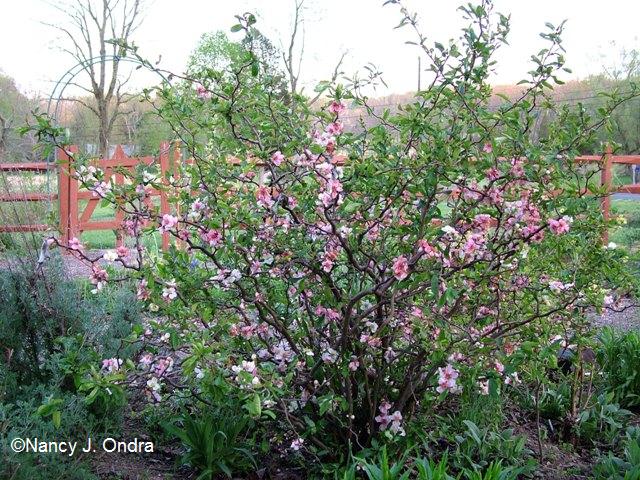 Its form is much more open than the others, so its stems show off beautifully, and it's easier to pick out dead leaves and other debris that catch on the very short but very sharp thorns. Contorted quince stems are lovely when dusted with snow and outstanding when encased in ice.
Winter interest isn't its only good feature, either. The plant is naturally very compact (2 to 3 feet tall and wide), so it fits easily into a mixed border or foundation planting.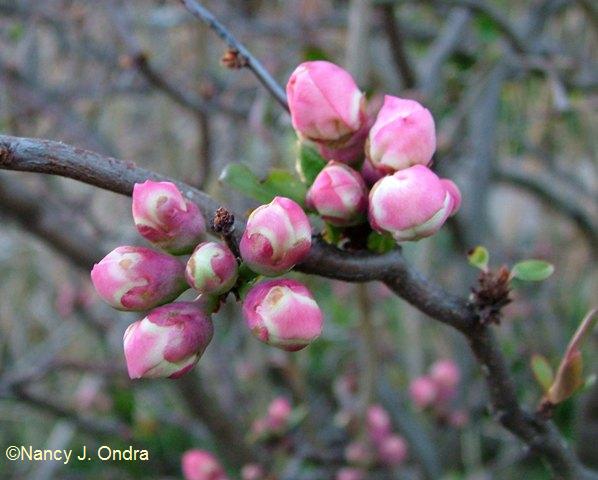 It's also very pretty in bud and flower (usually early to mid-April here in southeastern PA).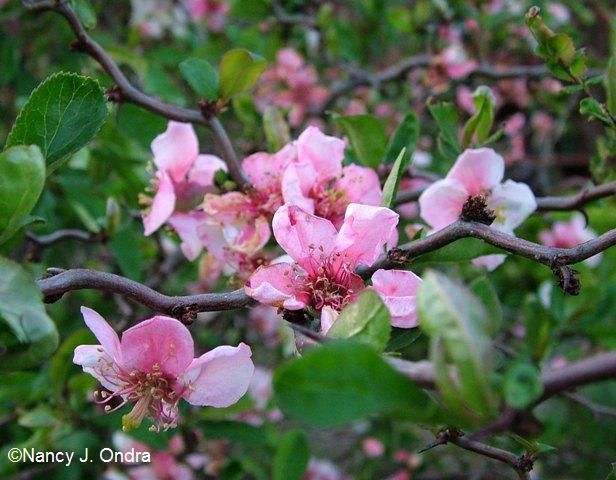 Plum-sized, yellow fruits may follow the flowers if another quince is nearby, but they're usually hidden among the rich green, slightly twisted leaves. I've read that the fruits are edible but sour, so I've never tried them; I just let the few that form drop off in fall. After 6 years, I've gotten only one seedling, and it too is contorted.
Reportedly hardy in Zones 5 to 9, contorted quince is available from a number of mail-order sources, including Raintree Nursery and Fairweather Gardens.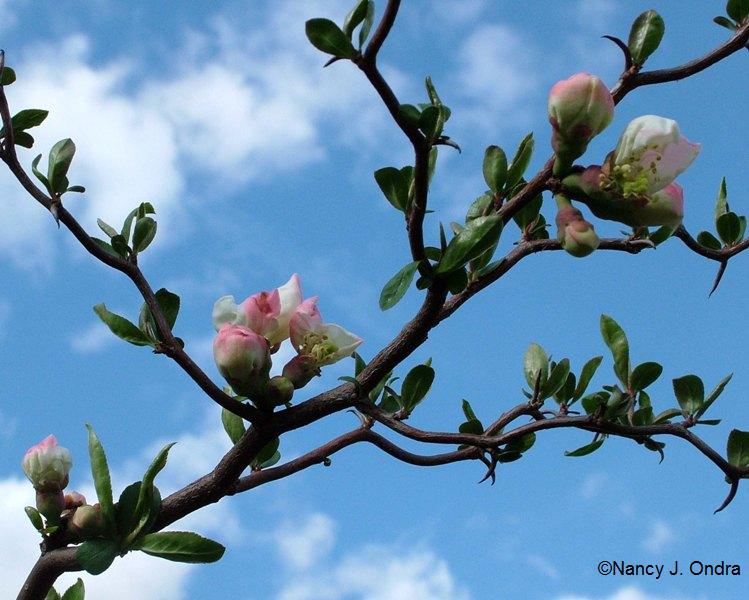 Another twisted shrub in the marginally edible category is 'Flying Dragon' hardy orange or bitter orange (Poncirus trifoliata).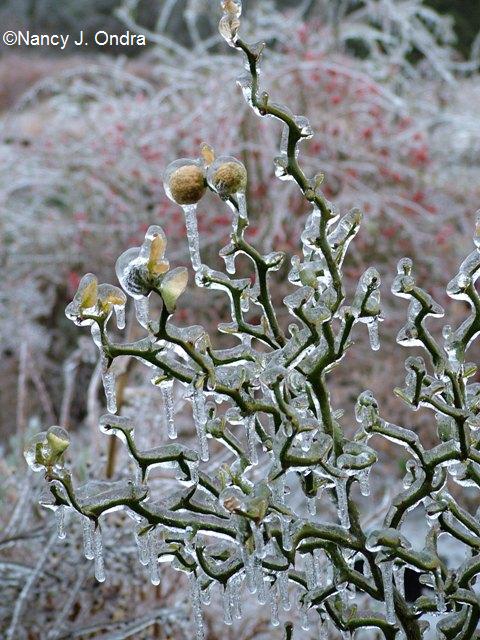 Besides having an intriguing curvy shape, the stems are bright green all year, so they add color as well as form through the winter.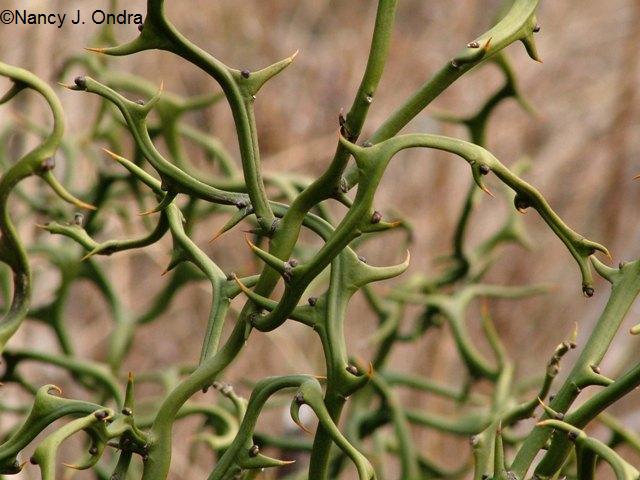 Small, white flowers line the stems in spring.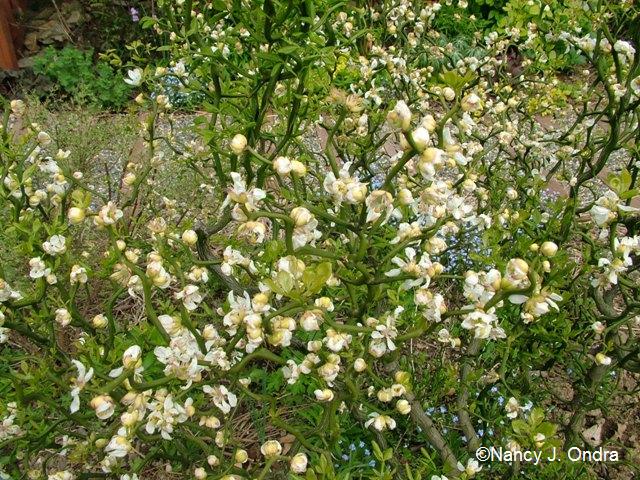 The orange-yellow fruits that follow are said to be edible but, like those of the contorted quince, very sour. They're also very ornamental, so I prefer to leave them on the plant.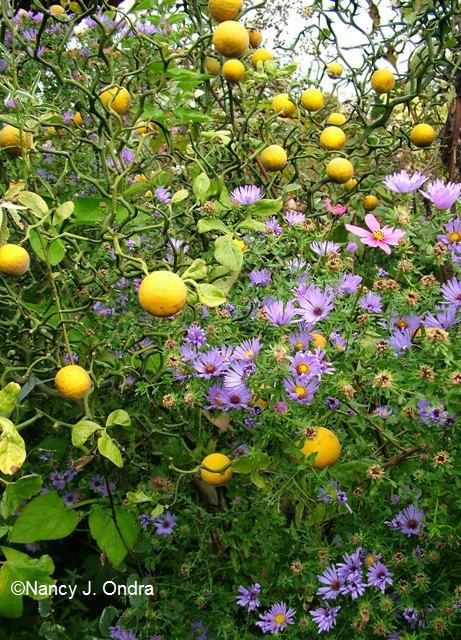 They eventually drop off by early to mid-winter. The abundant seeds seem to sprout readily, and many of the seedlings also show varying degrees of waviness in their stems and spines as they grow. The deep green leaves make an outstanding backdrop for lighter flowers and foliage.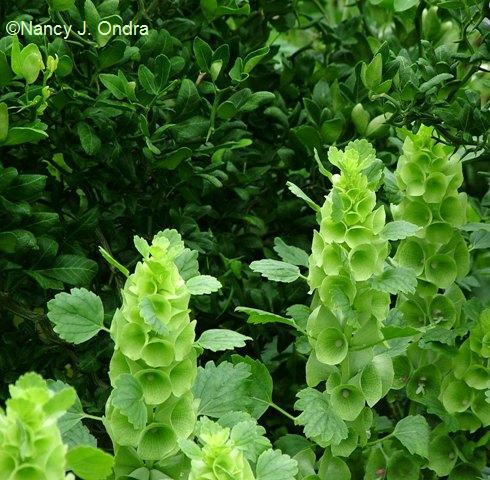 And the luminous yellow fall color is absolutely outstanding.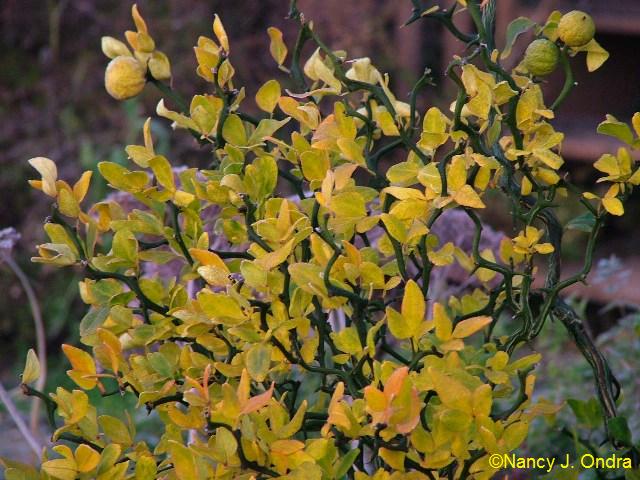 'Flying Dragon' is usually rated for Zones 6 and south, so the "hardy" part of the name is relative: it's relatively hardier than most other citrus fruits. The species can grow to 20 feet tall, but this selection stays smaller, fortunately (6 to 8 feet, usually), so it's suitable for a mixed border; just keep it well away from paths, and give it plenty of room so you don't have to keep it in check with frequent pruning (a daunting task even with full body armor, due to the seriously wicked spines). I occasionally cut out the tallest stems at the base to control the height of mine, and it's quite a challenge to extricate them from those that remain, because the thorns can easily penetrate even leather gloves.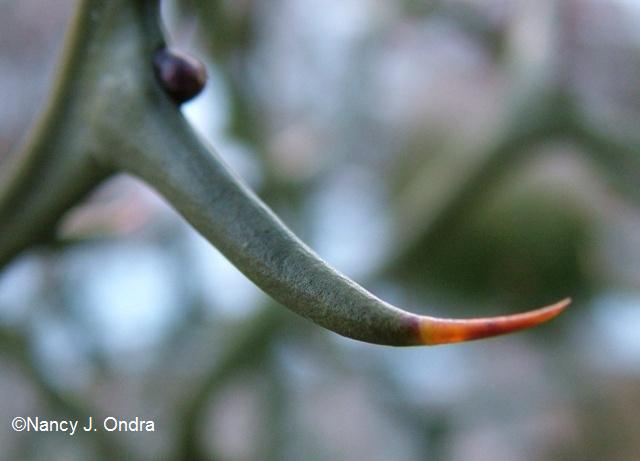 For that reason, hardy orange is not something I'd recommend for gardens shared with kids or pets. That being said, I recall a grouping of the species planted on the grounds of my college in an effort to keep students from taking a shortcut in one area; it definitely worked. So if you want to discourage deer, dogs, or nosy neighbors from wandering into your yard, a hedge of 'Flying Dragon' may be an option to consider. The tangled stems also seem to make great habitat for small birds; I imagine that they're quite safe from predators in there. 'Flying Dragon' is available from Lazy S's Farm and Gossler Farms Nursery, among other sources.
For completely thorn-free twists and turns, I suggest 'Red Majestic' contorted hazel (Corylus avellana 'Red Majestic') instead. You're probably already familiar with the green-leaved version (C. avellana 'Contorta'), commonly called Harry Lauder's Walking Stick, which produces amazingly contorted and curled stems.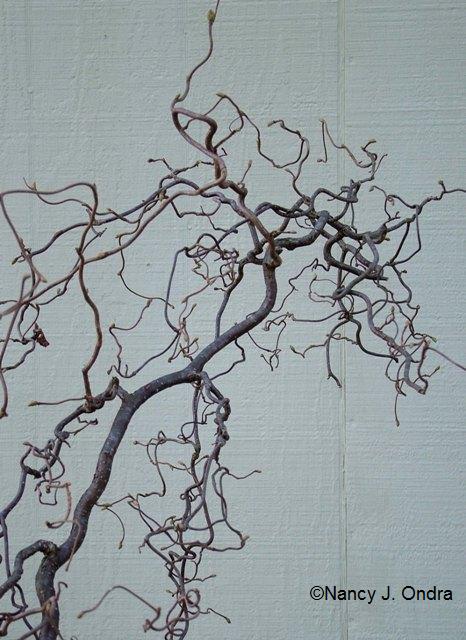 'Red Majestic' looks basically the same in outline, though it doesn't seem to curl quite as much.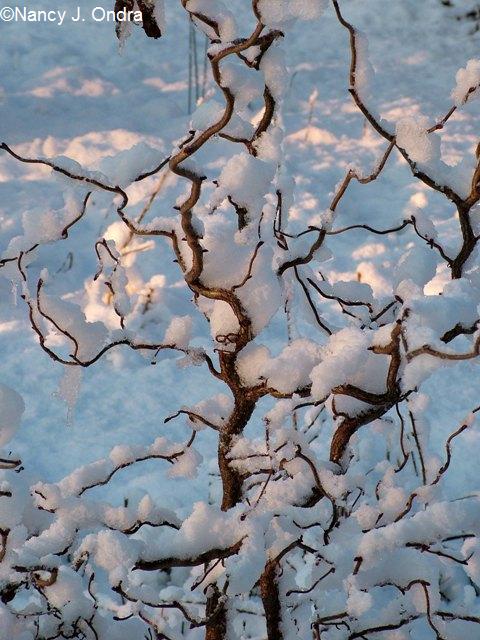 The main difference is its foliage, which emerges a rich, deep red.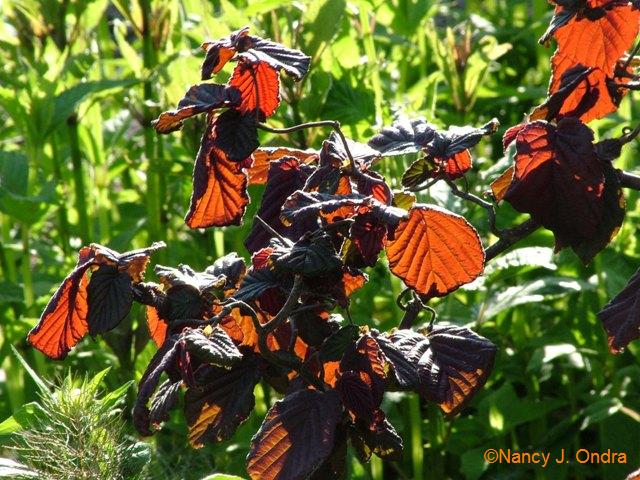 By midsummer, it turns a plain to purple-tinged green.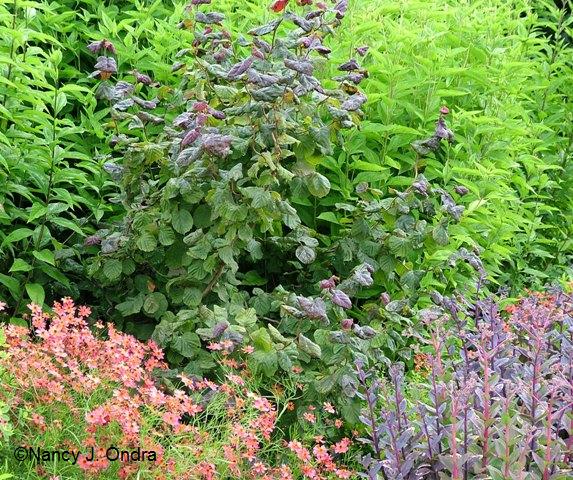 Not much floral interest on this one; like other hazels, it has cylindrical catkins that dangle from the stems in winter. They're interesting up close by not especially showy from more than a few feet away.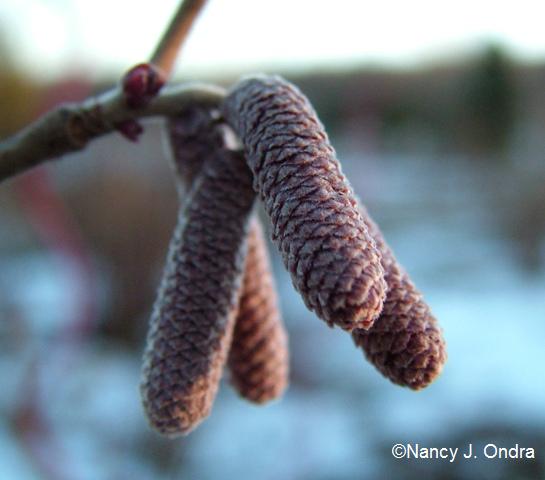 Generally rated for Zones 4 to 8, 'Red Majestic' is relatively new on the market, and a good-sized plant can be quite expensive. I was lucky enough to score a small one (about 1 foot tall, with two stems) five years ago, and it's now about 3 feet tall, with four main stems.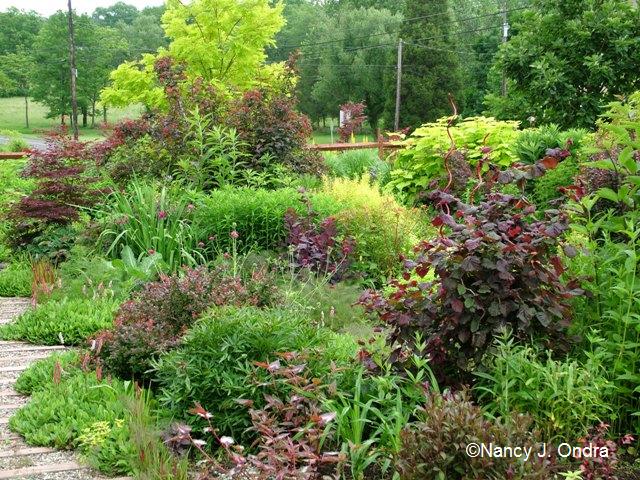 I wouldn't describe it as especially fast-growing, but if you can be patient, I'd encourage you to look for small plants to save money. Even more important than the size, though, is getting an own-root plant, if at all possible. Most contorted hazels are grafted onto regular hazel roots, and the rootstocks tend to send up many straight-stemmed shoots that must be pruned out frequently (ideally several times through the growing season, while they're still small) to keep the contorted parts at their best. It's very much worth seeking one grown on its own roots to eliminate that lifetime pruning commitment! A few sources for this selection include White Flower Farm, Gossler Farms Nursery, and ForestFarm. I don't know whether they sell grafted or own-root plants, however, so I suggest asking before you order.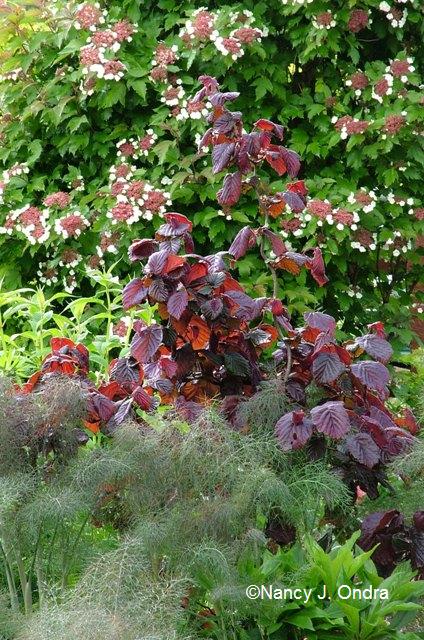 One other bit of trivia about this one: it appears that there are at least two strains of 'Red Majestic' in the trade. According to the patent filed for an even newer red-leaved, contorted-stem selection known as 'Red Dragon' (you can read the details here), DNA analysis indicates that there's a genetic difference between 'Red Majestic' plants acquired from Klehm and from Spring Meadow Nursery. I have no idea if there's any visible difference, though; it probably doesn't matter which strain you get. Or, you may want to wait until 'Red Dragon' is available, because it's supposed to hold its red coloration longer into the summer; there doesn't seem to be any release date set at the moment, though.