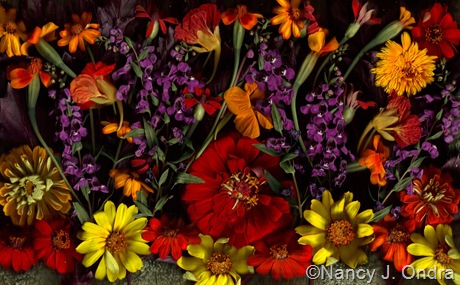 Ready for the results? Here's what this month's judge, Craig Cramer of Ellis Hollow, had to say…
I'm in awe.
When Nan first asked me to judge this month's contest, I was worried that no one would enter. Would people put down their cameras and try this rather unorthodox technique? This was a risky idea.
But there was no need to fret. We ended up with 14 gorgeous entries, and you should go to the gallery to soak them all in.
Honorable Mentions
I really like the collage of Passiflora blooms, lime coleus foliage and purple flowering plum leaves created by landscape designer Shellene Mueller. "What if you presented your plant combos together in this format to show your clients?" she writes on her blog, Designs by Shellene.  "What a great way to get them excited about the palette you have planned for their garden, especially those who are 'visually' challenged."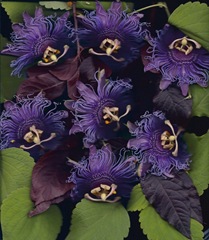 The arrangement below by Austin, Texas's Whimsical Gardener also caught my eye. She writes, "It's an interesting concept to create a photographic image without a camera. It's also a lot of fun. I've had no experience with a scanner. In fact, I don't even own one. I showed up at my friend's house with a box full of cuttings from my garden and we started playing. We had a great time until our children started calling. Apparently they need to be fed on a regular basis!"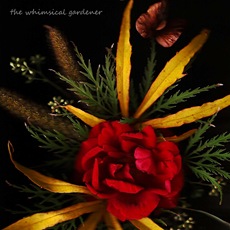 It took Cherry at Approaching the Crest several sessions to pull together the next bouquet. "But I'm still not happy. Have I mentioned I don't do flower arranging?" she writes. You do now, Cherry. And I'm hoping you've caught the bug and will keep on scanning.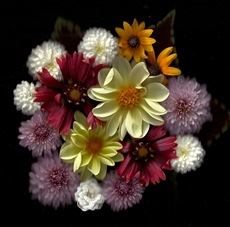 Silver Medal
This month's runner up is from experienced scanner Judith Cowles over at The Garden Worm. She and her sister create scans for cards and calendars, decoupaged on wood or glass for craft projects, or printed on fabric and made into pillows or bags that they sell online.
Wow. Judith sets a high bar for technique and cheeriness.
Gold Medal
This month's winner is the Supernova of 'Madame Ganna Walska' water lily, purple heart, and Jewels of Opar planets from Philip at East Side Patch. His entry stands out for its cosmic creativity, evoking apparitions that transcend the flowers on the scanner bed. "Who would have thought you could have so much fun with a scanner, apart from the obligatory office pranks?" I couldn't agree with you more Philip.
This is Philip's second "Picture This" gold medal. He also won the August 2009 theme Down on Your Knees.
Thanks again to all the folks who braved the new technology to enter. If you didn't get around to giving scanning a try, I hope that you'll now be inspired to do so. Drop me a comment over at Ellis Hollow so that I can come take a look.