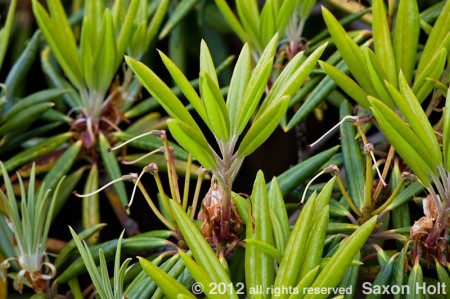 A garden photograph is not simply a landscape photo taken in a garden.  It should communicate something about gardening, something that enlarges the viewer's understanding and appreciation of gardens.
This photo of fresh emerging, nearly chartreuse foliage of Rhododendron hyperythrum is a fine landscape photo, a nice leaf pattern with a sense of vibrant young leaves unfolding, but it says little about gardening.  True, part of the reason we take photos is simply to share the beauty of plants and the wonder we see, but I challenge my students to "think like a gardener" and find a photo that goes deeper than that.
A recent workshop at San Francisco Botanical Garden was about foliage.  Most gardeners develop a keen interest in foliage as it can provide a long season of drama, depth, contrast, and complexity to any garden.  The challenge of a the day was to find foliage juxtapositions and combinations that a gardener would truly appreciate and learn from.
Here is the branch of the Rhododendron that first caught my eye.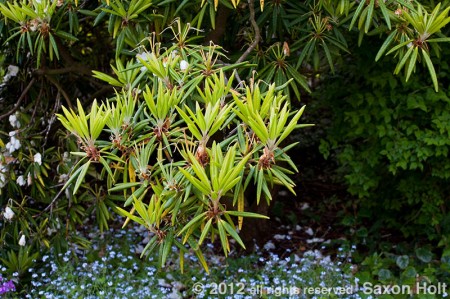 I pretty quickly "saw" the pattern shot that opens this post and filled the frame with the  leaves; but the shade loving, blue forget-me-nots (Myosotis) were part of the essence of the scene.  I moved around to position the blue specks behind the foliage.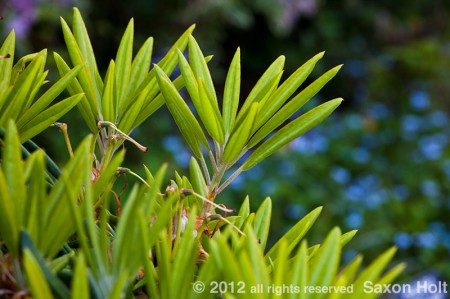 Not only do we now get a hint of the garden as opposed to the first photo, the added color is a lot more interesting.  By using a telephoto lens and large aperture for shallow depth of field I was able to isolate the focus point so the eye stays on the leaves and not be confused with busy blue dots.
As I worked the scene I saw I could come over top of that foliage truss and look down onto the forget-me-nots.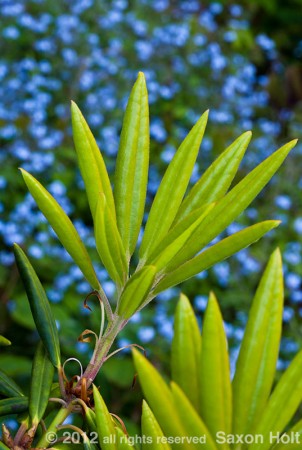 I tried and tried to find a way to fill the frame with more  blue so that I did not have that "hole" in the upper right.  But I wanted to see the whole truss isolated without overlapping other leaves, and there was simply not enough forget-me-nots off to the left to come around a bit to the right with my camera.
Easy fix with Photoshop.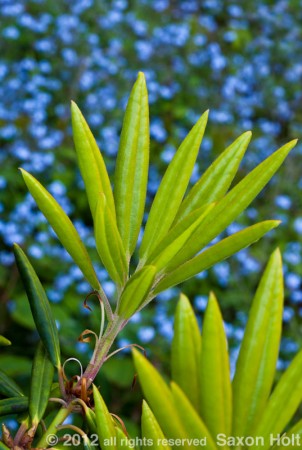 Cloning parts of photos is really easy when the area being worked on has soft focus.  And I only did a bit of this "enhancement".  Did I create a fantasy ?  Perhaps, but my mind did not "see" the lack of forget-me-nots, it saw the scene full.  I suspect the gardener sees it full too; so I am just thinking like a gardener. Right ?
Let's try another foliage photo.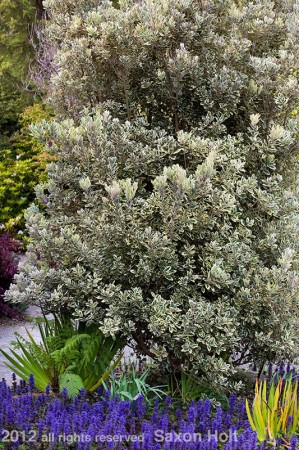 Good gardens have all sorts of  complex combinations and can be a candy store for photographers.
I am a sucker for silver variegated foliage and this Australian shrub in the Bot garden, Pohutukawa (Metrosideros kermadecensis 'Variegata') would be a subject for my camera if only for its useful landscape features.  But throw in variegation and the other plants and leaf textures, I found other photos.  Look under the shrub where a fern and iris leaves are mingling.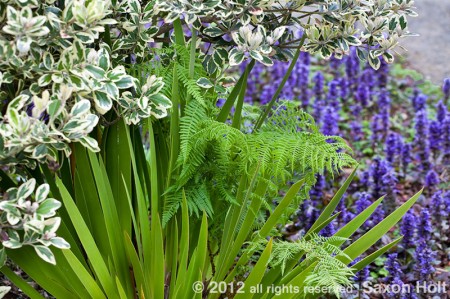 These sorts of foliage combinations, with different leaf shapes, colors, and textures really make a strong garden photo with lots of inspiration from which any gardener can learn, even if the specific plants may be exotic.  The strap like leaves are not actually an iris but another Australian native, Xeronema callistemon – Poor Knights Lily.
But once again, my mind's eye did not see the gap in the composition – the empty space in the upper right where the Ajuga comes to the path.  Once again, cloning to the rescue.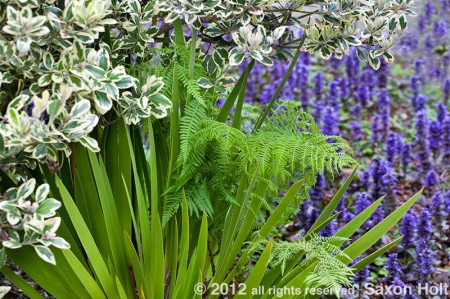 More photographing foliage tips to be in the book, including more photos from the workshop.  Here is a link to one on my PhotoBotanic Archive.