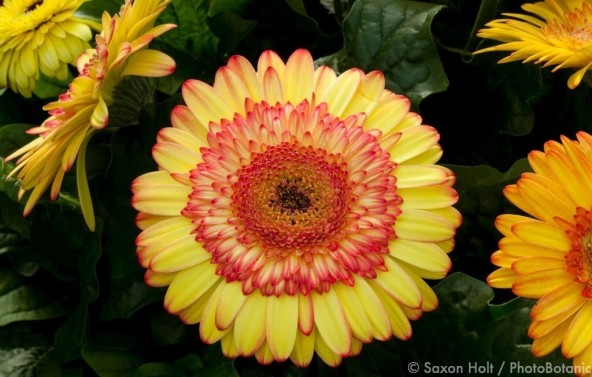 When the international flower industry gets together in California to show off what's new, I'm there.
The gardener in me revolts.  The Gardening Gone Wild side chokes.  In any practical realm, this does not compute.  How does this massive display apply to any reality in the gardening world?  Ahh, but the whole thing provokes.  Acres of perfect flowers in scientifically controlled greenhouses ?!  Mindboggling new plants like the Hula Berry – a strawberry that tastes like a pineapple ?  Intergenetic hybrid flowers like Digiplexis or the new Echibeckia – a cross of Echinacea and Rudbeckia ?
As a photographer, I'm all over it.  I get to mix work and play
The California Spring Trials is an annual event for plant breeders, propagators, brokers, and nurseries to showcase new flowers and plants.
Deals are made where the big box stores like Walmart and Lowe's invest in flowers.  Ever wonder why the amazing Sunpatiens plants were only available at Home Depot when first released ?  A deal was made ….
I go every year to be bathed in the beauty of flowers, to find new material for my art, for my stock photo library PhotoBotanic, and most importantly to help my clients market their latest and greatest.
Marketing material often requires silhouettes so I will set up a mini studio in order to shoot many varieties in different containers and configurations.
Sometimes I will have a last minute request and need shoot a plain container in the nursery greenhouses that I will later clean up.  Here is my favorite new introduction – Digiplexis, a cross between traditional Foxglove (Digitalis) and Canary Island Foxglove (Isoplexis).
In recent years more and more requests for "real" vignettes and we will create a setting for containers of plants.  Danziger created an outdoor patio in the middle of a lawn for a series of 18 containers of their newest annuals.
At Sakata we created a patio in one of the greenhouses.
There was a time when I went to the Trials to photograph as many of the new introductions that I could so that I could have them to license in my stock photography business.  But that business has shrunk and now I only photograph what captures my eye, planning for my own calendars and notecards.
What's really new ?  I mentioned the intergeneric hybrid of Echinacea and Rudbeckia ?  The first named introduction of Echibeckia is Summerina.
And the Hula Berry ?  Its a small white strawberry that tastes like pineapple.  Really.  They were planted at the Trials in baskets and need to have traditional strawberry plants in the mix for fertilization.  I had to look hard to find one to photograph as they were being picked as fast as they ripened.
The most fun at the Trials is always finding new flowers to try new photo techniques.  I have been experimenting with focus stacks where a photographer can achieve extraordinary depth of field in a photograph by stacking together multiple images, each having a slightly different focal point.  Sakata displayed huge beds of their latest pansies.  In order to see them all in one photo, at ground level where all their faces could be seen, I needed to use 8 different focal points.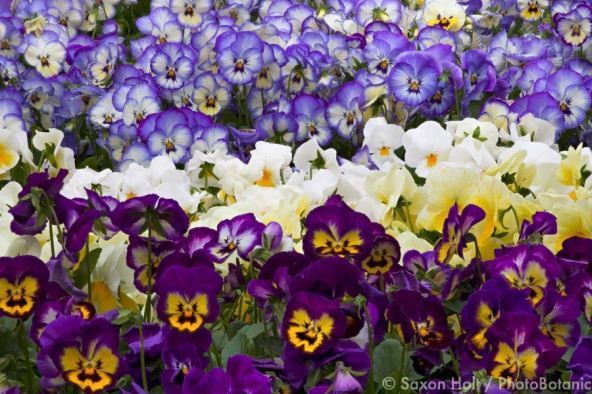 I use a software tool called Zerene Stacker which allows you to go back into the individual files and clean up the occasional blurry lines which happen when you merge multiple frames.
Another of my favorite software tools is a Photoshop plug-in called Topaz Simplify.  It's a very complex tool with lots of interconnected tools to blur edges, soften colors, and generally reorganize a photos pixels for painterly affect.
The wonderful Nasturtiums coming from Thompson & Morgan lend themselves to painting.
Watch for more detailed explanations in my upcoming e-book.  If I would spend more time writing the book than going out and taking photos, I might actually get that project done.  But Spring Trials ?!  How could I not go and not take hundreds of photos ?  Enough material for a whole book…  Stay tuned.