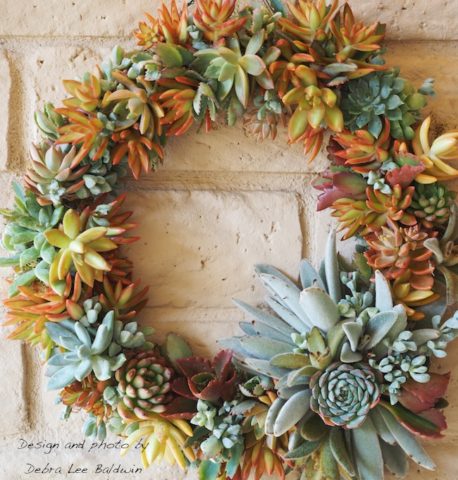 A garden club at which I'll be speaking later this month asked if I'd donate "an arrangement for the raffle." Sure, why not?
I have several self-imposed criteria: It has to be a "wow" so attendees will buy tickets; it needs to be innovative and incorporate succulents; and it should be autumn-themed. Inspired by numerous colorful succulents in my garden, I decided to make a succulent wreath featuring fall colors.
I filled a shallow box with cuttings of orange coppertone stonecrop (Sedum nussbaumerianum), red crassulas, and yellow Sedum adolphii…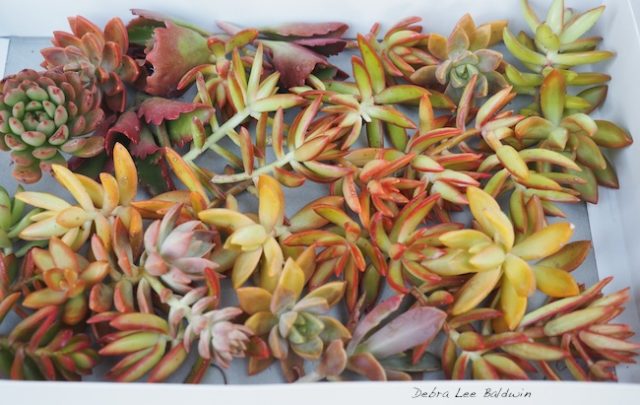 …and another with blue-gray succulents such as Kalanchoe tomentosa (which has slender, fuzzy leaves), small echeveria rosettes, and Lampranthus deltoides (a type of ice plant).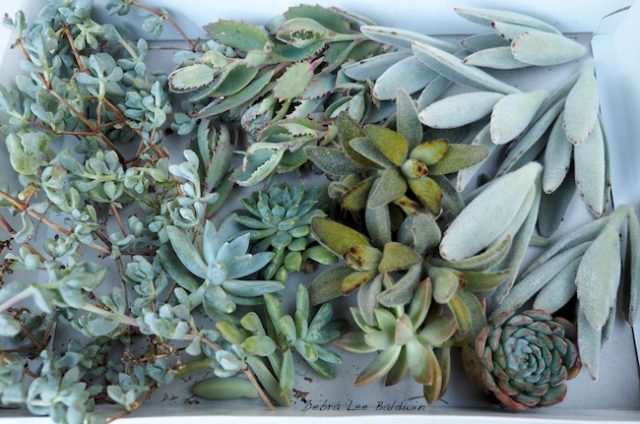 For the wreath base I used a thin, flat, donut-shaped wood circle from a craft store. I hot-glued sphagnum moss to it, wrapped it with florist's wire to better secure the moss…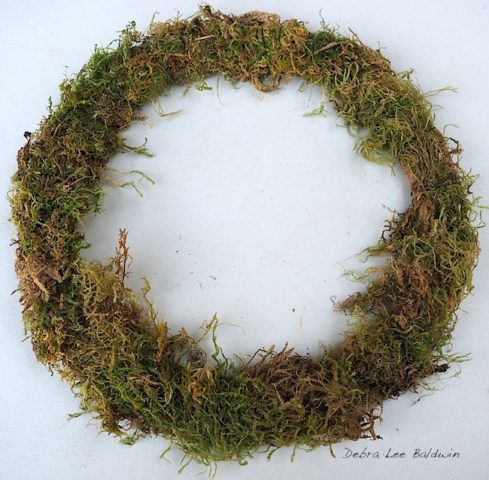 …then glued cuttings onto it. First I created a corsage-like cluster at 7:00…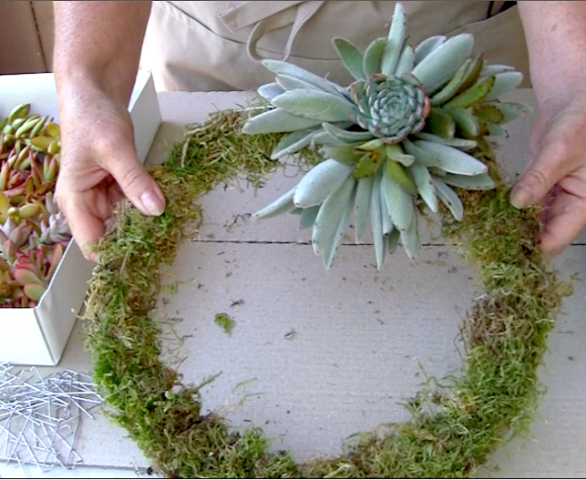 …then I overlapped cuttings to complete the circle, tucking each one's stem beneath the previous rosette. I used enough glue to make sure cuttings were firmly attached to the wood beneath the moss.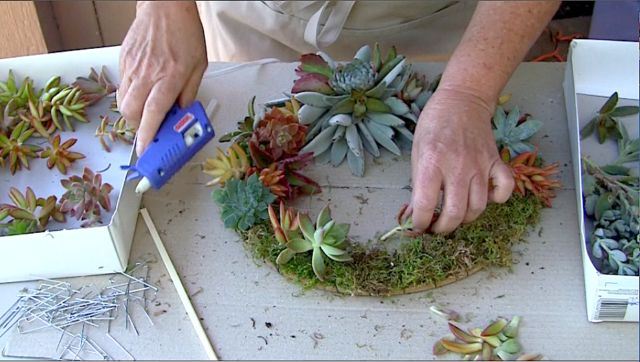 Remarkably, succulents aren't harmed by hot glue, in fact, stems will send roots through dried glue into the moss.
The wreath needs a few hours of morning sun, then bright shade for the remainder of the day. Sun is necessary to keep it colorful; in too little light, the orange and yellow cuttings will revert to green. In too little light, growth will be stretched and spindly. However, too much sun may scorch the plants. The cuttings I selected will need frost protection. If you live where temps drop below freezing, use hardy succulents such as sempervivums, fine-leaved sedums, and ice plants.
To keep new little roots hydrated, the wreath should be spritzed twice a week to moisten the moss. As cuttings grow, the wreath will gradually deconstruct. Older succulent wreaths tend to look like they're exploding. This one is about a year old: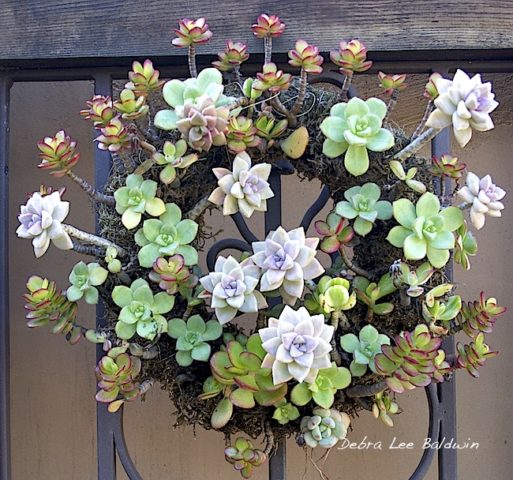 When this happens (or for that matter, at any time) the wreath can be planted intact in a pot or garden bed, enabling cuttings to root into soil. Or it can be pulled apart and the cuttings replanted.
Ideally, the person who takes it home has a garden gate, wall, or front door on which to display it. Regardless, it also looks good as a table centerpiece. (Any wood surfaces should be protected from moisture.) To transition it into the holidays, they might add a few red, gold and green glass balls.
I'll soon release a video showing how I made it. Watch for it on my YouTube channel!