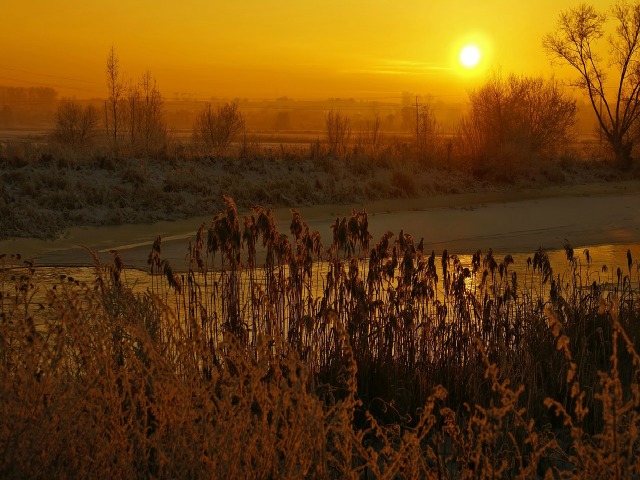 As I sit and write this post, I marvel at how the winter garden is a perfect metaphor for life.
Regardless of what you feel about the results of the U.S. Presidential election, the country has been through a difficult time. Millions of us are still reeling from the rancor and divisiveness that took place this past year. We need quiet time to heal: Our souls yearn to be nourished by beauty.
The simplicity of winter has a deep moral. The return of Nature, after such a career of splendor and prodigality, to habits so simple and austere, is not lost either upon the head or the heart. It is the philosopher coming back from the banquet and the wine to a cup of water and a crust of bread.  ~John Burroughs, "The Snow-Walkers," 1866
For most gardeners, it is indeed a quiet time in the garden, when the ebullience of spring, the maturing of specimens in the summer, and the majesty of the fall color, have long passed.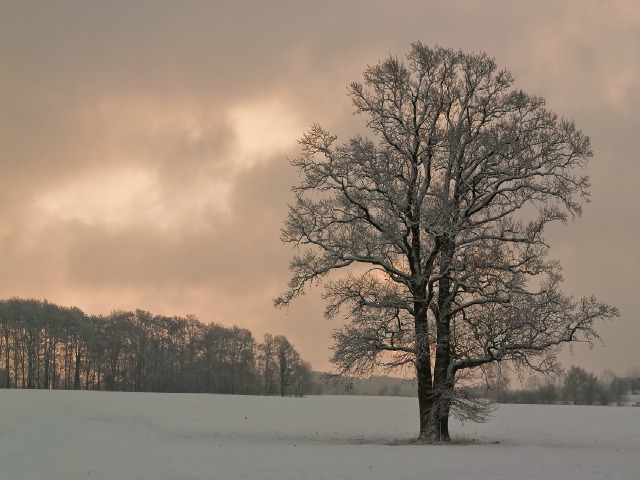 Beyond harvesting the bounty of a fall harvest that you've protected from the cold weather, pruning back weak limbs on deciduous trees, or cutting back overgrown growth on an evergreen so that a large snowfall doesn't wreak havoc, you now have more time to appreciate and study the beauty of the winter landscape.
"Nature has undoubtedly mastered the art of winter gardening and even the most experienced gardener can learn from the unrestrained beauty around them." ~Vincent A. Simeone
It's an opportunity to see what your own garden looks like practically naked… when all but the foundation is slumbering.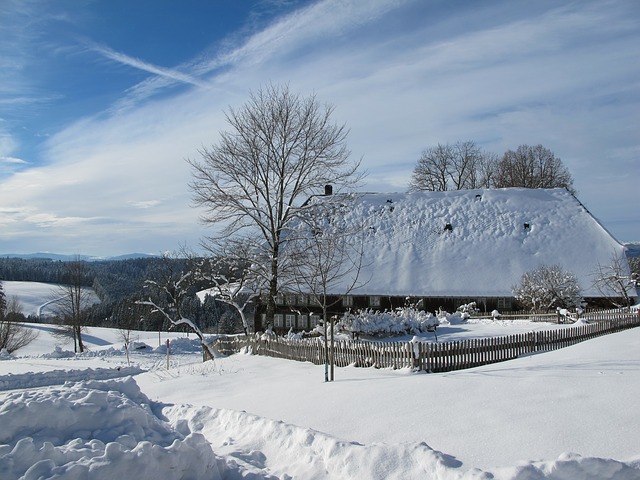 When you take a 'walk about' in your garden, you may be surprised at the majesty of the Metasequoia glyptostroboides that you planted at the back of a large deciduous border that has, until this moment, been largely forgotten, just a backdrop for your larger perennials. You halt, awed by its elegance and symmetry, realizing that you're seeing it only now 'up close and personal'.
Or how about that self-seeded Heuchera 'Palace Purple' that is nestled up in the corner of your steps-that when otherwise grouped in a vignette with more showy perennials goes unnoticed? When you nestle down and touch the upper and lower sides of its coiled deep purple leaves, you feel a deep sense of kinship and respect for this stalwart and hardy specimen.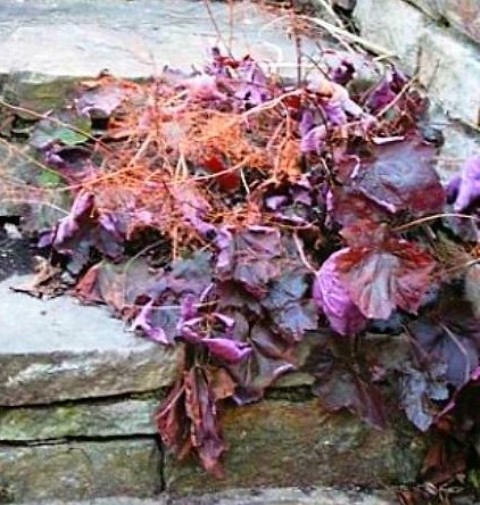 Now is an ideal time to analyze what about the 'bones' of your garden makes sense and what doesn't. If you find this subject a bit confusing, read up on 'how to create strong bones for your garden'. Or bring in a few designers and let them tell you how you might improve the layout of your garden.
I prefer winter and Fall, when you feel the bone structure of the landscape — the loneliness of it, the dead feeling of winter. Something waits beneath it, the whole story doesn't show. ~Andrew Wyeth
I tend to be a stickler when it comes to using pathways, evergreens, pergolas, and deciduous trees and large shrubs in an effective and well thought out manner.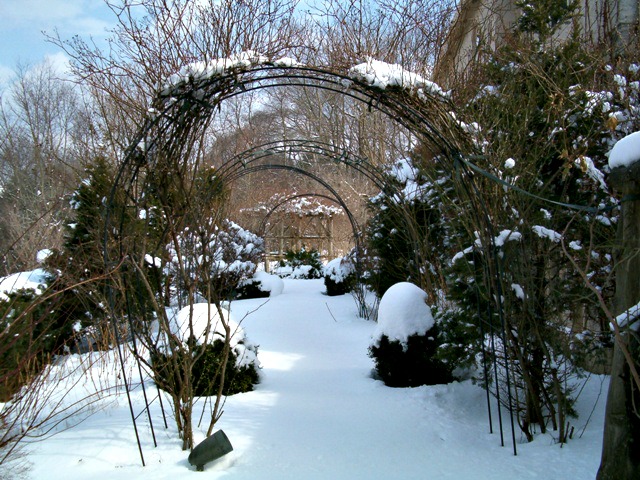 Unlike other elements of the garden, where I normally would suggest that you improvise and have fun experimenting, when you're dealing with costly elements like stone pathways, a flagstone eating area, a row of evergreens for privacy, or a large pergola, you best take your time and really figure out how to create a design and layout that is not only visually pleasing but that suits your specific needs as well.
"The color of springtime is in the flowers, the color of winter is in the imagination." ~Ward Elliot Hour
In the silence of winter, it's the perfect time to let your imagination run wild and dream about what your deepest desires are for your garden come this spring.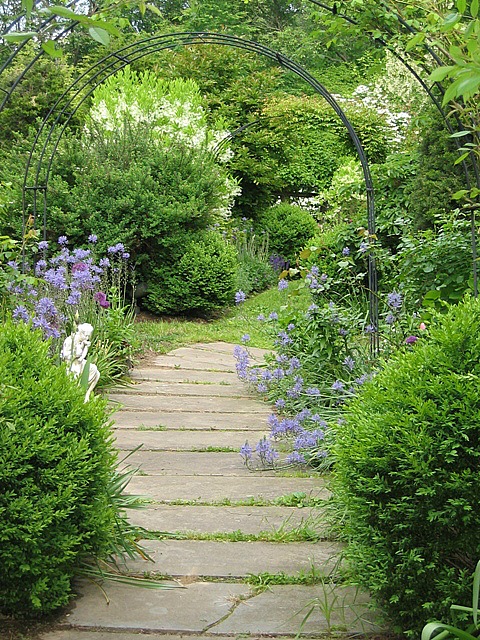 Let your mind roam and travel to destinations that you never knew existed. Peruse through magazines, look at luscious photos in books, and watch inspiring gardening videos: Over the holidays, treat yourself to watching some of your favorite movies with majestic gardens as backdrops. Then sit back and dream.
Wishing you a magical, replenishing, and fun-filled holiday.
With love, xo
Fran
P.S. You only have a few more weeks to take advantage of my FREE Digging Deep  Book and Course Giveaway before this one time only opportunity ends. To get a send a copy of Digging Deep and get immediate access to my 3 part course on "How to Transform and Ordinary Life into an Extraordinary Life", click  here.