I'm re-publishing this article in honor of Valentine's Day. I can think of no greater gift than buying a slew of flowers for someone you love and spending a few hours together (with no interruptions) creating some playful arrangements. Directions and benefits are listed below.
If you think that buying fresh cut local flowers and creating stunning floral arrangements for your home is a luxury, think again.
Research has shown that being in the presence of flowers increases your level of optimism and sense of security, helps to decrease stress, and can have a significant effect on your 'happiness' factor.
So a suggestion this Valentine's Day.
Rather than grabbing whatever flowers you can find at the florist or grocery store, why not slow down and transform the act of creating floral arrangements into both a playful and meditative practice…..while designing something beautiful?
Ten Steps For 'Playing with Flowers'

1. If possible, locate a sustainable local flower grower in your area. Very often you can find them at your farmer's market. If not, check out Debra Prinzing's  Slow Flowers directory to see if there is a grower or florist close to you that carries locally grown flowers.
2. Buy at least a few dozen flowers. My strategy is to purchase larger numbers of one variety–similar to what I do in the garden so that I end up with at least 6 of one type of flower.
Don't rush. Take your time and decide what pleases your eye. Often what we're initially drawn to is our instincts saying "This is what I desire." Remember, it's only flowers you're buying. If you're unsure about what you like, experiment and try something new.
3. Bring flowers home and place in a cool sink of water. Using a sharp pruner, remove all foliage near the bottom of the stem and cut an inch off of the bottom of the stem.
My rule of thumb is to cut less than more from the stems. Until you start placing them in vases, you probably won't know what height you'll want them to be.
4.  Treat this 30-45 minutes as a meditative, silent experience. Make a pact with yourself that you will have no cell phones, TV, computers, or kids running around.
5. Experiment with how different colors, shapes, and sizes of flowers look together. What combinations are you drawn to? There's no need for you to have an immediate response. Playing with flowers is a great opportunity to begin to familiarize yourself with what you like.
Notice how different the composition looks when the whitish pink gerber daisies are removed and replaced with purple tulips and asters.
Adding a splash of the butterscotch colored ranunculus adds an entirely different feel to the composition. Do you like the contrasting colors or is it too much color for you?
6. Do have water in the vases before putting flowers in to keep them fresh. I fill my vases about 1/3 of the way up.
7. Start placing flowers in vase. I often put several flowers in a few different vases concurrently. I rarely have an idea of what I want the composition to look like. I just start adding flowers to vases to see how it looks and cutting stems to appropriate lengths.
8. Even during the colder months, I forage in my garden to bring in branches, evergreens, or veggie leaves, In the photo above, I've used large leaves of burgundy chard to add an extra dimension of color, shape and texture.
9. If you don't like something, no problem. That's part of the fun of Playing with Flowers. You can experiment, try a flower combination for a day or two and if you keep on passing by it and thinking "I don't love this", then take flowers from a few different vases and play again!
10. The purpose of this exercise is for you to let go of control, to play purely for the sake of play, and to train yourself in mindfulness. Trust me, the more you work on letting go and playing, the more you will unleash your creativity and design beautiful floral arrangements. I've seen it happen hundreds of time!
If after time spent doing this, you return to your day feeling more relaxed, with a sense of well-being and happiness, then I'd say you gained a lot from Playing With Flowers.
What do you think?
The exercise Playing With Flowers can be found in the recently updated edition of my book, Digging Deep: Unearthing Your Creative Roots Through Gardening on Amazon.com and at Barnes and Noble and independent book sellers.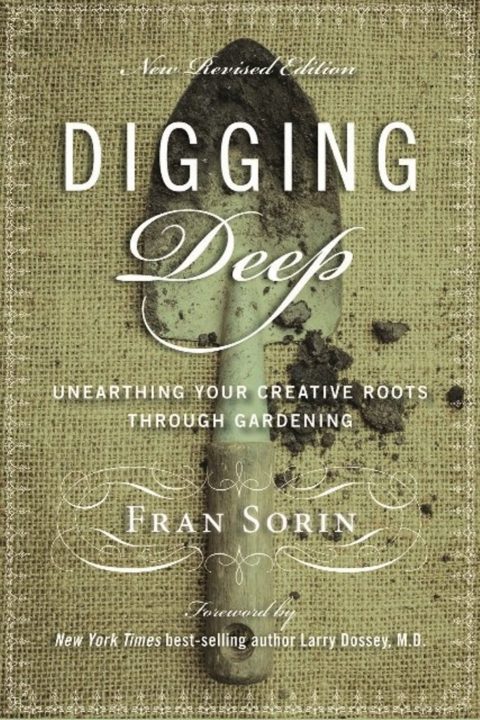 If you enjoyed this post, please share with others on social media. It will help get the word out on how to have an extraordinarily special Valentine's Day and it's good karma. With gratitude..xo-Fran