I didn't go into this contest expecting my job to be easy. But when I'm sorting through quantities of photos, focused on choosing the perfect shot to complement accompanying text or to illustrate a certain design point, I'm used to having just one image jump out at me as the perfect choice. So then it would just be a matter of choosing a runner-up or two, right?
Well, as soon as I started reviewing this month's entries, I knew I was in trouble. How could just one photo illustrate all of the features that make ornamental grasses such special plants to me? Fortunately, Fran and I had decided earlier that I could award multiple gold and silver medals this month, so I decided to separate the entries into several categories for separate judging — grasses in gardens and landscapes, lighting, closeups, and "artistic" — with a gold and silver winner for each. So, here we go:
Grasses in Gardens and Landscapes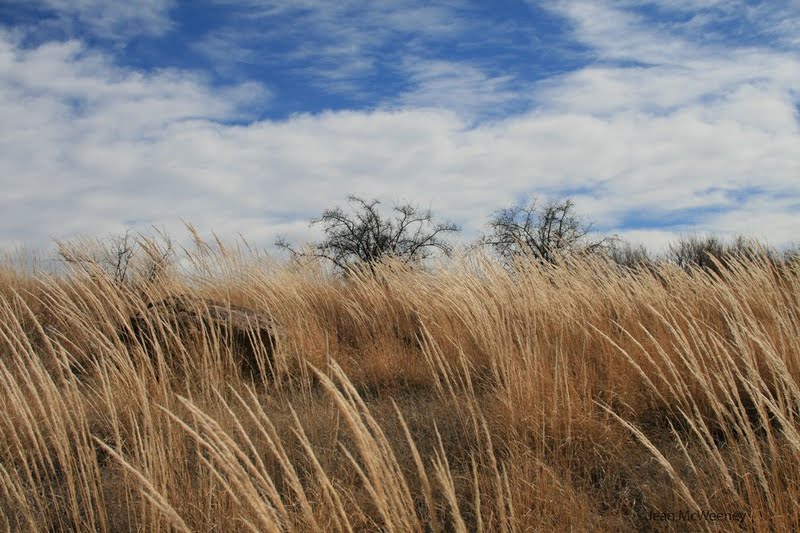 I have to cringe when nursery customers dismiss grasses as looking "too weedy." How sad that they can't appreciate the beauty of these graceful plants in a natural setting, as so beautifully shown in the photo (right) by Jean of DigGrowCompostBlog of grasses at Davis Mountains State Park in southwest Texas, let alone the many ways that grasses shine in gardens. Healingmagichand's entry showcases a variety of grasses forming dramatic vertical accents in her Petite Prairie at The Havens, while the shots of 'Morning Light' miscanthus by Christoper of Outside Clyde, Linda of An Artist's Garden, and Janet at Queen of Seaford (with bonus butterfly) emphasize just one popular grass's distinctive form and texture.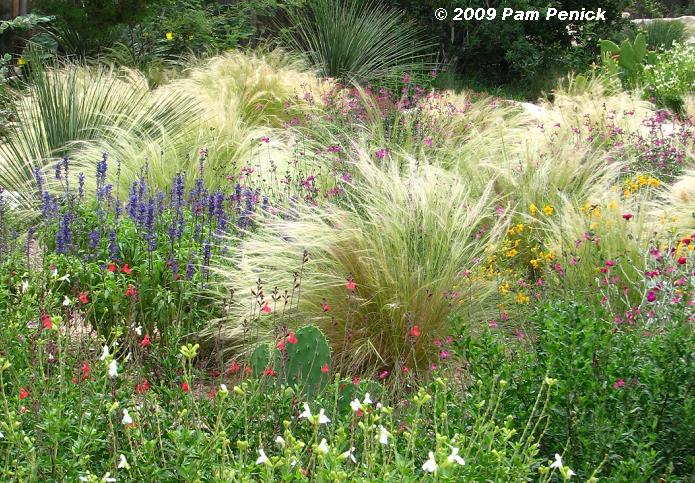 Grasses also have a way of adding the appearance of movement to a planting, as in the mixed planting with Mexican feather grass (left) captured by Pam of Digging and the cascade of purple fountain grass by Susie at Poppy and Sage. Combine a variety of grasses with different heights, textures, and forms, as Craig at Ellis Hollow did, and you have a border that's both high impact and low maintenance.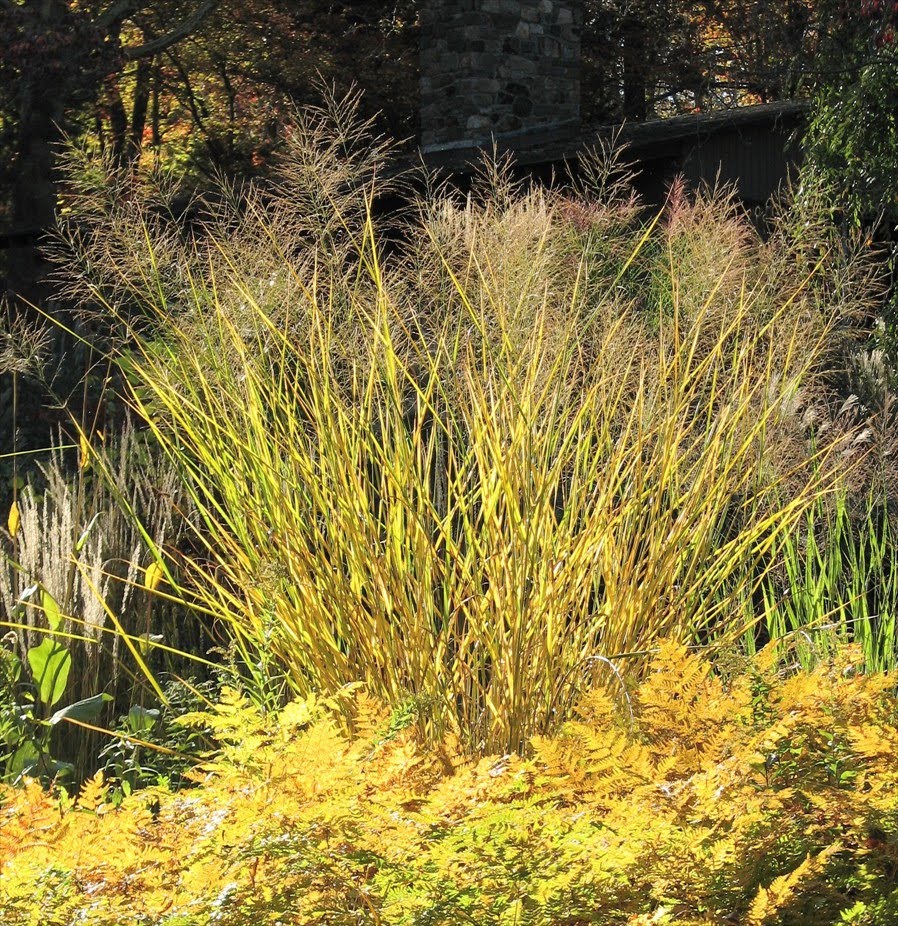 Gradually, gardeners are beginning to appreciate plants that look as good after bloom as they do while in full flower, and ornamental grasses are some of the most gracefully aging perennials around. James at View from Federal Twist  shared a glorious shot of 'Cloud Nine' switch grass in its golden fall glory (right), and Melody treated us to her daughter's lovely composition of seedheads shown off by the autumn colors of nearby trees. It's the outstanding winter presence of grasses that excites me most, though, and their tenacity is well captured in a mid-January shot of porcupine grass and switch grass by Debbie at Garden of Possibilities.
Maybe it's my winter bias that influenced my top two choices, but hey, I'm the judge and I'm allowed to have a bias, right? So, my pick for the Picture This Silver Medal for this category is the snowy scene of miscanthus in the garden of Yvonne at Yvonne's Country Garden.
And the Picture This Gold Medal goes to another chilly but surprisingly color-rich combination of grasses and conifers at Toronto's Music Garden, submitted by Janet of Beautiful Botany. With images like this, who could argue that grasses are messy and weedy-looking?
Grasses up Close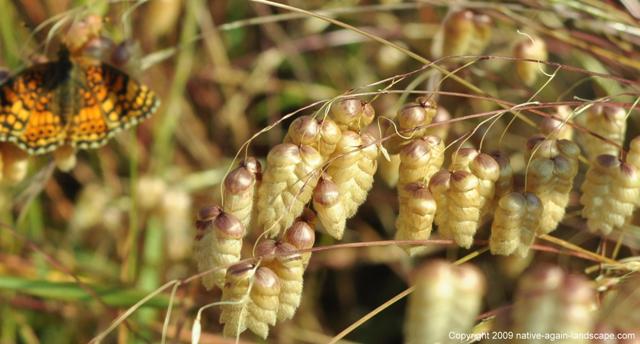 Another unfair objection to grasses that I hear sometimes is that they're simply green and boring. The images we've already seen amply illustrate their beauty in the garden, but these plants also hold up on close inspection, delighting curious gardeners with the dainty beauty of their blooms and seeds. Little surprise, then, that a number of our entrants chose to get up close and personal with their grasses. Joco shared a breeze-tossed grouping of beautifully bleached seedheads, Jill-O took a good look at the intricate infloresence of northern sea oats, and Radhika of Native Again Landscape shared a stunning shot of quaking grass's pearly seedheads (above), with the elegant addition of a beautiful butterfly.
Miscanthus flowerheads and seedheads were an especially popular subject, and we were treated to various views by contest entrants, including Heirloom Gardener (of Miscanthus sinensis 'Adagio') and the Picture This Silver Medal winner in this category: Little Wing of Little Wing Garden, with a breathtaking shot of emerging flowerheads on the variegated cultivar 'Cabaret'.
Fountain grasses (Pennisetum), too, are amazingly photogenic in both bloom and seed, so there's little wonder that several images appear among the entries. Those that seemed to fit best in this close-up category include a colorful leaf-and-flowerhead shot by Teresa of Gardening with Soule; a terrifically textural later-season shot of seedheads with panicle hydrangea by Raji of A Green Home and a Green Garden; and this category's Picture This Gold Medal winner: the arching infloresences of purple fountain grass submitted by Phillip of Dirt Therapy.
The Light Fantastic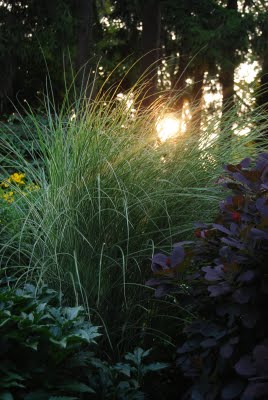 Grasses have a way of catching light that's matched by few other plants – a trait skillfully captured by a number of this month's entrants. Teza of Teza's Garden caught a beautifully backlit clump of 'Morning Light' miscanthus (right); Jennifer of Kewee's Garden showed off the stained-glass effect of Japanese blood grass; Town Mouse of Town Mouse and Country Mouse snapped the dancing spikelets of Stipa gigantea; and Frances of Fairegarden treated us to a spectacular shot of sunrise on the dew-laden plumes of pink muhly grass.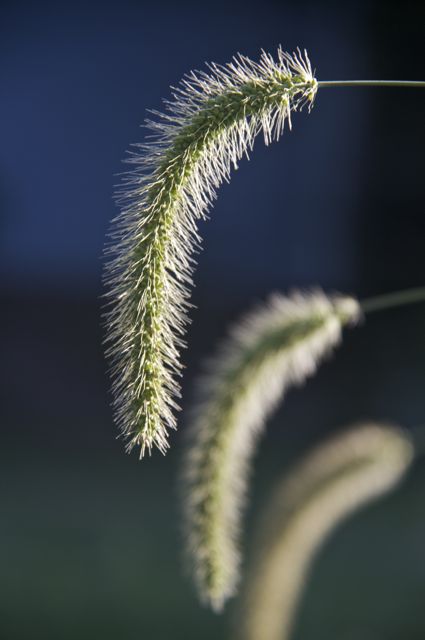 Back-lighting shows up stunning details in closeups, as so beautifully shown by Caroline of The Shovel-Ready Garden in her shot of purple fountain grass, and by MacGardens in his image of green foxtail (left).
The competition here was very close, but I did end up picking two here that really spoke to me. For the Picture This Silver Medal here, the light-filled image of Mexican feather grass by Philip of East Side Patch caught my eye.
And for the Picture This Gold Medal, there was just something about the spiky simplicity of deer grass, as captured by Barbara of Weeding Wild Suburbia, that whispered "pick me!"
The Art of Grasses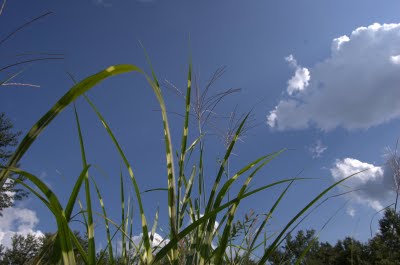 Several of this month's images had some indefinable quality that put them into a category of their own, which I've been thinking of as "artistic." I found the big-sky shot of zebra grass by Dave of The Home Garden remarkably dramatic, for instance, and the image of bluegrass seedheads with ironweed submitted by Marmee of Things I Love is more like a painting than a photograph.
The depth, detail, and color of the miscanthus seedhead shot from Louise of Buddy Garden is simply wow, as is Sea Oats at Sunset by Meems at Hoe and Shovel. I ended up giving a Picture This Silver Medal to Nancy of Soliloquy for another amazing sunset  shot with silhouetted seedheads, because the grasses were a more prominent part of the image.
I snuck in another placement here, because it was so hard for me to choose between the final two. So, the second Picture This Silver Medal goes to the spikes-in-the-snow shot from Scott at Rhone Street Gardens.
And the Picture This Gold Medal? I don't think I can explain exactly why I love the shot of little bluestem and another grass submitted by Alexa of Invisiblebees so much. I just do.
 The Best of the Best
For the big finish, I separated out and compared the four gold medal winners. And out of those, I chose the one that I thought showed the very best that grasses can offer to the garden: light, color, texture, and movement. So, a big congratulations, and a collection of gorgeous grasses from High Country Gardens, goes to Phillip of Dirt Therapy for his exquisite shot of purple fountain grass.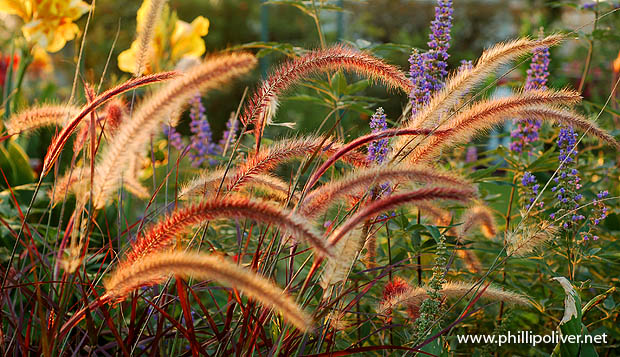 All of you who have been awarded a medal can grab the appropriate badge from this post and display it on your blog, if you wish. And, a big thanks to all who took the time to enter!
Galleries of Grasses
I have no more prizes left to give, but I wanted to offer a special thank-you to the bloggers who were inspired to share multiple images of their favorite grasses for all of us to enjoy. If you can't get enough of great shots of ornamental grasses, be sure to check out these posts: