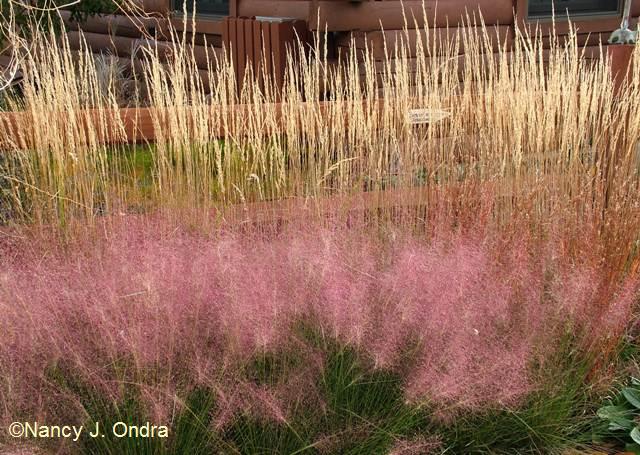 With the great gardening weather in many parts of the country, it's much more tempting to be working in the garden than writing about it. But several of our dependable GBDW participants came through again for us this month, treating us to portraits and galleries of their favorite plants and combinations to add sparkle to the autumn garden. So, if you're looking to extend the display of color in your own garden, or if you're always on the lookout for great new plants to try, here are lots of links for you to check out.
Garden Bloggers' Design Workshop – The Garden in Fall (Nan at Gardening Gone Wild): Kick-off post for this month's topic.
Native Plant for Fall Color (Lois at Lois De Vries' Garden Views): Learn about a sadly underused native perennial for shade: American spikenard (Aralia racemosa). It's a beauty in leaf, in bloom, and in fall fruit, too.
Fall Color (Linda at Each Little World): Autumn has been a little slow to arrive in Linda's Wisconsin garden, so there's still plenty of green lushness, but some late-season blooms are finally starting to make an appearance.
Sad to See Summer Go – Say Hello to Fall (Frances at Fairegarden): Every season at Faire Garden is special, with fall bringing its own unique features in the form of changing leaf colors and lovely late bloomers.
Fall in the Garden (David at Montana Wildlife Gardener): David is another blogger that appreciates all that the fall garden has to offer: the browning grasses and seedheads in his front-yard mini-prairie, as well as the perennials that are coming back into bloom with the return of the rains.
Loving Ornamental Grasses in the Fall Garden (Yvonne at Country Gardener): Yvonne's stunning tribute to some of her favorite fall grasses is not to be missed! While you're there, also check out her autumn foliage tour in Bring on the Fall Color – Shrubs and Trees and an overview of some of her favorite late-season perennials in Fall Flowers and Grasses.
Squirrelhaven in Fall (MMD at Mr. McGregor's Daughter): MMD's autumn garden is rich with color and texture from foliage, flowers, berries, and seedheads. Check out some of her favorite plants and combinations for a great late show.
Garden Bloggers' Design Workshop – The Garden in Fall (Craig at Ellis Hollow): Craig has captured some amazing images of fall's glory in and around his garden and the Cornell campus.
Looking for even more ideas for late-season color? Here are two more must-see resources:
Garden Bloggers' Bloom Day – September 2009 (Carol at May Dreams Gardens): See what's looking great in mid-September in nearly 140 garden all over the world.
The Fall Color Project 2009 (Dave at The Home Garden): Check in often to follow the foliage color changes throughout the country this autumn.