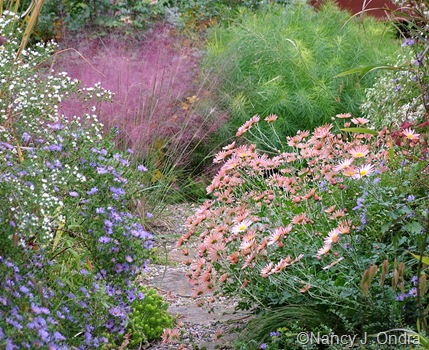 Many thanks to this month's contributors for sharing lots of ideas and helpful how-to tips on getting rid of grass, choosing and using mulches, and selecting gorgeous groundcovers for multi-season interest. Let's get right to them!
Garden Bloggers' Design Workshop – Covering the Ground (Nan at Gardening Gone Wild): Kick-off post for this month's topic.
Groundcovers (Sheila at The Gardens of Petersonville): Sheila often writes about the groundcovers and mulches she enjoys in her California gardens: for flowers, for foliage, for sun and for shade, for in-ground plantings and for containers too. There's a wealth of ideas here for gardeners in all climates.
The Dance of the Groundcovers (Susan at Sustainable and Urban Gardening): Thinking of replacing some or all of your lawn with groundcovers for color and fragrance? Check out Susan's front-yard upgrade here, and her back-yard project here.
The Ground Uncover (TM at Town Mouse and Country Mouse): We gardeners seem to be programmed to want to cover every inch of bare soil. Town Mouse lets us know that having some bare soil can provide important nesting habitat for many species of ground bees throughout the country. (If you're interested in learning more about providing habitat for native ground-nesting bees, check out this publication from the USDA National Agroforestry Center.)
To Lawn or Not to Lawn (Lois at Lois de Vries' Garden Views): Most homes come with some amount of lawn, but it may be way more than you need. Lois shares her thoughts about deciding how much turf to keep on her own property.
No Mow (Frances at Fairegarden): Frances poses the question "If not grass, then what?", then takes us on a tour through the front of  Faire Garden to show us how she has answered it.
Coastal Gardening Groundcover Plants (Genevieve at North Coast Gardening): Gardening along the coast provides some special challenges, so Genevieve shares a gallery of plants that have been proven performers for her, as well as links to other resources. She also offers some valuable tips on the why, where, what, when, and hows of mulches in Gardening Basics: How to Apply Mulch.
Covering Ground (healingmagichands at The Havens): If you have a large yard or a challenging site, figuring out how to fill it can be a daunting task – especially if you're going to do the work yourself. Healingmagichands shows us how she transformed a weedy slope into a flagstone path bisecting a beautiful scree/rock garden. She also shows a great way to transform lawn into garden in Creating a Garden Using the "Lasagna" Method and discusses the challenge of spacing plants in Covering Ground: A Cautionary Tale.
Floods (Diana at Elephant's Eye): For some gardeners, gravel paths are an aesthetic choice. But where seasonal rains bring massive amounts of water, covering the ground with a porous material is an absolute necessity.
Lawn Removal (Meems at Hoe and Shovel): Over the years, Meems has removed a lot of turf from her garden to create new paths and planting areas. These posts show the progress of her projects and include some great ideas that other gardeners can use too.
Covering with Combinations (Barbara at Gardening Gone Wild): Groundcovers don't have to be boring expanses of ivy or vinca. Mixing up several spreaders of equal vigor can make for far more interesting, garden-like plantings. Barbara shares some of her favorite combos for covering ground in her Maryland garden.
Designing with Sod (Nan at Hayefield): A sod cutter is a handy tool for removing turf (as shown in It Seemed Like a Good Idea at the Time), but then what do you do with all that sod? Use it to make even more new beds!
A final note: We're going to take a break from the Design Workshops for a while, but you're all welcome to visit past workshops and leave new links on those topics any time. You can find a rundown of all the GBDW posts at Garden Bloggers' Design Workshop.