Once again the bloggers at Garden Designers Roundtable bring you a series of networked bogs around a common theme and have asked members of the Lawn Reform Coalition to join forces.  As a member of LRC, I chose to blog on my home turf, here at Gardening Gone Wild.  Many more posts will be found linked at the bottom.
***************************************************************
"Retired Lawn" brings a smile every time I drive by.  The front yard of a modest home on a busy street near my house, it is an art installation  worthy of space at Cornerstone Gardens.  Conceptual landscape architects might be more subtle but can do no better at expressing why lawns are not worth the effort:  too much work for too little pleasure.
I seriously  doubt that "Retired Lawn" is intending to make any statement about lawn reform but we can be sure that taking care of that lawn was boring work.  We in the Lawn Reform Coaltion can preach that lawns, as promoted by the lawn and turf industry are water guzzling, chemical dependent, excuses to beat down nature, that  lawns are monocultures that nature sees as sterile wastelands, and that lawn mowers pollute the atmosphere.
But "Retired Lawn" doesn't care about all this, and besides, RL used a push mower.  Bottom line:  having a lawn was a boring chore.
Gardening is fun.  In this simple observation, obvious to all who read garden blogs, is the way to spread the word that lawn reform is not about a lot of holier-than-thou environmental goofballs laying a guilt trip on property owners.  From what I can tell reading garden blogs, the avid gardeners are already on board with lawn reform.  Many of us are already mostly organic and our lawns are already shrinking because our shrub and flower borders keep expanding; and now we can let our dandelions go to flower in our lawns and call them meadows.
We don't need to have someone rattle off the stats about how many square miles of America are wasted on turf*.  (*Footnote of digression:  I was about to say wasted on grass, before I realized most of the square miles of agriculture lands in the world are devoted to grass – corn, wheat, oats, and rice are all grasses.)  Gardeners are all pretty much in agreement that if you want some lawn, it must satisfy some sort of design criteria.
Nor do we here need anyone to tell us that gardening is fun.  But I am not sure the rest of property owning America gets that.  Surely if they did, there would be much less lawn.
We can discuss amongst ourselves, as do East Coast vs. West Coast members of the Lawn Reform Coalition, about the practical functions of lawns and whether they are low maintenance or high maintenance, but to make an impact on those who have lawns because they don't know what else to do, we need to appeal to their sense of fun, to our American sense of individuality, and our natural instinct to do the right thing.
No one wants to be boring.  So let's take the dull lawn spaces surrounding most homes, express some creativity, and have fun doing it.  This is what gardening is all about and each of us here reading this takes quirky pride in our own interpretations, our own installations.  And when we garden organically and sustainably in harmony with nature, we have the deep satisfaction of contributing to the health of our neighborhoods and the planet itself.  This is big fun.
Gardens become extensions of ourselves; and a lawn with no purpose should be considered a crime against the planet, a sign the owner of such a sward is a repressed bore, and someone who needs to drink the gardening koolaid.  Wake up you doofus!  Make some art !  Have a garden!  Kill your lawn !
OK, maybe that approach won't work on the door-to-door campaign for lawn reform, but you get the point.  We in the gardening media (that includes all you fellow bloggers) need to give the lawn owners permission to do something different with their lawn.  Whatever amount of time they spend working on their lawns can be re-directed onto actual gardening, which I will say, one … more … time:  it's fun, its  fulfilling, it expresses your personality.
All this less lawn means re-imagining what we do with the space that lawns occupy, and that is exactly what the media needs to do.  Let's show some alternatives.  And that is where I find inspiration for the work I do as a garden photographer.  I want to show actual alternatives in practice.  Seeing is believing, though all who read my posts here at Gardening Gone Wild know "The Camera Always Lies".  It lies to tell the story the photographer wants to tell.
I have been fortunate to work with publishers who want to tell the same story and am exceedingly proud of three books (and one about to come) that make a point of promoting lawn alternatives.  Since this entire concept of networking with the garden designers roundtable is to promote lawn alternatives, and I can't exactly show all the alternatives I have seen, I will point to: Plants and Landscapes of Summer-Dry Climates (543 photos – only one with lawn)  The American Meadow Garden (with meadow guru John Greenlee), and Re-Imagining the California Lawn (I have less than 50% of the photos).  And coming soon Beautiful No Mow Lawns, fellow LRC member Evelyn Haddens's new book.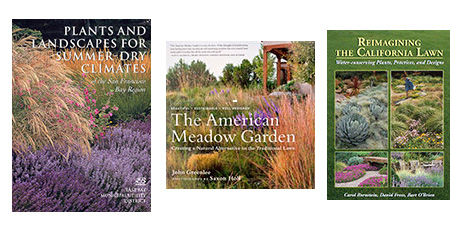 All these books show real examples of lawn alternatives, but if you are to study these (or any garden book) you are led to believe success in gardening is easy and maintenance is low.  We all know gardens are work, that sustainability has a direct relationship to the labor we put in.  Photographs in books do not often come from truly low maintenance gardens.
But life is work, friendships are work, art is work, work is work.  Why would anyone not expect gardens to be work too ?  But ahhh !  if you are a gardener it is not work alone, it is fun.  "Retired Lawn" got no fun from gardening, the lawn was a boring chore.   If gardening were fun for RT we would see something living covering that ground.
The choices to replace lawn are nearly endless but first it is our job to convince those that see gardens as boring, that gardens are fun and fulfilling.  We need to prove that the pleasures outweigh the work.
As that happens, as we unleash the creative spirit of future gardeners, we will see more and more creative uses of lawn space, more habitat and the creatures who need it, more local food, more community, as we share our stories with neighbors, and more overall good health.
Let's do all we can to encourage new gardeners to have fun with whatever time they have, be it in the veggie garden, the balcony, in front yards, or just a few simple flowers.  Small successes are to be congratulated.  It is all good.  You don't need an estate and every garden counts in the sum total of improving our collective lives.  So to encourage actual gardening, as alternatives to the boring lawns that too many folk "think" is gardening, the following photos are all examples of lawn alternatives in properties not much different than the one Retired Lawn left behind.
And all are a lot more fun:
And now the blogfest fun continues.  Please continue on and read more perspectives and design ideas from the Lawn Reform Coalition and the members of Garden Designers Roundtable.
Susan Harris : Garden Rant : Takoma Park, MD
Susan Harris : Gardener Susan's Blog : Takoma Park, MD
Billy Goodnick : Cool Green Gardens : Santa Barbara, CA
Evelyn Hadden : Lawn Reform.Org : Saint Paul, MN
Ginny Stibolt : Florida Native Plant Society : Green Cove Springs, FL
Tara Dillard : Vanishing Threshold: Garden, Life, Home : Atlanta, GA

Susan Morrison : Blue Planet Garden Blog : East Bay, CA
Shirley Bovshow : Eden Makers : Los Angeles, CA
Scott Hokunson : Blue Heron Landscapes : Granby, CT
Rochelle Greayer : Studio G : Boston, MA
Rebecca Sweet : Gossip In The Garden : Los Altos, CA
Pam Penick : Digging : Austin, TX
Lesley Hegarty & Robert Webber : Hegarty Webber Partnership : Bristol, UK
Laura Livengood Schaub : Interleafings : San Jose, CA
Jocelyn Chilvers : The Art Garden : Denver, CO
Ivette Soler : The Germinatrix : Los Angeles, CA
Genevieve Schmidt : North Coast Gardening : Arcata, CA

Douglas Owens-Pike : Energyscapes : Minneapolis, MN
Debbie Roberts : A Garden of Possibilities : Stamford, CT