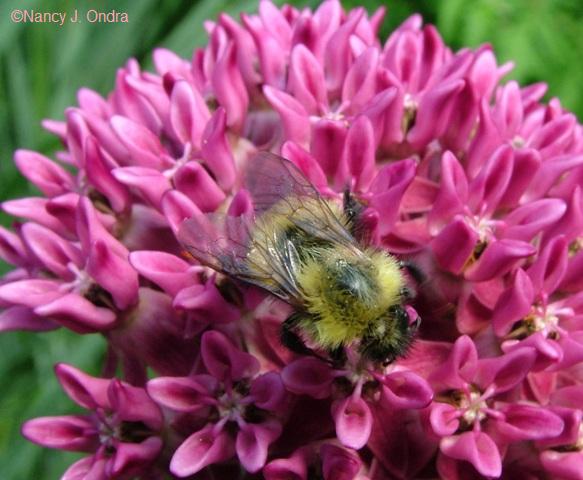 Hey, all! It's time to start a new Garden Bloggers' Design Workshop. And as I mentioned in February's kick-off post, this month's topic is wildlife in the garden: the good and the bad. The pretty and the creepy. If it's out there and you're not responsible for taking it to the vet, it counts.
I used to be really into feeding wild birds, until it became too expensive. Once I stopped, I realized that I didn't need to do it anyway. Because I wait until spring to do my garden cleanup, there's plenty of seedheads and stalks to provide winter food and shelter, and there are always wild birds flitting among them. In the summer, the robins insist on nesting in the climbing rose right by my side door, even though they know I go in and out all the time and will agitate them continuously.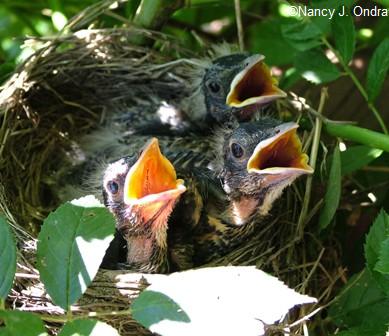 I also find lots of little nests in the shrubs and perennials.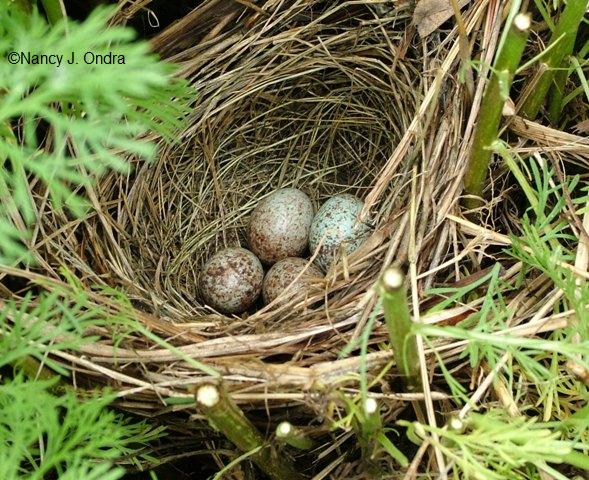 One concession I've made is in not cutting back as many perennials as I used to, after exposing several nests like this one during an early-June pruning frenzy. Boy, did I feel bad about that.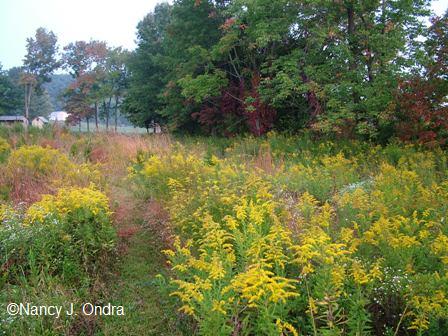 Even if I kept my garden carefully trimmed, perfectly tidy, and utterly pest-free, however – which I have no interest in doing – I figure I'd still have plenty of birds and other wildlife to enjoy, thanks to the 2 acres of meadow area that wrap around my house and pastures, as well as the old hedgerows between me and my neighbors. I mow the meadow only once a year, usually in early spring, so between that, the many seedling Eastern red cedars (Juniperus virginiana) that have sprouted up, and the diversity of woody plants in the hedgerow, there's ample habitat for all kinds of critters.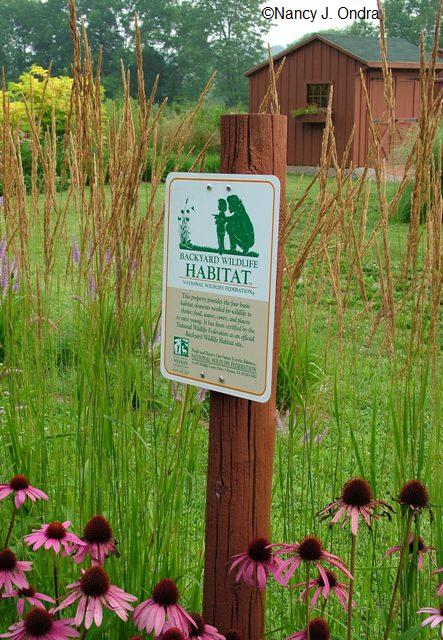 Even though I live in a rural area, folks around here generally don't care much for unmown areas, unless they are fields cut each summer for hay. So I took the step of getting certified as a Backyard Wildlife Habitat through the National Wildlife Federation and sprang for the expense of this spiffy sign. I doubt it has changed the minds of those who seem to think I'm living next to an abandoned property, or that I'm too lazy to mow "properly." But I have seen a number of people walking or driving by who have stopped to read the sign, and several of them have asked me to explain more about the program when they see me working out there, so I guess the message is getting out.
I know it's important to nuture the diversity of herbaceous and woody plants in the meadow, but sometimes I wonder if it wouldn't be just as useful to grow nothing but milkweeds (Asclepias), because they seem to host such a variety of neat bugs, including the larvae of monarch butterflies…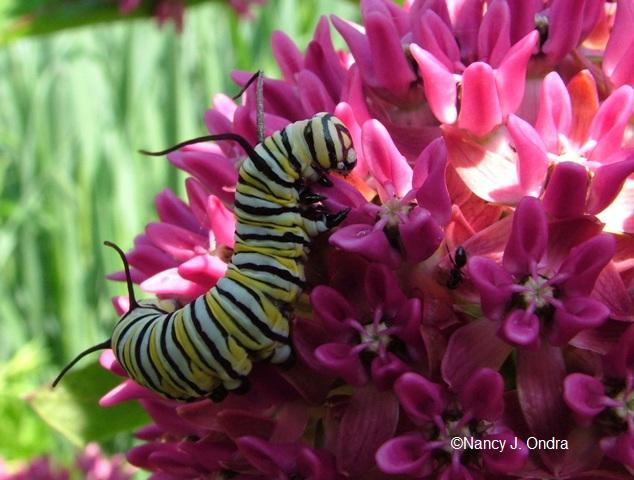 …various adult butterflies…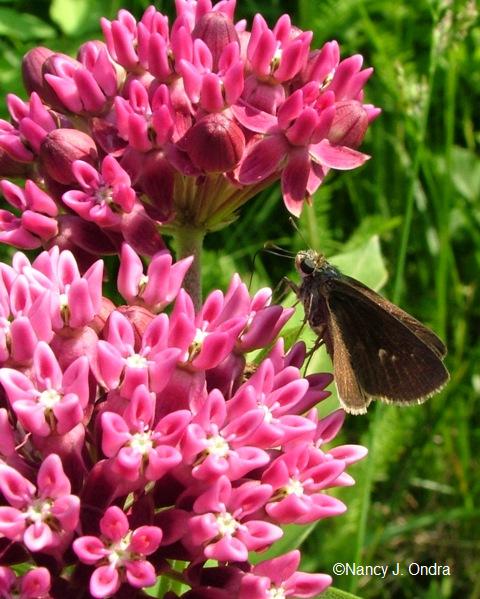 …bumblebees…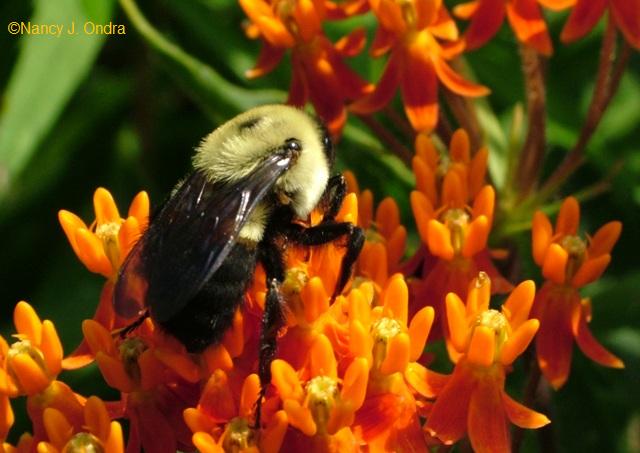 …honeybees…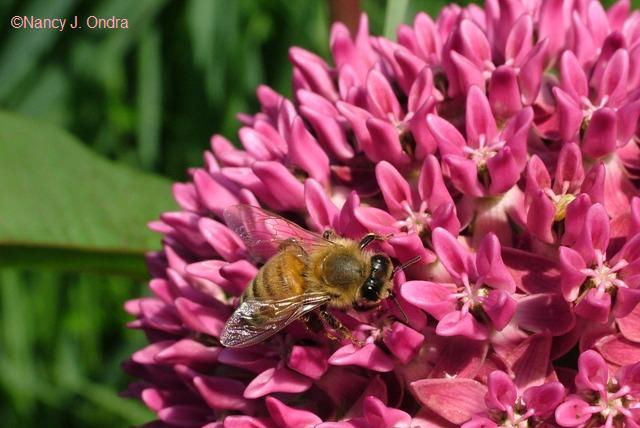 …and ladybug larvae.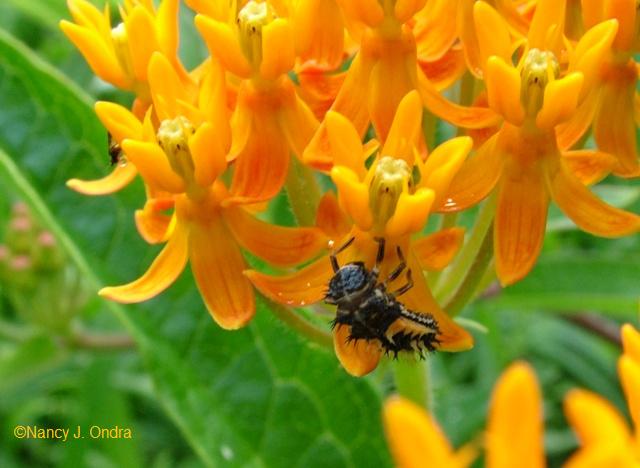 But then, there are plenty of other interesting plants that provide food, shelter, and nesting sites for cool critters, including various spiders…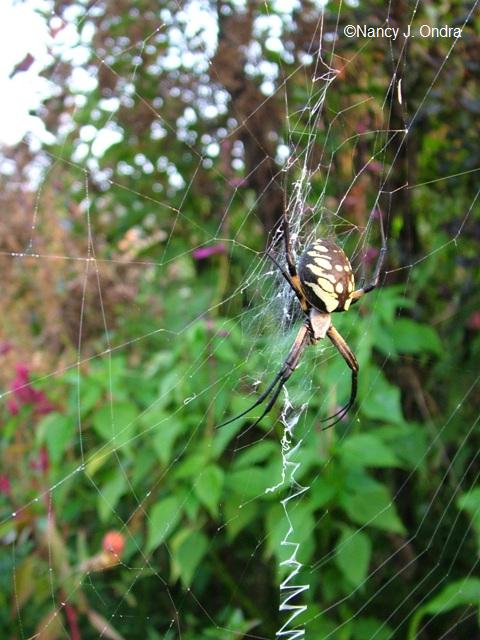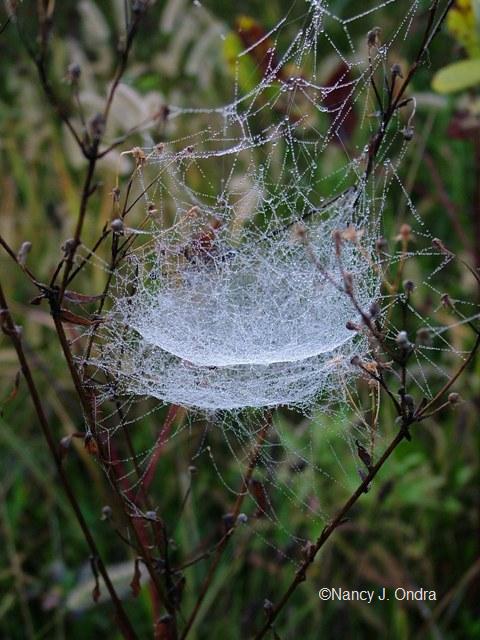 …and praying mantises.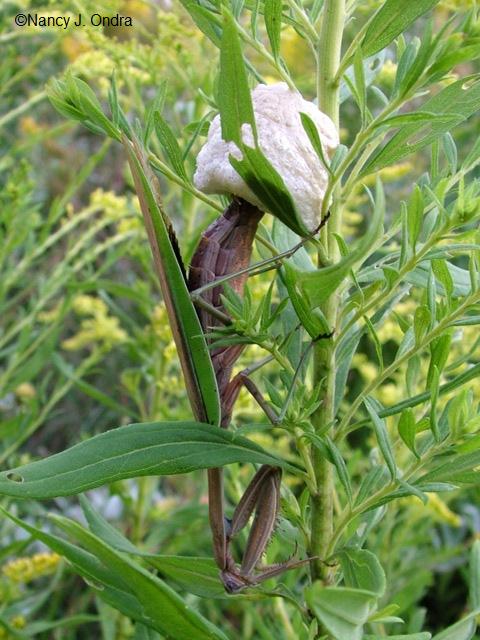 Of course, some forms of wildlife are less desirable than others. Deer? Oh yeah, they're here too.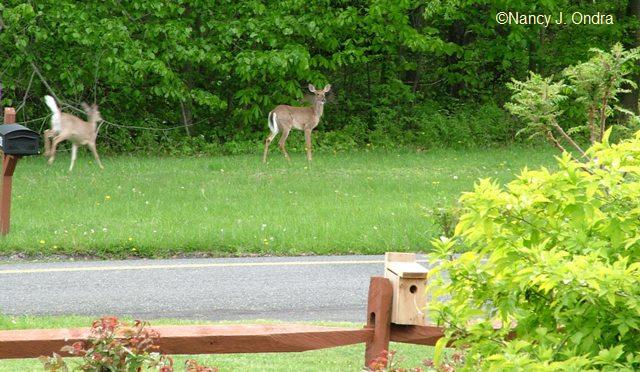 Ugh. I don't want to think about that.
Now it's your turn to share your thoughts and experiences about wildlife in the garden.
I know lots of you enjoy feeding backyard birds. Do you add plants specifically for them too, or do you have tips for incorporating feeders and water sources into your yard? Any pointers for gardeners who are interested in drawing more birds to their gardens?
What kinds of plants and gardening practices do you use to attract and protect beneficial insects?
How about you butterfly gardeners – care to share your tips and experiences?
I believe some of you have also gotten certified with the NWF's Backyard Wildlife Habitat program (or, as they call it now, the Certified Wildlife Habitat program); what did you think of the process? Would you do it again? Do those of you in other countries have similar programs?
What about dealing with the troublemakers? I'm sure many readers would appreciate hearing about any successes you've had in finding ways to keep rabbits, deer, and other problem critters from devouring your garden.
If you're new to the GGW Design Workshop, here's how it works: Write a post on anything related to wildlife in the garden on your own blog and give us the link below, or simply leave a comment if you don't want to do a separate post. If you've written about the topic in the past, those links are equally welcome; it's not necessary to create a new post to participate.
At the end of the month, I'll gather all of the links into one summary post for easy reference. If you're interested in checking out previous GBD Workshops, you can find them here:
Paths and Walkways
Fences and Walls
Arbors and Pergolas
Color in the Garden
Container Plantings
Front-Yard Gardens
Stone in the Garden
Decks, Porches, and Patios
Garden Whimsy
Trellises and Screens
Water in the Garden
Sheds and Outbuildings
Incorporating Edibles
Kids in the Garden
Labeling and Record-Keeping
Pets in the Garden
Don't forget that you're all welcome to go back and add links to these older posts.
A final note: Our July topic will be designing with bulbs – both hardy and tender kinds. So you have plenty of advance notice to take pictures of your spring bulb displays and plan ahead for summer, too.