In past Design Workshops, we've talked a good bit about vertical design elements, such as walls, fences, trellises, and screens. This month, let's take a look at the horizontal plane: the various ways we gardeners handle the "floor" of our outdoor spaces.
Hardscaping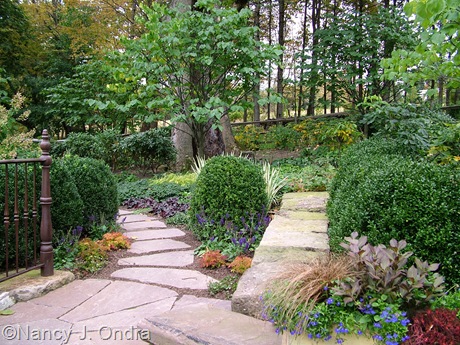 Some sort of lawn, as well as some paved areas for a driveway and walkway, are what many of us face when we start gardening. While we're pretty much stuck with the hardscaping necessary for access to our home, we may be able to choose or replace the materials used for them, or for new features we add, such as paths, decks, and patios. These design elements tend to be expensive and relatively permanent. Sometimes we have to settle for a surface that's more practical than beautiful, but if we're lucky, we may be able to upgrade to something more attractive and/or environmentally friendly, such as porous paving.
Have you written any posts on your blog about your favorite hardscaping features? Or have you documented the process of constructing a deck, patio, walkway, or other hardscape feature in your garden? All links are welcome! Photos of great-looking paving and other sorts of horizontal hardscaping would be great too.
Lawns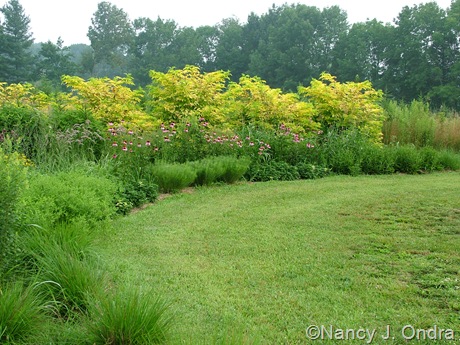 Unless you're starting with a completely blank slate, it's likely that you have at least some grass-covered ground to deal with. You may want or need to keep some turf to have space for kids or animals to play, and maybe you love the look of green grass as a setting for or paths through your gardens. Or, maybe you have areas where you mow whatever grows, simply because you don't have the time, energy, or money needed to turn it into something else.
The folks over at the Lawn Reform Coalition (www.lawnreform.org) have gathered lots of information on and links to resources on organic lawn care, low-maintenance turfgrasses, and reducing or replacing lawn. But there's always room for more ideas and inspiration, so if you've written about any lawn-related topics on your blog, we'd love to include your links here.
Gardens, groundcovers, and meadows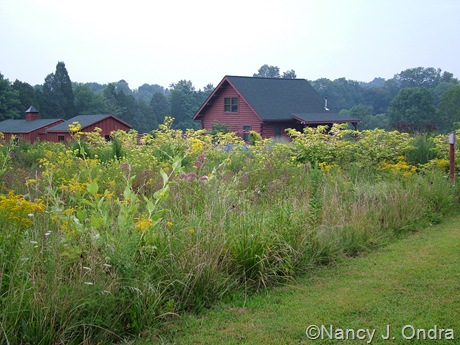 There are lots of reasons to replace turfgrass with other plants: if it's hard to maintain or not well adapted to your climate; if you're bored with having to mow regularly; or if you're simply ready to get growing with more exciting and diverse plants. This is your chance to tell why you've decided to get rid of some or all of your grass, and what you planted in its place. Have you had good luck getting groundcovers started, or have you planted some that you wish you hadn't? Have you figured out a good way to keep lawn grasses from creeping into adjacent gardens and groundcovers? Have you stopped regular mowing and let some of your property grow into a meadow or woodland for wildlife habitat? Posts on any non-lawn plantings are fair game.
Mulches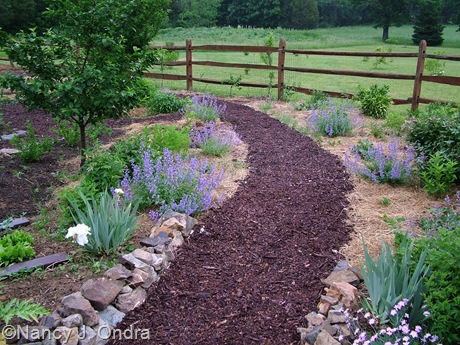 What about those spaces where hardscaping isn't a realistic option but lawns or plantings aren't practical either? Gravel, shredded bark, or other mulches may be your choice for lesser-used pathways, heavily shaded spaces, bone-dry areas under shallow-rooted trees or roof overhangs, and other tough sites. If you've chosen one or more mulches to cover the ground in your outdoor spaces, let us know how it worked out for you.
Uncovering the Ground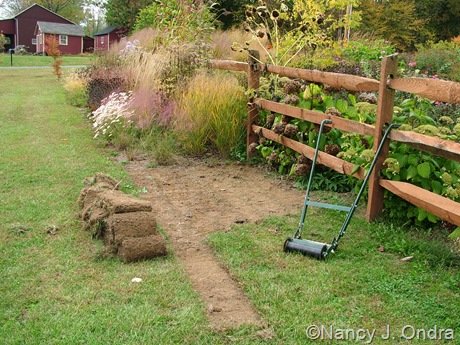 One of our top-5 posts of all time here at GGW is a post I wrote two-and-a-half years ago – Sod Off (in an Eco-Friendly Way) – about removing lawn with a manual sod cutter. Searches for "manual sod cutter" and "removing sod" also bring loads of traffic here. It's not a fun topic, and it doesn't make for pretty posts, but it's a subject that people really want to know about. So, how about sharing your favorite techniques for getting rid of grass: chopping it up with a mattock, peeling it off with a spade or sod cutter, or smothering it with plastic or mulches. If it works well for you, you'll be doing a great service to your fellow gardeners when you write a post about it!
How to Contribute
If you'd like to share your ideas for this month's Garden Bloggers' Design Workshop, write a blog post on anything related to covering the ground and give us the link below, or simply leave a comment here if you don't want to do a separate post. If you've written about the topic in the past, those links are equally welcome; it's not necessary to create a new post to participate.
I'll gather all of the links into one summary post for easy reference. It'll go up on May 28th, so please try to get your links in by the 26th.
If you're interested in checking out previous Garden Bloggers' Design Workshops, you can find them here.