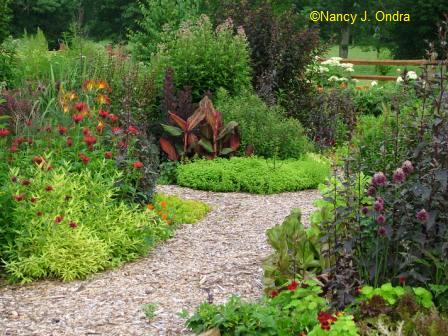 It's finally November, and time for the "official" start of the Garden Bloggers' Design Workshop. The theme for this month is paths and walkways in the garden. Do you have a path in your garden that you're particularly pleased with? Let us know how you created it, and why you like it. Are you having trouble deciding where to put a new path or figuring out how you're going to install it? Describe your quandary, and maybe you can get some helpful suggestions. Or, just show us some of your favorite garden paths or plants-and-walkways combinations, in your own yard or elsewhere. Still not sure what you want to write about? Here are some ideas to get you started:
–Are your garden paths essentially utilitarian—just there to get you from one place to another—or do you prefer meandering routes?
–Did you carefully plan the paths you have now, or are they basically just the spaces left in between the beds and borders you've created in your yard?
–Are you pleased with the paths you have now? If so, what do you like best about them? If not, what do you wish you had done differently?
–What material(s) are your current garden paths made out of: grass, stepping stones, wood chips, gravel, pavers, brick, or something else? If you had an unlimited budget, what would your dream paths be made out of? What is your least favorite material for garden paths?
–Which do you like best: narrow paths that let you get up close and personal with your plants, or walkways wide enough to stroll along without worrying about stepping on sprawled stems or being bothered by bees?
–What's the most memorable experience you've ever had with a garden path, either in your own yard or elsewhere?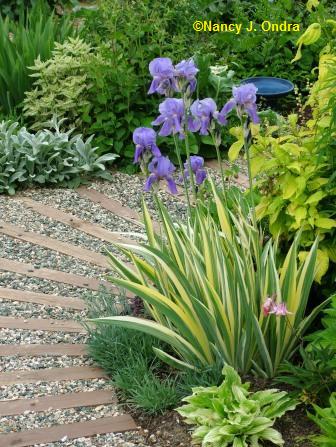 Post your thoughts and photos in your own blog, then leave a comment here so we can find you, or feel free to write your thoughts or add other discussion questions in the comments section below. At the end of November, I'll post a summary of the links and comments, so we'll have them all in one place for easy reference. As a start, check out Gardener in Chacala Mexico, who has already posted some beautiful photos of plant-lined paths and walkways here and here. Also, we'd like to give credit for the idea of this workshop to Carol at May Dreams Gardens, who started both Garden Bloggers' Bloom Day and the Garden Bloggers Book Club. I'm sure many of you already read Carol's sites regularly; those of you who haven't yet should check them out!
One more thing: To celebrate the start of what will hopefully be a fun and inspiring discussion, we have a little surprise this month. If you post your thoughts here or give us a link to what you've written about garden paths on your own blog by November 30, you'll be entered into a drawing for a copy of either Foliage: Astonishing Color and Texture beyond Flowers or Fallscaping: Extending Your Garden Season into Autumn—winner gets to choose. (I'll even sign whichever book you select, if you'd like.) We'll announce the winner on December 1, when we post the topic for next month's discussion.