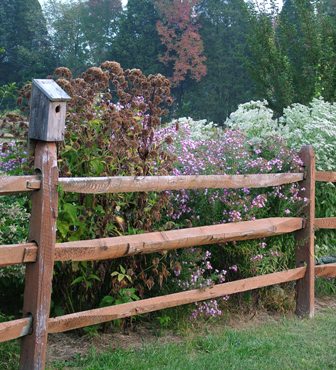 Despite the many demands of this busy month, we had a great turnout for December's Design Workshop on the subject of garden fences and walls. From classic white pickets and rustic split rail to stunning sheet metal, we got to see some amazing garden enclosures and pick up some great ideas too. Below is a summary of all the posts relating to this month's topic, roughly organized by subject. Enjoy!
Garden Bloggers' Design Workshop – Fences and Walls (Nancy Ondra at Gardening Gone Wild): Initial post for this month's topic, with some random musings on the subject.
Fences (Lisa at Greenbow): Thinking about installing a fence in your yard? Lisa raises some great points that you really need to consider.
Cottage Garden: Front Garden Fences (Angela at Cottage Magpie): A collection of lovely cottage-garden fences, including the picket fence in Angela's own garden. (You can also find pictures of her previous garden at English Cottage Garden.)
Nine Months in a Bumblebee Garden (Robin at A Bumblebee Garden): Season-by-season photos of Robin's Colonial kitchen garden enclosed by a classic white picket fence.
A Fence That Isn't a Fence: Garden Bloggers' Design Workshop (Kathy at Cold Climate Gardening): If you love picket fences, here's an idea you need to see!
Creating Space for a Garden: The Cutting Garden (Heirloom Gardener): A picket fence and wall used to enclose a cutting garden.
Garden Bloggers' Design Workshop—Fences and Walls (Pam at Digging): The inspiration behind and construction of Pam's front-yard fence, plus photos of her back-yard fence and another fence in her neighborhood.
On the Fence (Nancy Ondra at Gardening Gone Wild): The various styles of wooden fences in Nan's previous and current gardens.
Creating the Children's Garden (Heirloom Gardener): A cozy kids' garden enclosed with a split-rail fence.
Garden Blogger's Design Workshop – Walls and Fences (Frances at Faire Garden): A tour of the various fence and wall features in Frances' garden, including a concrete wall, rock wall, split-rail fence, and solid-board fence.
Garden Blogger's Design Workshop: Walls and Fences (Mr. McGregor's Daughter): MMD posted photos of existing wooden and chain-link fences at Squirrelhaven and got some great suggestions on dealing with them.
Opportunity Cost (Kim at A Study in Contrasts): It's tempting to cover chain-link with a more solid screen – but then, you're stuck with a whole lot more shade. Kim asked for some ideas on this dilemma.
New Fence! (Kim at a Study in Contrasts): The construction of a new fence in Kim's garden. A Smooth Backdrop is a follow-up post.
New Fence, New Border (David at Leave Me Alone, I'm Digging): The installation of a new solid-wood fence led to a giant new border for David's garden.
Fence and Chinese Gate (Karen Arms at Savannah Garden): An arbor/gate combined with a trellis-and-recycled-board fence in Karen's garden.
Q: How Do You Keep Deer Out of the Backyard? A: The Deer Fence (Heirloom Gardener): Looking for a deer fence that's decorative too? Check out this inspiring idea.
On the Fence – Traditional and Not So Much (Michelle Derviss at Garden Porn): A collection of definitely-out-of-the-ordinary garden fences, plus a few classic enclosures.
"Fear is the Highest Fence" (Bonnie at Kiss of Sun): They changed their fence and totally changed the feeling of their landscape. You'll be amazed at the difference!
Creating the Walled Garden: A Primitive Dry-Laid Wall (Heirloom Gardener): A mini-wall used to delineate a garden space.
Garden Bloggers' Design Workshop: Fences and Walls (Carol at May Dreams Gardens): Another mini-wall used to separate a lawn area from the wooded part of a home landscape.
Raising the Walls (Nancy at Gardening Gone Wild): The creation of a walled garden in a Pennsylvania landscape.
For a different take on a traditional garden wall, check out this one created by Phillip at Dirt Therapy.
Monet's and My Espaliers (Jim at Art of Gardening): Why have a plain old wall or fence when you can dress it up with plants? Jim tells how he espaliered fruit trees on a wall in his garden. (To find the post, you'll need to scroll down to his entry for December 27, 2007.)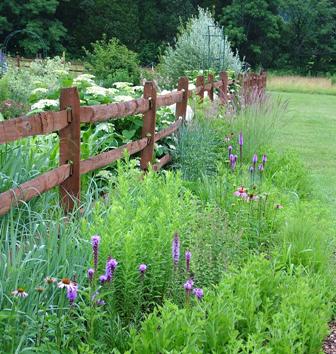 I think that includes everyone who has posted as of December 31, 2007; if I've missed any of you, please let me know. Or, if you decide to write about fences or walls later on, leave a comment below and I'll add your link to this post. Thanks to all for participating. Now, I'd better decide on the next topic….