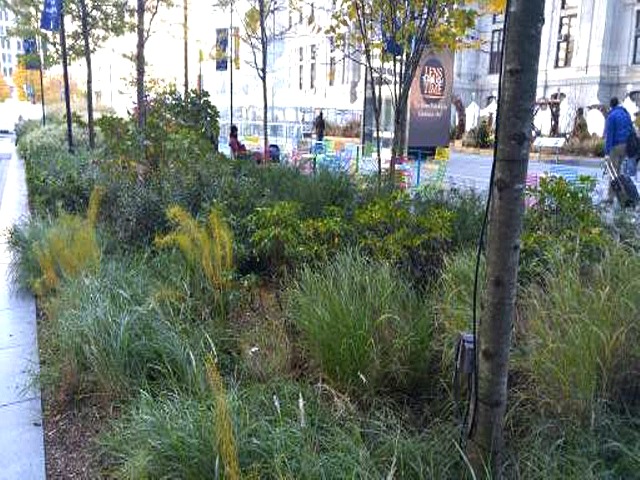 On a visit last week and again yesterday to Dilworth Park,  Philadelphia's outstanding green space abutting City Hall, I was delighted to discover a newly constructed pop-up garden.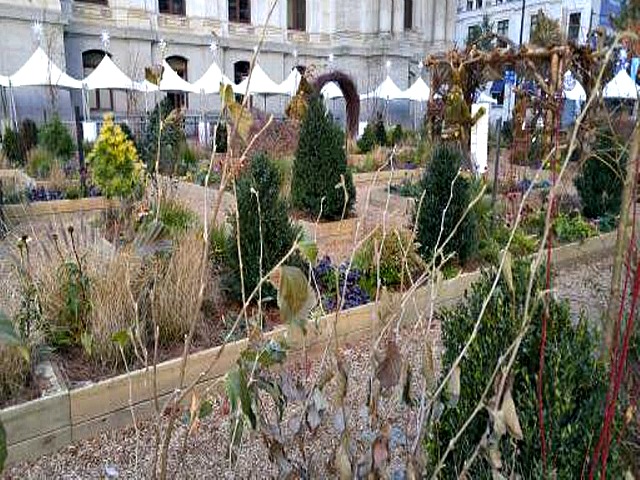 As many of you know, I am a big fan of Bryant Park in New York City and have written a few articles about it: You can check them out here and here.
Dilworth Park, renovated in 2014, is a 120,557 square foot space that has become a multi-faceted public meeting place: It consists of well executed perennial plantings with tree groves, colorful seating areas, and a seasonal ice skating rink.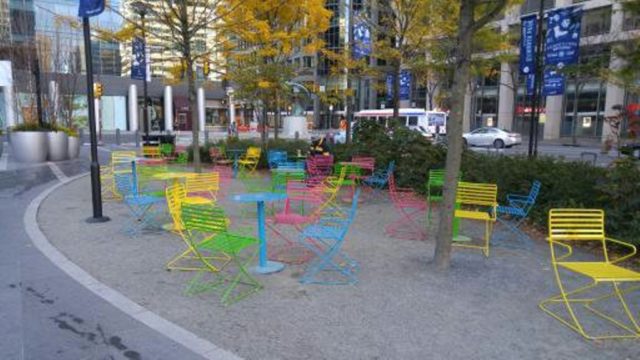 When it first opened in 2014, after a major renovation that cost $155 million, it was met with less than stellar reviews as written about in Philadelphia Magazine (September 2014):
Architecture critic Inga Saffron of The Philadelphia Inquirer weighed in with an analysis of the park, a park which she says really isn't a park at all:
"They've reconstructed the space in front of Philadelphia's palatial City Hall, furnished it with a cafe, a high-tech spray fountain and movable chairs, and rebranded it Dilworth Park. But the vast granite prairie is still very much a plaza, with all the weaknesses the word implies."
In the end, Saffron declares that the "aesthetic is all wrong for a city eager to remake itself for an expanding creative class." Dilworth Park is, she writes, "a suit in a jeans-and-t-shirt world."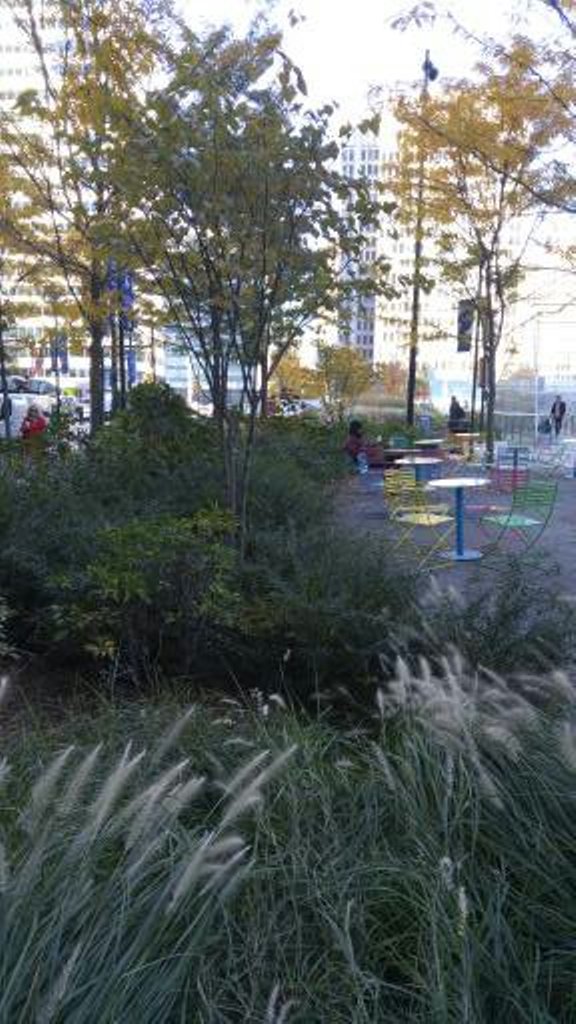 Stu Bykofsky of The Daily News had this to say on his FB account:
"Visited today and was underwhelmed. If it was "barren" before the $55 million makeover, that nice (in good weather) fountain takes up most of the space in front of City Hall. There's a cafe? I didn't see it. All the trees are relegated to the perimeter. You can walk through the fountain, which is neat, and the kids loved it, but I have a feeling most of that $55 [million] was on construction, not on appearances. Yes, it's a bit better, but if it is supposed to be the new town "gathering place" it might have had more "wow" factor."
Perhaps it was the addition of this year's newest addition, The Capital Garden Maze, that transformed the park from what was described above to what I would now describe as festive and playful.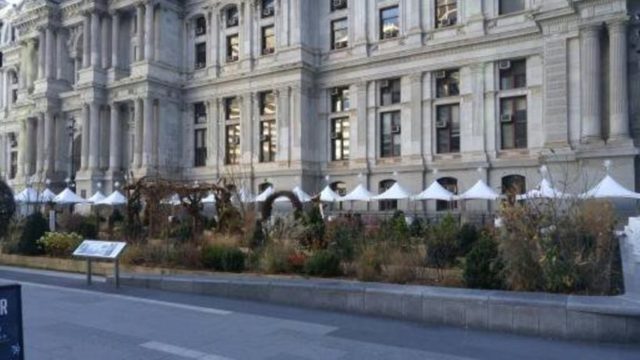 The America's Garden Capital Maze took over the patch of grass at Dilworth Park during the winter season as part of a $300,000 grant from the William Penn Foundation. It was designed by Groundswell Design Group, the same firm behind other iconic pop-up public spaces like Spruce Street Harbor Park and the Blue Cross RiverRink Winterfest. The maze is festooned with willow-branch archways and well chosen and colorful plantings, all in raised beds.
The Made in Philadelphia Holiday Market, featuring 35 local vendors, is still in the process of being constructed. There is even a lovely old fashioned  merry-go-round on one side of the courtyard. Like the Christmas Village, which will be located in City Hall's inner courtyard this year, the holiday market will remain open until Christmas Eve.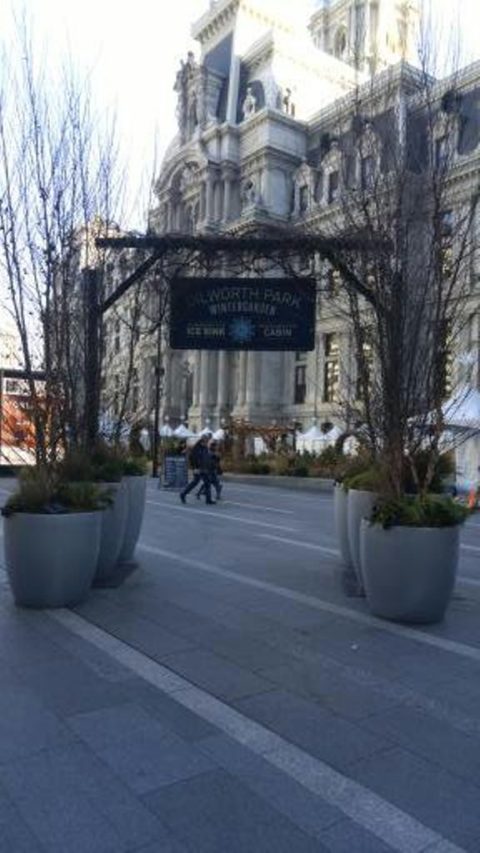 Is this Philadelphia's answer to Bryant Park? Not quite. But contrary to what the critics have written, I feel strongly that Dilworth Park is a positive addition to the outdoor spaces in the City of Brotherly Love.
After all, it was no easy feat to build an appealing public space around the elaborately ornate, city block long, Philadelphia City Hall, built in the late 19th century.
Whether you're a Philadelphian who is looking for something to do with the kids on a weekend or an out-of-town visitor, I highly recommend a visit to Dilworth Park!
If you enjoyed this article, please share with friends and colleagues on social media: it's important to get the word out and it's good karma!
Also, you only have a few more week to take advantage of my 1000 FREE Book and Course Giveaway. We are almost sold out!!  To take advantage of receiving a free copy of my book, Digging Deep:Unearthing Your Creative Roots Through Gardening and my 3 part online course, click on HERE.
And in honor of Thanksgiving, I've priced the e-book version of Digging Deep: Unearthing Your Creative Roots Through Gardening on Kindle for only .99. The price will never be this low again so grab it while you can!!