Debra Lee Baldwin's mission is to increase awareness and appreciation of "plants that drink responsibly" through her books, articles, photos, videos, social media and more. Over her 25-year career, Debra has continually discovered cutting-edge design, shared expert knowledge, and defined her own engaging style.
Widely known as the "Queen of Succulents," Debra is an award-winning garden photojournalist who launched worldwide interest in succulents in 2007 with her first book, Designing with Succulents. Her crowning achievement (no pun intended) is the book's completely revised and updated second edition, released in 2017.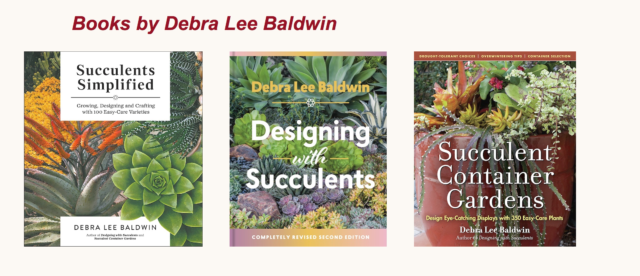 Debra and husband Jeff live in the foothills north of San Diego. She grew up in Southern California on an avocado ranch, speaks conversational Spanish, and at age 18 graduated magna cum laude from USIU with a degree in English Literature. Her hobbies include thrifting, birding and watercolor painting.
ACHIEVEMENTS
— Author of the Timber Press bestsellers Designing with Succulents, Succulent Container Gardens and Succulents Simplified.
— Magazine contributor to Sunset, Better Homes & Gardens, Garden Design and more.
— Succulent expert quoted by the Associated Press, Huffington Post, Bloomberg News, KPBS TV, Garden America, Garden Design, and others.
— Producer of 100+ YouTube videos with over 3,000,000 views.
— Presenter at venues that include Epcot Center; the Cactus and Succulent Society of America convention; flower-and-garden shows in Philadelphia, Seattle and San Francisco; and botanical gardens, universities and horticultural groups nationwide.
— Instructor at Craftsy, the leading online purveyor of how-to videos in the US. Debra's popular 7-lesson class is "Stunning Succulent Arrangements."
AWARDS
— Literary: Nineteen first-place awards from the Garden Writers Association of America, the Society of Professional Journalists and Authors, and the San Diego Press Club.
— Lifetime achievement: San Diego Horticultural Society "2017 Horticulturist of the Year."
ACCOLADES
—  "Debra's work has elevated succulents to rock-star status in Western gardens." ~Kathleen Brenzel, garden editor, Sunset magazine
— "Debra Lee Baldwin and her books have lit up the gardening world."~ Ron Vanderhoff, nursery manager, Roger's Gardens
"…Designing with Succulents spent 19 weeks as the bestselling gardening book on Amazon. From there, powered by the internet, succu-mania spread across the country." ~ Gwyneth Kelly, columnist, The New Republic