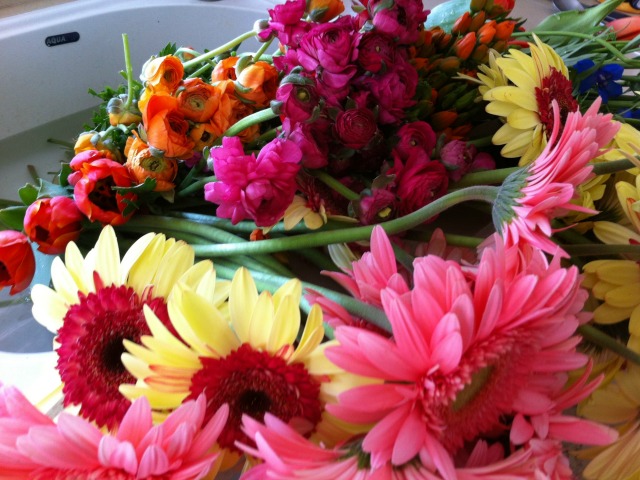 Want to buy that special person who happens to be a gardener, a lover of flowers, or just a creative soul at heart an extraordinary Mother's Day Gift?
Well, guess what? This year I've come up with a two part present that will knock the socks off of the "Mom" in your life.
All you have to do is follow my directions below so that whomever you choose to give this special Mother's Day gift to will not just receive a bouquet of arranged flowers: Rather, she will be given the opportunity to have an experience to play, create, connect and experience a profound sense of well-being and joy.
This first part of the gift is the following:
1. Take a trip to the nearest street vendor, farmer's market, grocery store or florist that sells locally sustainable flowers, fair trade, or organic. Whole Food Markets  has a Whole Trade Guarantee for fair and ethical trade. Slow Flowers is a constantly expanding site that lists American grown flower sources.
2. Pick out a slew of flowers. My rule of thumb is to buy at least 6-12 of one variety. Just let your eye go to what it likes and add them to your bunch.
3. Ideally you want at least three different varieties of flowers, in a range of colors. If you want to add some greenery or flowered branches, feel free to do so.
4. In order to be successful, take your time selecting the flowers. By the time the salesperson is wrapping these beauties up in cellophane with a bow around them, you should feel thrilled that the flowers are so glorious and that you personally chose them.
The second part of the gift is to buy a copy of my book, Digging Deep: Unearthing Your Creative Roots Through Gardening.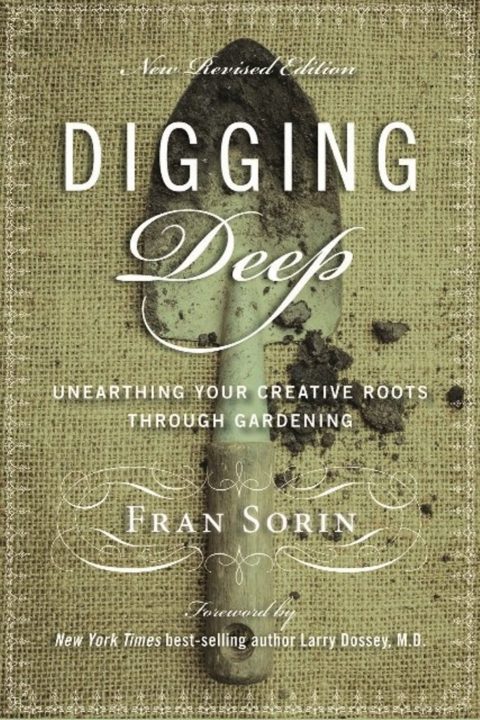 It's filled with simple and fun exercises on how to use gardening as a tool for unearthing your creativity. Plus it offers user friendly steps on how to design your garden from the inside-out.
I just got online and saw that the distributor or Amazon is listing the paper book at a discounted price of $10.66. I have never seen it sold that inexpensively: So my suggestion is to order it ASAP before the priced is marked back up to$15.95.
In Digging Deep, I've created an exercise called Playing with Flowers. Readers and folks who come to my talks or workshops absolutely love it. It's listed in the Table of Contents.
It's important when you give her the gift that you explain that she needs to set aside an hour of quiet of time for herself in order to get the most out of this exercise.
And if you are at a loss for words about the profound impact that flowers make on our lives, I've added a few quotes that you are welcome to use if you are writing a card to go along with this special gift.
"The earth laughs in flowers." Ralph Waldo Emerson
"Give me odorous at sunrise a garden of beautiful flowers where I can walk undisturbed." Walt Whitman
"Seeing beauty in a flower could awaken humans, however briefly, to the beauty that is an essential part of their own innermost being, their true nature. " Eckhart Tolle
Wishing you and yours a Mother's Day filled with much love, blessings, and a slew of magnificent flowers!! xo –  Fran