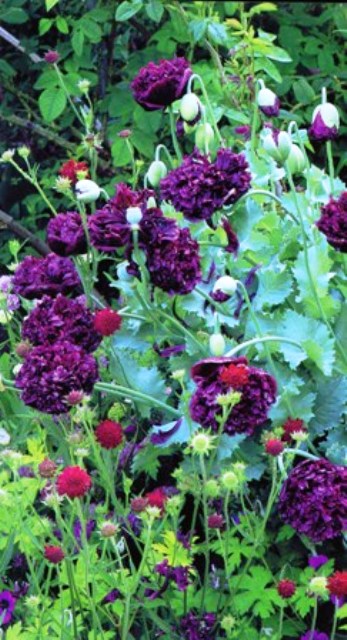 OK…so I'm a sentimentalist. I still find it hard to accept that gardens are often dismantled or allowed to rapidly dissipate when their owners die. Think about sculptures, paintings, choreography, musical compositions and on and on: gardening is the only art form that is not promised a legacy for future generations.
And yes, there are much needed organizations like the National Trust in Great Britain and The American Garden Conservancy. But by in large, garden makers are on their own in trying to secure posterity for their work of art.
Consequently, it should not have come as a surprise (but it did) a few weeks ago when I read in the International Herald Tribune that Nori and Sandra Pope, the creators of this magnificent garden (who did not own the property), had vacated Hadspen Garden and that the garden was allowed to run wild. By late 2006, it had been completely cleared. Hadspen Garden was originally an early nineteenth kitchen century garden, set on a southwest sloping lot that encapsulates sunlight and warmth facilitating the growth of a plethora of Mediterranean specimens. It is situated in the midst of a private park of 300 acres. In the 1960s until 1978, Penelope Hobhouse designed an intense ornamental garden on this piece of property. That is when the Popes, from British Columbia, crossed the Mediterranean and began the process of creating, just the two of them, what would become a jewel of a garden.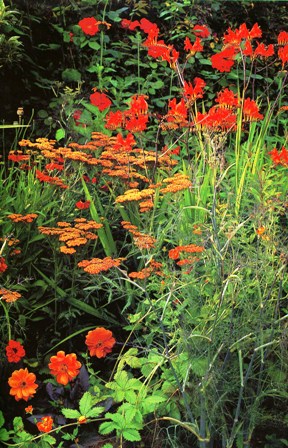 Hadspen Garden is a rarity in the world of gardening in that the entire garden was specifically designed with each border dedicated to a wide spectrum of hues of one color. For example, the red garden includes a multitude of hues of the red family from the fire engine red of Potentilla 'Gibsons Scarlet' to the burgundy red foliage of Prunus x cistena and the dark blackish leaves of Dahlia 'Bishop of Llandaff' with its crisp red blossoms. Walls and borders of these colored themed gardens visually overwhelm the senses.
Nori and Sandra Pope are true masters in the use of colors and plant combinations. Vita Sackville-West of Sissinghurst fame did create her world famous white garden and a 'knock your socks off' purple walled garden. And Lawrence Johnston of Hidcote Garden is well known for his stately red garden (amongst others). But Hadspen Garden is different: the garden in its entirety is color themed. It is a complex, well thought out and executed symphony of color.
With the Pope's departure, Niall Hobhouse, the owner of the property, decided that this would be the perfect time to re-make the garden. He developed a competition where formal plans could be submitted this summer. He also created a website for discussions about the future of Hadspen as well as a forum about gardens today and their contribution to the artistic, environmental and creative process in which we live.
This competition has caused much debate in Great Britain, a country steeped in the tradition of gardening. Not about the demise of a world class garden: rather about the layout and purpose of a garden as well as what constitutes a garden, plus several other issues.
It appears that the majority of people who have voiced their opinions feel that this is an unprecedented event for the next group or individual who wins the competition to 'advance the concepts and practices of gardening'. So it seems that I am one of the few who laments the loss of Hadspen Garden as I know it: a garden that I fell in love with at first sight. A garden that was always on my 'must see' list when journeying to England. A garden that first introduced me to Romneya coulteri 'White Cloud' which I tried for years to grow in my garden with no success. A garden that I will sorely miss but always remember.
For those of you interested in joining the debate, click on The Hadspen Parabola.